Ellie Kemper Spilled The Tea On Her Cringiest Moments As A Bake Off Host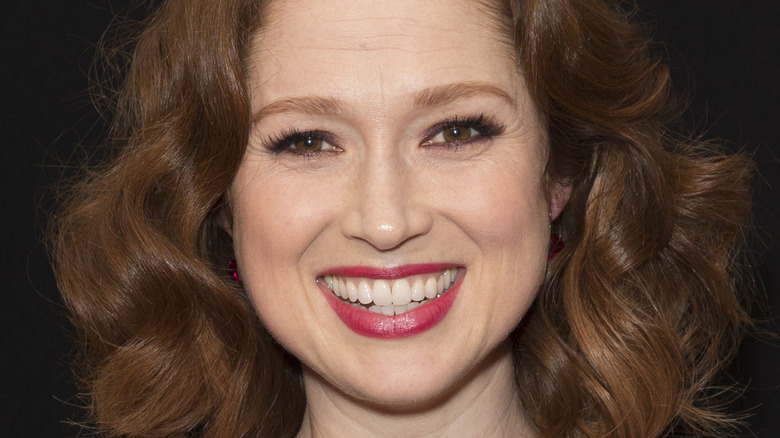 lev radin/Shutterstock
Imagine that you're sitting for an important exam, you've been studying very hard, and you're nervous. In a state of concentration, you're almost finished when, suddenly, a clown comes up and starts distracting you. It sounds ridiculous — who would set up such a strange environment for someone taking an important test? Well, "The Great British Bake Off" would. That's been one of the series' shticks from the very beginning: two comic hosts offsetting the serious vibe of the judges by goofily engaging with the contestants during challenges. 
Of course, the people who apply to be on GBBO most likely know that they will have to multitask while baking. Anyone who has seen the show knows that not only do judges Prue Leith and Paul Hollywood come up to the hardworking contestants to ask them about their bakes, but the hosts also ask them distracting questions in order to get a laugh from the invisible audience. The new season of the GBBO spin-off, "The Great American Baking Show," apparently keeps the same format — but the two comedians are, of course, American rather than British.
Kemper said distracting the contestants feels 'awkward'
"The Great American Baking Show" took a hiatus after 2019, but it was announced earlier this year that the series would finally return for a sixth season in 2023 with Hollywood and Leith as judges, plus actors and comedians Ellie Kemper and Zach Cherry as hosts, per People. Best known for her comedic roles in "Bridesmaids," "The Office," and Netflix's "Unbreakable Kimmy Schmidt," Kemper has always had an interest in improv and is not known for being shy. However, she recently confessed to Eater that parts of her role as a host on GABS were very "awkward" and counterintuitive — particularly, having to make funny small talk with the busy contestants. "They're frustrated, and they're trying to bake, and my actual job is to interrupt them and talk about, like, their favorite vacation that they ever took," she explained.
Cherry concurred, saying the job was easier in the early stages of each episode but progressively harder as the stakes got higher, leading him to feel that he was "annoying [the bakers] at all times."
Former contestants of GBBO have confessed that the show's hosts could be very distracting on occasion. Dan Chambers from Season 10 described the experience to Metro UK as, "You're thinking 'I haven't really got time to speak to you' and you've got to be like 'I've got to crack on with this.'" However, maybe these stressed-out bakers can take solace in one reality: The hosts know how they feel.