Giada De Laurentiis' Tiramisu Has Ignited TikTok's Sweet Tooth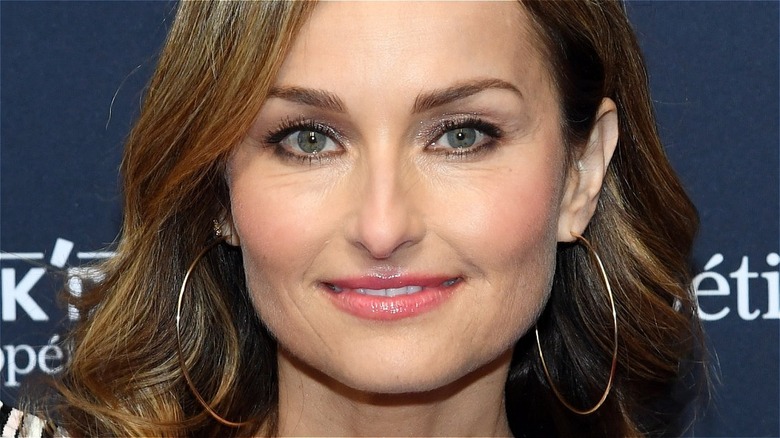 Ethan Miller/Getty
Tiramisu is one of the most popular desserts in the world — specifically, the seventh-most popular, according to Taste Atlas – so it may come as a bit of a surprise that the decadent treat is probably less than 100 years old. Sure, legend says the decadent dessert, featuring layers of espresso-soaked lady fingers and fluffy mascarpone topped with a light dusting of cocoa powder, originated all the way back in the year 1800 (via Accademia de Tiramisu).
However, the first documented recipe for tiramisu wasn't printed until 1981, which is just nine years after it was allegedly invented and subsequently put on the menu at Le Beccherie in the Northern Italian city of Treviso (via BBC). Or was it? According to National Geographic, another origin tale from the region of Friuli Venezia Giulia claims a handwritten recipe for the dessert puts its birth year in 1959. Confusing, we know.
We may never uncover the true story of tiramisu, but all you need to know is that its roots are in Italy and, therefore, it is in the recipe arsenal of Food Network's resident Italian chef, Giada De Laurentiis. In fact, it's in there a number of times, as the restaurateur has put several unique spins on the beloved Italian sweet (via Giadzy).
However, even with mouthwatering recipes such as Peanut Butter and Jelly tiramisu, it's her classic take on the dessert that has ignited social media's sweet tooth.
TikTokers are calling Giada De Laurentiis' tiramisu 'divine'
Tiramisu can get pretty expensive when dining out. Making it at home is one way to save a few bucks. If you're seeking a recipe to follow, look no further than Giada De Laurentiis', which she shared to TikTok earlier this summer. "An Italian staple and easier to make than you think!" she captioned the July 12 upload that has amassed more than 800,000 views.
In the video, De Laurentiis demonstrates how to make the mascarpone filling and espresso and Marsala wine-soaked lady fingers, which get added to a baking dish in alternating layers. After refrigerating for two hours, the cookbook author adds a dusting of cocoa powder to complete what she called the "perfect, fast, summer dessert" — though there's nothing stopping you from enjoying it year-round.
The recipe has earned considerable praise from other TikTokers, who used adjectives like "divine" and "heavenly" to describe the dessert. Many also said they would attempt making a tiramisu themselves, though it seems that some have already been doing so for a while. "I've made this amazing recipe of yours for YEARS and it is better than any tiramisu I've had," one TikTok user shared.
Some did express concern over the use of raw egg yolks in the mascarpone filling, though Savory Simple explains this is common in tiramisu recipes. They suggest using pasteurized eggs, which are safe to consume raw, according to the Centers for Disease Control and Prevention.