​​Little Caesars Launches Hotline For Customers Disappointed With Detroit-Style Pizzas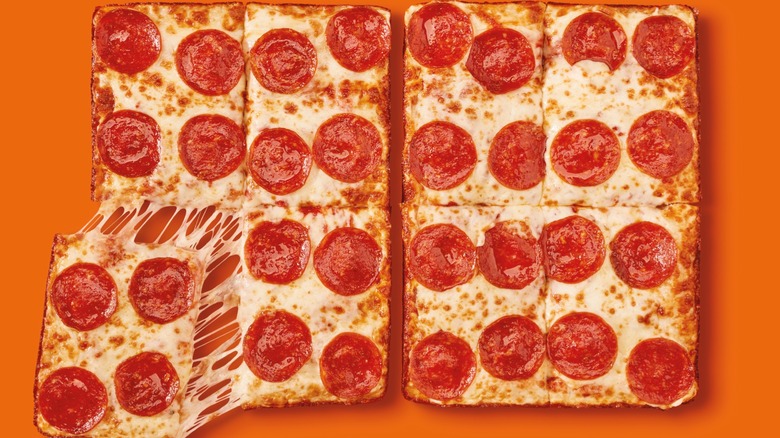 Litte Caesars
Detroit-style pizza is one of a multitude of pizza styles found across the United States. Less controversial than the endless Chicago versus New York debate, it's baked in a rectangle, cut into squares or rectangles, and looks more like a Sicilian sfincione. A light, airy dough similar to a focaccia dough forms the base and is baked in a pan coated with olive oil. The pillowy dough can support sauce, cheese, and toppings but sometimes in reverse order — toppings go on top of the dough, then cheese and sauce, also known as a 'Detroit Red Top.' Your toppings won't be burnt, and your dough won't be soggy, but you won't get a satisfyingly crisp slice of pepperoni, either. After a stint in a super hot oven, the edges and corners are a burnished, cheesy, crunchy texture that holds its own against any floppy New York slice (via Eater).
However, if you're in Denver or Miami and are craving a Detroit-style pizza, chances are wherever you order it from will be a bit disappointing. This is where the pizza chain Little Caesars wants to help you out.
Little Caesars wants you to taste real Detroit-style pizza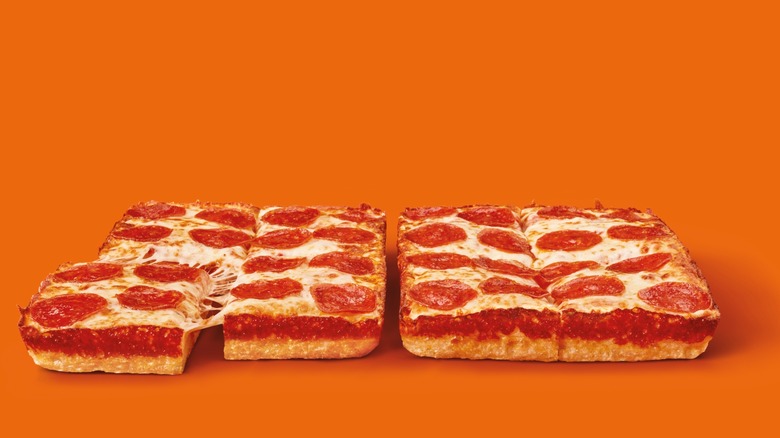 Little Caesars
Headquartered in Detroit, Little Caesars has been there since its founding by Mike and Marian Ilitch in 1959 (via Little Caesars). So, by the pizza chain's logic, no matter which franchise you visit, whether it's in Binghamton, N.Y., or Millbrook, A.L., your Detroit-style pizza is a legit Detroit-style pizza. Their Hot-N-Ready Detroit-Style Deep Dish is available for $8.99 at all chains. However, if you order a Detroit-style pizza from a different pizzeria and are disappointed, Little Caesars wants to help. The chain has a hotline number where disgruntled customers can call to complain about other restaurants' bad Detroit-style pizza. 
You can either call 1-833-428-DEEP or go online to DetroitStyleCompensation.com to get a coupon for $3 off a Little Caesars Detroit-Style Deep Dish pizza. It's not as easy as simply lodging a complaint and getting the coupon — you do have to show a receipt to get your coupon (via Thrillist). The offer is only good for pizzas ordered between September 1 and November 28, so find that crumpled receipt and get your code.