The Unexpected Ingredient That Will Transform Your Pumpkin Pie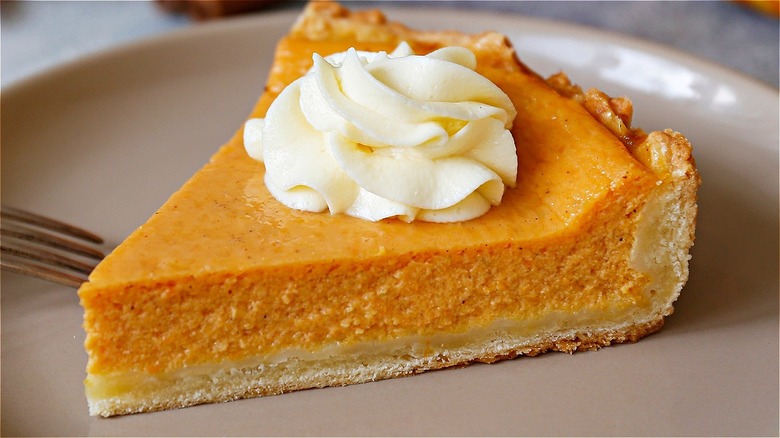 evrymmnt/Shutterstock
The best recipes usually come from curious combinations, especially in baking. The best results happen when we mix ingredients and let our curious and creative minds drive us through our kitchen. Julia Child used to add sesame oil to her crepes, some biscuit batters are better with mayo, and surprisingly, zucchini brownies are moister than regular brownies.
Yes, the best results sometimes force us to alter traditional recipes, which are usually called traditional for a reason. But, it wouldn't be a bad surprise for yourself and your guests if you add a touch of spice to your regular treats. Take holiday pies as an example, from pecan and apple to the one and only pumpkin pie. These are all fall flavors that have been here over dinner tables for some time. We'll like to give you an idea next time you are grocery shopping to make a pumpkin pie. A store-bought crust and canned pumpkin are still welcomed, it's how and with what you assemble the pie that will transform it.
A Detroit-based pastry chef discovered an ingredient that "makes this pie sing," as reported in Bloomberg. After falling in love with Middle Eastern flavors, chef Lisa Ludwinski added a layer of tahini to her pumpkin pie.
Tahini adds moisture and light nuttiness to pumpkin pies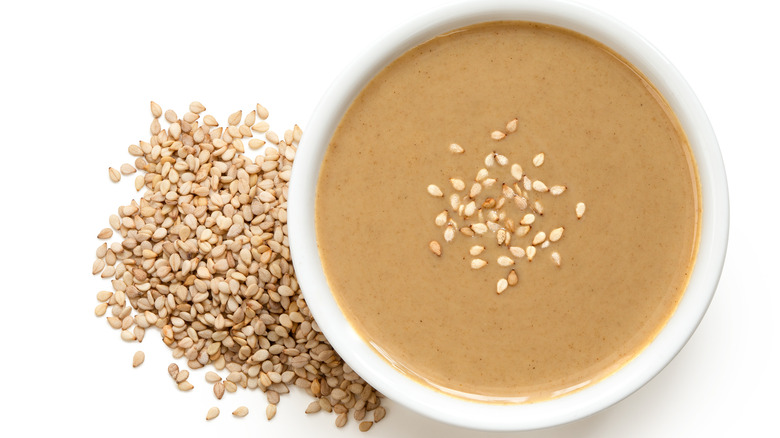 Moving Moment/Shutterstock
Tahini, a paste made with sesame seeds, became famous as part of hummus recipes, but is a great and versatile add-on for any salad dressing, vegan meals, Middle Eastern-inspired dishes, and in this case, in desserts. It's a mix of a slightly bitter, sweet, and nutty taste, as Ambitious Kitchen describes it.
According to Spamellab, tahini adds extra creaminess and richness to desserts because it is a thick paste. When mixed with other wet ingredients like eggs, milk, smashed pumpkin, or butternut squash, tahini adds texture just like nut butter but without the intense and overly nut flavor. Its taste is described as caramel-like taste and makes perfect allergy-friendly desserts.
For the pumpkin pie, Sister Pie's Lisa Ludwinski pours a tahini-walnut paste over the crust, and then the pumpkin spread, to add that creamy but chunky feeling between the pie layers with a salty-sweet sensation for the tongue (per Bloomberg). It's the pumpkin pie of all times, transformed with the unexpected power of tahini.