McCormick's Flavor Of The Year Is A Vietnamese And Cajun Style Seasoning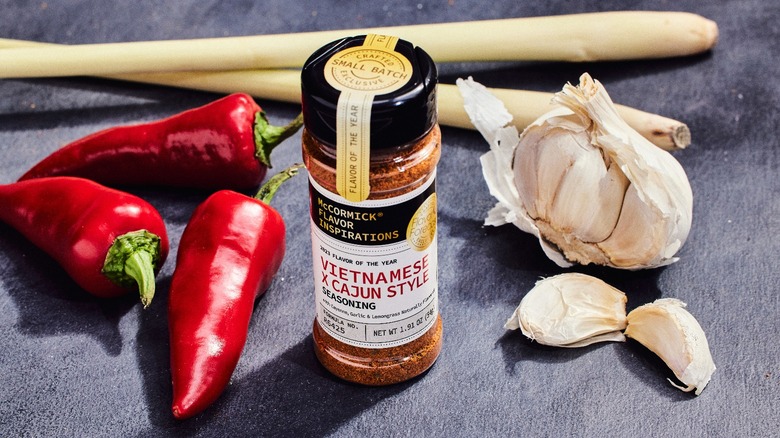 McCormick
The popular spice brand McCormick shares an annual Flavor Forecast, which provides insights on culinary trends and how they evolve around the world. And it has done so since the year 2000, according to McCormick's website. The 2021 forecast predicted an emphasis on plant-based foods, experiencing foods from other nationalities, experimenting with ingredients from oceans and other bodies of water, and being in tune with our minds and bodies when it comes to food. For 2022, McCormick predicted a greater emphasis on our use of time in the kitchen and anticipated food trends that reinvent sweets by pairing them with unique ingredients and highlighting the stories behind food with a focus on the "power of women" (via a press release).
The brand is carrying on the annual tradition this year but has added something new. For 2023, McCormick predicts a rising trend in French cuisine and techniques, according to a press release sent to Mashed. It also expects professional chefs and home cooks to use more fats, such as various oils and types of butter in their cooking. Thirdly, the forecast includes the use of spicy ingredients to create immersive meals that stimulate multiple senses. On top of all that, the spice brand has announced a Flavor of the Year for the first time. A blend of Asian- and French-influenced styles, it will be available to New York diners through a collab with Smashburger. Here's what you need to know.
McCormick worked with different food professionals to create its new seasoning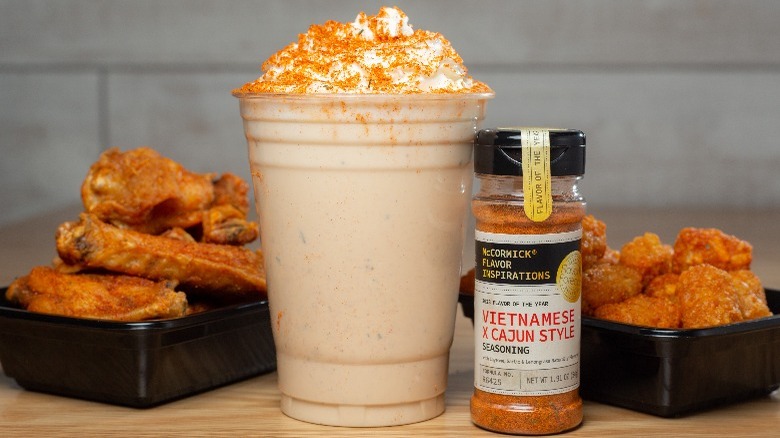 McCormick
According to the press release shared with Mashed, McCormick's very first Flavor of the Year is Vietnamese x Cajun Style Seasoning. It features a blend of paprika, garlic, cayenne, black peppercorn, and lemongrass. The company teamed with Smashburger to serve New Yorkers tots, shakes, and wings made with the seasoning on December 7 in the Chelsea area. McCormick also worked with chef Trong Nguyen from Crawfish and Noodles in Houston and chef Cesar Zapata from Phuc Yea in Miami, who both helped inspire the seasoning. Although Chefs Nguyen and Zapata are states apart, together their cooking styles and views made them a good fit for this collaboration.
Per Phuc Yea, chef Zapata co-owns his restaurant in Miami with Aniece Meinhold, who comes from a family with Puerto Rican, Vietnamese, and German heritages, according to Miami New Times. Chef Zapata was shaped by years of cooking, eating, and learning about food in Houston and other parts of Texas. He told The Boca Raton Observer that Houston's large Vietnamese community inspired him to make foods inspired by Vietnamese cuisine. Phuc Yea specializes in Viet-Cajun cuisine, offering creations such as soft shell crab bao, caramelized chicken wings, and more. It's believed that chef Nguyen helped invent Viet-Cajun cuisine. He was heavily influenced by his family's Vietnamese cooking, per Youtube. Nguyen's restaurant Crawfish and Noodles combines seafood from the southern United States and the Southeast Asian flavors he encountered growing up.