The Best Kitchen Towels In 2022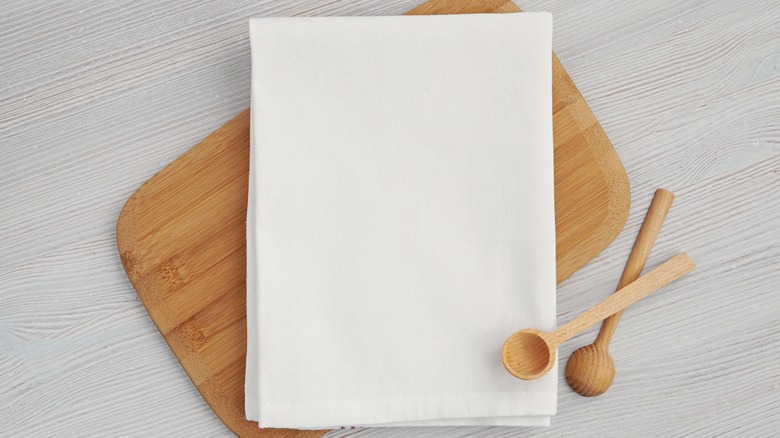 Indre Pau/Shutterstock
We may receive a commission on purchases made from links.
When it comes to kitchen essentials, dish towels rank pretty high. A more eco-friendly and economical alternative to paper towels, kitchen towels perform a variety of jobs in the kitchen. They keep your space clean and dry, and some even double as kitchen decor.
Most of us already have dozens of kitchen towels floating around, but they're an item that you can never have too many of. Plus, most kitchen towels are quite affordable, and even when factoring in inflation, it's an easily justifiable purchase.
If you're in the market for some new kitchen towels, you're in luck. We created a list of the best you can find this year. They're easy on the eyes and even easier to use in the kitchen. They come at great prices, and whether you're in need of a quick stocking stuffer or a couple of extra towels on hand for washing and drying after your holiday party, any option on this list will be more than satisfactory.
How we chose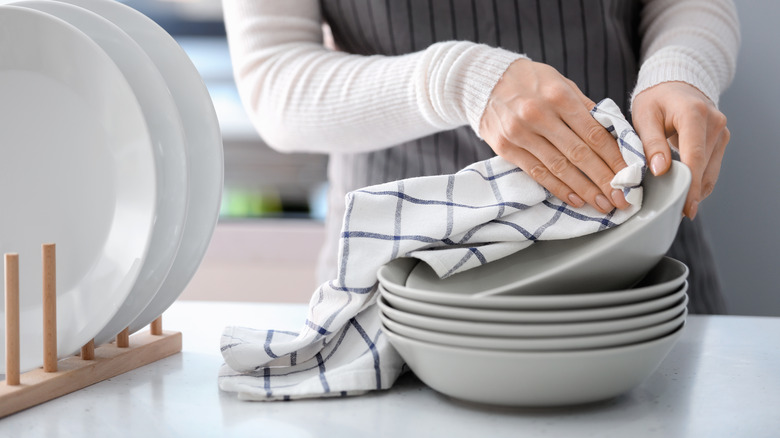 Sergey Kirsanov/Getty Images
We've reviewed and ranked many kitchen products this year, and we have to say, out of all the items, kitchen towels might have been the easiest. We all want essentially the same thing out of a kitchen towel, right? Something absorbent that'll wash and dry without leaving scratches, and if we're lucky, something that looks beautiful when displayed. Kitchen towels have a few very important functions, and functionality was at the forefront of our decision-making.
After considering what we want in a kitchen towel, we looked for towels that meet each of those criteria. No towel on our list isn't functional. After amassing a list of functional towels, we selected the best and highlighted each of them by their best feature — cost, material, or function. To finish, we cross-referenced with reviews to ensure our selections are also loved by customers. Here are the best kitchen towels you can buy in 2022.
Best overall
Of all the dish towels you can purchase this year, Urban Villa offers the best. There's a lot to love here — absorbent cotton fabric, multiple towels at an affordable price, durable performance, and soft material that's gentle on all your pots and pans. Coming in several different colorways, these towels will look great in anyone's kitchen, and thanks to their safe production, everyone can be confident bringing them into their home.
Customers have nothing but praise for these towels. "I am very pleased with the quality and size of these towels. I will order them again," one Amazon customer noted. "These are very durable, and quite attractive. I have bought them twice," another Amazon reviewer shared.
Urban Villa dish towels come in multipacks of different counts, but we suggest buying the 6-pack — you'll want as many of these as you can get. Budget-friendly and high-quality, these superb towels don't just live up to the hype — they exceed it.
Get a set of six towels on Amazon for $24.99 as of December 2022.
Best affordable
Affordable does not mean low quality, and Swedish Wholesale is here to prove that. The brand has a cult-like following, and once you purchase a set, you won't just understand why — you'll pledge membership. For just over $2 per cloth, you get a set of dish towels that are just as durable, absorbent, and worthy of a spot in your kitchen drawers as expensive brands. Their multi-fabric design allows them to act like a paper towel on steroids, keeping your kitchen clean and saving you lots of money. If you keep your eye out for sales, you just might bag them for under $2 per cloth.
As Food & Wine pointed out, "Since they're essentially a sponge and rag in one, they're great for removing caked-on food bits and grease from my stovetop one minute and wiping streaks off of my glass dining table the next. Plus, they've helped me cut down my paper towel usage significantly." Another happy customer on Amazon wrote, "​​You've heard best thing since sliced bread? This is what they're talking about. If you want to save time, skip the review and just buy them now."
The Swedish Wholesale dishcloth 10-pack is available on Amazon for $17.99 as of December 2022.
Best splurge
If you're going to splurge on anything in the kitchen, dish towels might be the most reasonable item. Even pricey dish towels, when bought in low quantities, aren't too expensive. At just over $10 per cloth, Sur La Table kitchen towels offer excellent quality. Per one Sur La Table customer, "These are great quality and very absorbent. I love the smaller size for certain tasks in my kitchen. I love to use these to dry my more delicate glassware and it leaves no lint."
Made from Turkish cotton, these towels can buff away even the most caked-on bits of food, dry the most fragile pieces of glass, and wipe down all surfaces in your kitchen. And the best part? They launder beautifully. Dyed in a neutral color, almost every kitchen can keep these towels on display without creating extra noise. They're the perfect gift for yourself or your loved ones. "I replaced my old kitchen towels with these before Thanksgiving and it was so much easier drying large pots and pans than other towels I've used in the past," another customer on the Sur La Table site shared.
A set of two towels can be purchased on Amazon for $20.86 as of December 2022.
Best microfiber
If you're unfamiliar with microfiber, get familiar with it. Microfiber is a synthetic material that's known for being incredibly absorbent and soft. This material makes for excellent dishcloths thanks to those properties. Hyer Kitchen makes a fabulous microfiber kitchen towel that's just as effective at cleaning messes as it is drying dishes.
Customers love microfiber dish towels for many reasons. As one Amazon customer said, "I simply cannot say enough about these dish towels ... You get a lot of them and they are so absorbent if you're trying to dry off your countertops it's a breeze and obviously good for dishes as well. Have not found anything better ever!"
The Hyer Kitchen dish towels are especially popular because they become more absorbent with each machine wash, and they come in several different colorways. They're a great size and store well and are a true multipurpose kitchen accessory. Perhaps best of all, they come at a great price. You won't regret your purchase one bit.
Get a set of eight Hyer Kitchen towels on Amazon for $15.99 as of December 2022.
Best linen
When it comes to kitchen towel fabrics, it's hard to beat linen. Linen is natural, absorbent, and long-lasting. It's durable yet soft, and it looks good hanging off your oven handle. Several brands have linen kitchen towels for sale, but the best you'll find this year is from Utopia. It have everything there is to love about linen, and the towels come in a crisp white with a stripe feature in multiple color options. A low cost per cloth, Utopia linens can be purchased in six-, 12-, and 24-packs as well as a 300-pack. Though it's unlikely anyone will need that many at home, it's nice to know the option is available.
The reviews for this product speak for themselves. As one Amazon reviewer said, "They are well made, cut on the grain, even hem and stitches. A loop to hang the towels. They are the best made that I've seen in a long time." And as The Spruce said, "Utopia Towels Dish Cloth Set is a must-have, multi-purpose collection of kitchen towels that look as great as they dry and clean."
You can get a pack of 12 Utopia dish towels for $16.99 on Amazon as of December 2022.
Best cotton
In the great kitchen towel material debate, cotton is just as hot a contender as any. Natural and soft, cotton dish towels will last for years. Fecido makes a fabulous cotton kitchen towel, one that's machine-washable, thick, and perfect to use for cleaning, drying, wiping, washing, and more. Though the cost per cloth is higher than some of its competitors, Fecido's dish towels work well enough to replace other towels, so you can easily justify spending a little extra.
Fecido has pleased many a customer. "I have used these towels for over a year and I've been happy with the quality over time. They are absorbent and attractive. I bought them multiple times," one Amazon customer said.
You'll also be pleased with the looks of these towels. The pattern is classic and will fit in any style kitchen, and there are loads of colors to choose from. Whether you're after a couple of cotton towels as an addition to your existing collection or an entirely new set, Fecido is the brand to buy.
Get your own set of four Fecido towels on Amazon for $34 as of December 2022.
Best pattern
If there's anything better than a patterned dish towel, it's a patterned dish towel that actually works. There are thousands of patterned dish towels available, and while they're either elegant, cute, cheeky, or festive, they're rarely also absorbent, durable, and machine-washable. That's why we love Maison d' Hermine dish towels. They come in gorgeous patterns that elevate kitchens and double as a piece of decor, and they're functional. Though these towels are expensive, it's worth it to have a piece of art that can withstand washing and drying countertops and dishes.
"These dish towels are large and super absorbent, but they also dry well, so they don't stay all soppy and wet. The thicker cotton fabric really holds up well, even after months of frequent use, and hasn't needed any special treatment in the wash. I have not noticed any shrinkage or fading at all," one Amazon customer said.
The Maison d' Hermine dish towels come in several patterns, and if you peruse the brand's selection, you'll undoubtedly find something you like. You'll likely find a few that you like. "Vibrant colors, great quality towels! Look even better in person. I will definitely order from them again!" another Amazon customer shared.
A set of three Maison d' Hermine patterned kitchen towels can be purchased on Amazon for $24.99 as of December 2022.
Best absorbent
There's one word you're probably sick of reading by now — absorbent. We know, we know, we've mentioned it a lot, but that's only because it's quite possibly the most important quality in a kitchen towel. If your towel isn't absorbing any liquid, what's the use of having it? Absorbency is high on most buyers' lists when searching for a kitchen towel, and we recommend those buyers check out Utopia. This brand has proven itself time and again, and you'll be thrilled with your dish towels when you purchase from Utopia.
Coming in 10 separate colors, each set of Utopia kitchen towels has both solid and patterned towels, making for good-looking sets that can be displayed right alongside your most coveted decorative kitchen pieces. And when you're not using them as decor, you'll be using them to soak up big spills and dry your crystal. "Difficult to know by looking at photos which towels have good absorption characteristics. These are very good towels just like cotton from the old days," one Amazon customer stated.
Get a six-pack of Utopia kitchen towels for $14.99 on Amazon as of December 2022.
Best for drying
When choosing a towel for drying, you want to take into account your most delicate kitchen items. If you use a dishwasher, you probably aren't hand-drying your everyday plates and silverware. That action is likely reserved for your wine glasses and crystal decanters. Because that material is more prone to scratches, you want a towel that's soft. And since the purpose is to dry your items, you want a towel that's highly absorbent, too. For a towel that's as absorbent as it is soft, look to Amour Infini.
These work for washing, too. Take one customer's experience. "Quite pleased with these dishcloths. Use them in a kitchen that washes plenty of large pans by hand. Hefty workers that make the task almost fun ... Will definitely buy these again when we need new ones," the Amazon reviewer said.
Another reason we love Amour Infini towels for drying is their size. These towels are big enough to wrap around whatever you're drying so you don't have to touch the item, keeping it from gathering fingerprints. These towels are well-designed and good for drying dishes. As one Amazon customer simply put, "Great for dishes. Just right. Good quality."
Get a set of four Amour Infini towels for $16.99 on Amazon as of December 2022.
Best lint-free
Let's be honest — lint is annoying. It's especially annoying when it transfers to the dishes or countertops you're trying to dry. But thanks to modern technology, we don't have to deal with lint if we don't want to. Zeppoli makes fantastic lint-free dish towels that'll clean and dry your kitchen utensils and surfaces without leaving a trace. These towels are also durable and long-lasting, and they won't lose their quality from machine drying.
Zeppoli towels come at a great price. Although they don't come in many colorways or patterns, they perform well and are excellent to have in your drawer when you need an extra towel or two. You won't regret purchasing these dish towels.
Like The Kitchn said, "these babies work hard! They're fuss free, easy to care for, and just so darn useful." And as one Amazon customer shared, "I've had these towels for a while now, and they are my go-to among all of the varieties of kitchen towels I have: absorbent, soft, sturdy. I do wish they came in other colors — the stains on the white dampen my enthusiasm a bit. But I still pick them first out of the pile, if that tells you anything!"
Get a 15-pack of Zeppoli kitchen towels on Amazon for $14.99 as of December 2022.
Best waffle
If you want a waffle-weave towel, get one from Homaxy. Waffle-weave towels are excellent for washing dishes and wiping countertops, and Homaxy doesn't disappoint. The waffle weave makes the kitchen towel adept at scrubbing away tough bits of food, and it makes the towel super absorbent. It's an all-in-one towel that you'll be glad you have after every major mess you make in the kitchen.
As one Amazon customer shared, "They are absorbent, good sized, just the right thickness and they wash up nicely. I am very, very pleased with these. I did not have any issue with the dye leaking when I washed them either. I will look to purchase these again." Another Amazon customer said, "I was beginning to think absorbent towels were a myth. These things are AMAZING. Super soft, wash well, and actually absorb water vs. smearing it around. I immediately bought 3 more sets."
Do note that to keep these towels in their best shape, you need to follow the care instructions — use cold water in the washer and no bleach or fabric softeners. Aside from that, these dish towels are a great addition to anyone's kitchen, helping to keep things spick and span at all times.
A set of four Homaxy dish towels is available on Amazon for $15.99 as of December 2022.
Best organic
Organic kitchen towels are hard to come by, and organic kitchen towels that actually work are even more elusive. Honest Weave is the solution for consumers who care about the materials they use as much as the functionality of their items. Honest Weave kitchen towels are made with 100% organic cotton, and they're absorbent, scratch-resistant, and machine-washable. And considering their source material, they're surprisingly affordable.
"Obsessed with these kitchen towels! Classic look with good absorbency," one Amazon reviewer said. "These are absorbent, [drying] dishes quickly. No streaks on your glasses. The edges do curl up a bit. Look great ... good value!" another Amazon customer added.
A pack of Honest Weave dish towels will last you years. They'll save you money on paper towels, and they'll add a rustic yet elegant touch to your kitchen aesthetic. Made from sustainable, nontoxic material, these towels will make you feel good with your purchase knowing they're good for the earth and safe to bring inside your home. They're an excellent purchase all around.
Buy a six-pack of Honest Weave kitchen towels on Amazon for $24.88 as of December 2022.