What's With The Cake In 'MacArthur's Park'?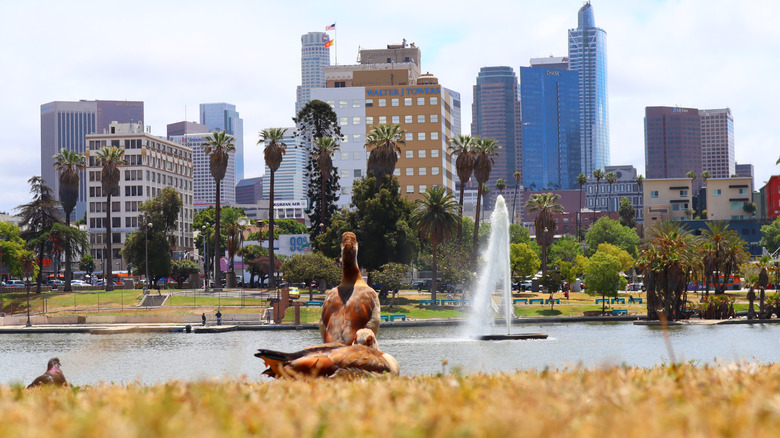 Walter Cicchetti/Shutterstock
Food has long been a part of popular music, from praises of cheeseburgers and vegetables to lyrics comparing love to ice cream and chocolate. But there's one song referencing food that even today, more than a half-century after it was first recorded, includes a food reference that continues to befuddle listeners. That song, "MacArthur Park" — sometimes called "MacArthur's Park," an occasional corruption of the lyrics by Irish actor Richard Harris, who recorded it first in 1968 — includes the lines: "MacArthur Park is melting in the dark / All the sweet, green icing flowing down / Someone left a cake out in the rain / I don't think that I can take it / 'Cause it took so long to bake it / And I'll never have that recipe again / Oh no!"
Groovy History, which explores the history of the 1960s and 1970s, recently asked rhetorically whether "MacArthur Park" represented the "Worst. Lyrics. Ever?" before deriding it as "a heartfelt elegy for a rain-ruined cake" that "confused the masses who had already been accustomed to the '60s standard of weird." Nonetheless, "MacArthur Park," written by hitmaker Jimmy Webb — his lengthy list of credits includes "Up, Up and Away" (a 1967 hit for The Fifth Dimension) and "Wichita Lineman" (a 1968 hit for Glen Campbell) — became a cultural touchstone. A 1978 recording by disco superstar Donna Summer reached the top spot on the Billboard magazine Top 100 chart, and it was recorded by other artists including Waylon Jennings (with The Kimberlys), The Four Tops, and Andy Williams.
So what's the deal with the cake in MacArthur Park?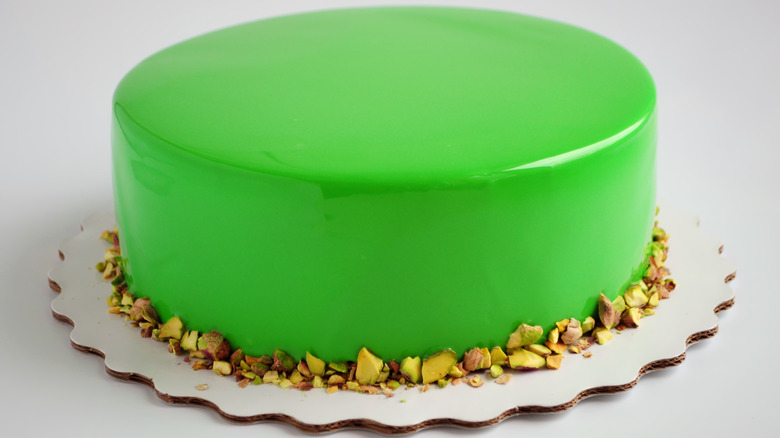 Alexander_DG/Shutterstock
MacArthur Park is a real place, a 35-acre public space in the Westlake neighborhood of Los Angeles. Closed in 2021 after it had become a homeless encampment and drug market, part of MacArthur Park reopened in 2022. In the 1960s, Webb and his then-girlfriend, Suzy Horton, would meet for lunch in MacArthur Park. Webb wrote the song after he and Horton broke up, and in a 2013 interview, he told The Guardian the cake was real, and it also happened to be a perfect allusion to the end of a romance. "It's something I saw — we would eat cake and leave it in the rain," Webb told The Guardian. "But as a metaphor for losing a chapter of your life, it seemed too good to be true."
The rain-soaked cake in "MacArthur Park" has prompted the development of at least one recipe imagining what it might have been. Published in 2015, the recipe for a honey layer cake, with specific instructions for creating the "sweet, green icing flowing down," appears on the website of a Binghamton, New York news radio station, and proves the staying power of the song. Another gauge of the song's lasting imprint on the culture can be found on TikTok, where a handful of videos pay homage to it, including one complete with a green-iced cake — with sprinkles — backed by Summer's version of the song, and a less adventurous effort featuring a cake inside a plastic container.