Sweet Kolaches Recipe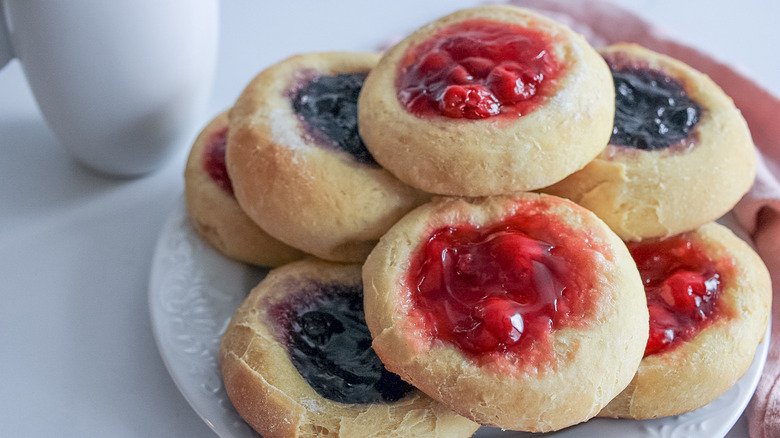 Jessica Morone/Mashed
Finding similarities between Texas and Czechia may not seem intuitive if you haven't been to either place. However, a quick search (or visit!) is sure to bring mention of kolaches. The New York Times explains that the baked good was introduced to Texas by Czech immigrants back in the 1800s. Since, it has become ubiquitous in the Lone Star State, where you can pick up sweet and savory kolaches just about everywhere.
Recipe developer Jessica Morone of Jess Loves Baking developed a deliciously sweet kolaches recipe that is sure to satisfy your cravings — and curiosity — for the tasty treat. She comments, "My favorite thing about these is that I think that these make the perfect breakfast." She describes that "the pastries are light and fluffy," raving, "I love how well it goes with the fruit filling." That's not all you'll love about these yummy bites; the filling can be customized based on your preference, and you can batch and freeze them for future enjoyment. 
Get the ingredients for this sweet kolaches recipe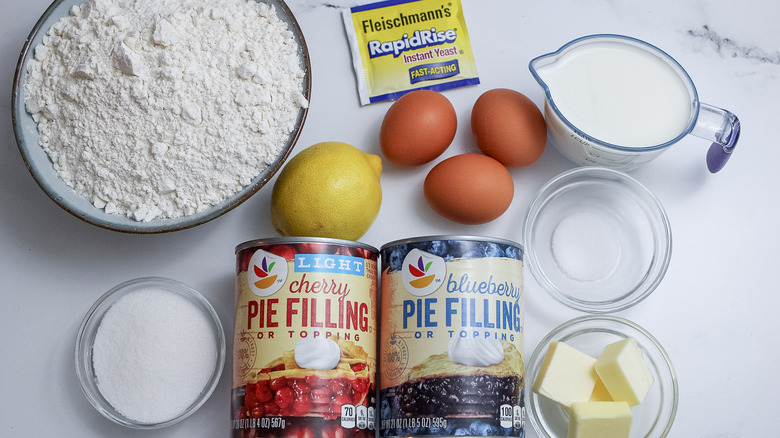 Jessica Morone/Mashed
You'll need some basic pantry staples for this recipe. Measure 3 ½ cups of all-purpose flour, ⅓ cup of sugar, 2 ¼ teaspoons of instant yeast, and ½ teaspoons of salt. You'll also need 1 cup of milk, 4 tablespoons of butter (melted), 1 whole egg, 2 egg yolks, and 1 tablespoon of lemon zest. Morone notes that lemon zest adds a special touch and comments, "Putting it in the actual dough gives it a nice bright flavor." 
Finally, you need 1 cup of canned pie filling to scoop into the kolaches. Morone explains, "I like using canned blueberry or cherry pie filling because it's a lot easier than making your own fillings." However, she adds, "You can absolutely make your own filling for these or use something else," and points out that "some people use fruit jams or make a sweet cream cheese filling."
Combine the ingredients for the dough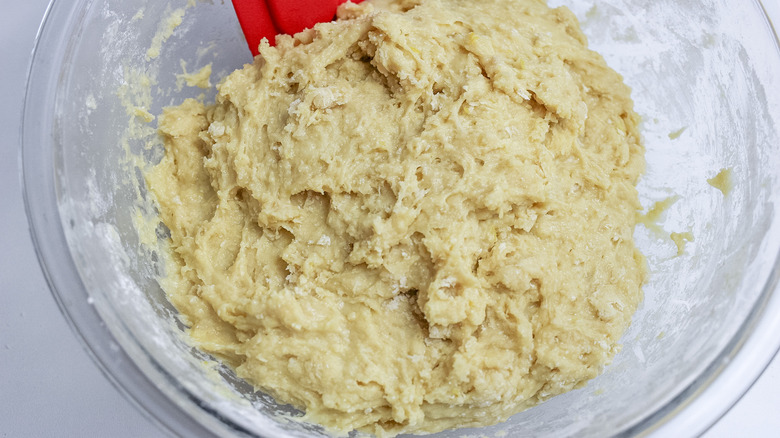 Jessica Morone/Mashed
You'll need warm milk for the dough so start by heating it in the microwave or on the stovetop. Morone warns, "You want to make sure the milk is between 110-115 degrees before you add it to the dough." This isn't just a finicky detail, as she explains, "if it's too hot the yeast will die and if it's too cold the yeast won't become activated and your dough won't rise."
Grab a large bowl, and toss in the flour, sugar, yeast, and salt. Whisk the ingredients properly so that they are combined. Then, pour in the warm milk, melted butter, whole egg, and egg yolks, and finally sprinkle in the lemon zest. Mix the contents until they come together to form a sticky dough.
Knead it and let it rise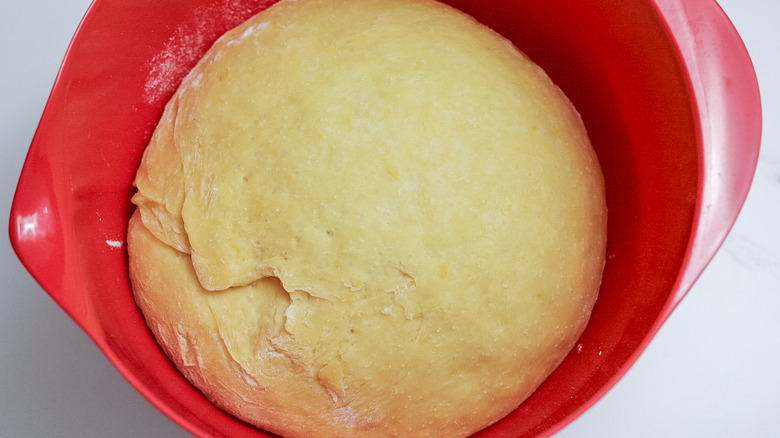 Jessica Morone/Mashed
Lightly flour a flat work surface for the dough. Then, flour your hands and knead the dough until it becomes smooth and elastic. Morone notes this should take around 6 to 8 minutes, so be patient. Grease a large bowl and transfer the dough into it. Cover the surface and place the bowl somewhere warm to allow the dough to rise. 
It should take about 1 hour to double in size, which is the goal. Morone points out that "if it's too cold in your kitchen the dough will take a long time to rise." To remedy the issue, she shares, "one thing I like to do is to preheat my oven to 200 degrees, then turn it off and then put bowl with the dough in the oven."
Divide the dough and make indents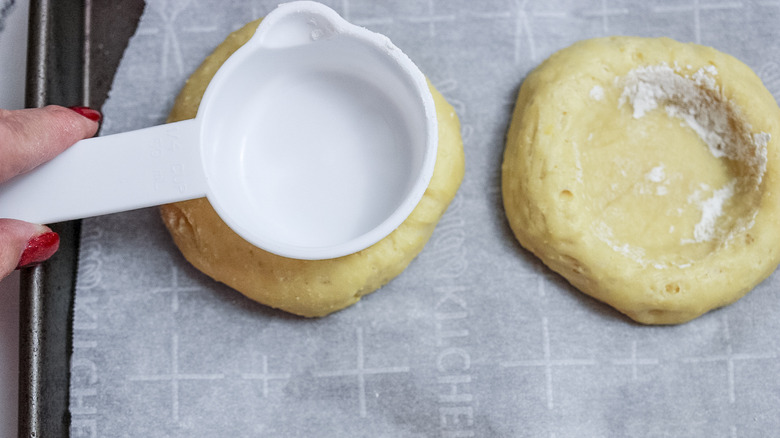 Jessica Morone/Mashed
Once the dough has doubled, tip it onto your work surface and divide it into 16 equal portions. Roll each piece of dough into a ball, and place them on a baking sheet lined with parchment paper. (Chances are you'll need to use two baking sheets to leave sufficient space between the pieces.) Loosely drape a tea towel over the baking sheets and place them in a warm spot for another 90 minutes. 
As the time approaches an end, preheat the oven to 350 F. Grab a ¼-cup sized measuring cup and lightly flour the edges. Use it to press an indentation into the center of every dough ball. If you don't have that size measuring cup, use something equally small. 
Fill the kolaches then bake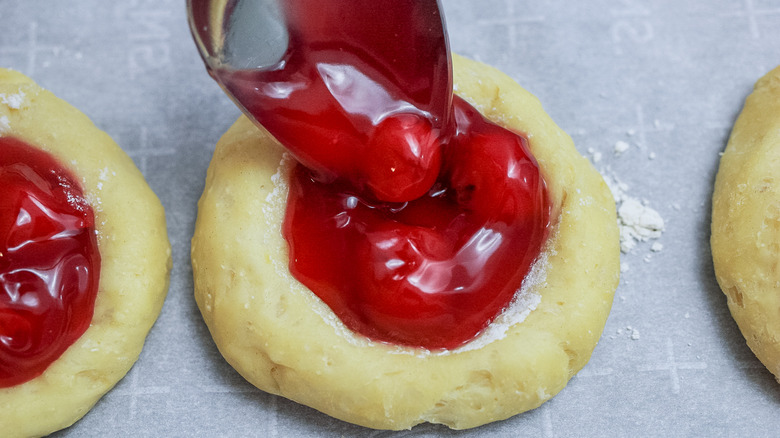 Jessica Morone/Mashed
With a spoon, scoop a heaping tablespoon of pie filling into the indented area of the dough. Once the oven reaches temperature, bake the kolaches for 12-15 minutes. You'll know they're ready once the rolls turn a light golden brown. 
Serve these sweet kolaches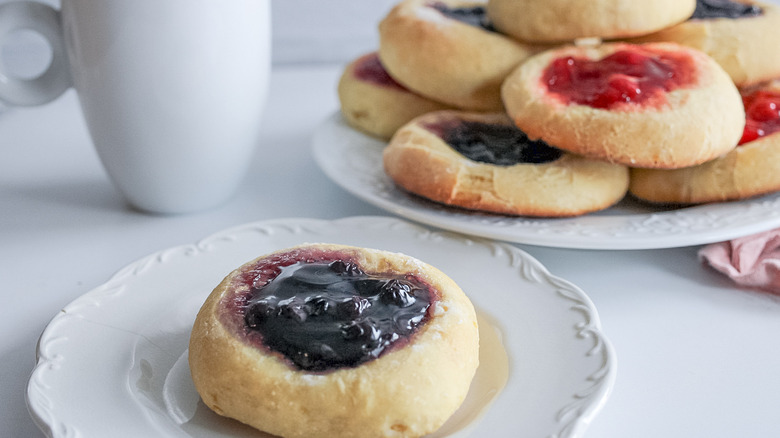 Jessica Morone/Mashed
Remove the kolaches from the oven and let them cool slightly. Serve them while they're still warm with a cup of tea or coffee.
Morone notes that "you can store these in an airtight container for up to 3 days." She adds that if you want to make them ahead of time, they'll keep in the freezer for up to a month.
Sweet Kolaches Recipe
Some kolaches are savory, but this recipe yields perfectly sweet ones — ideal for dessert or breakfast.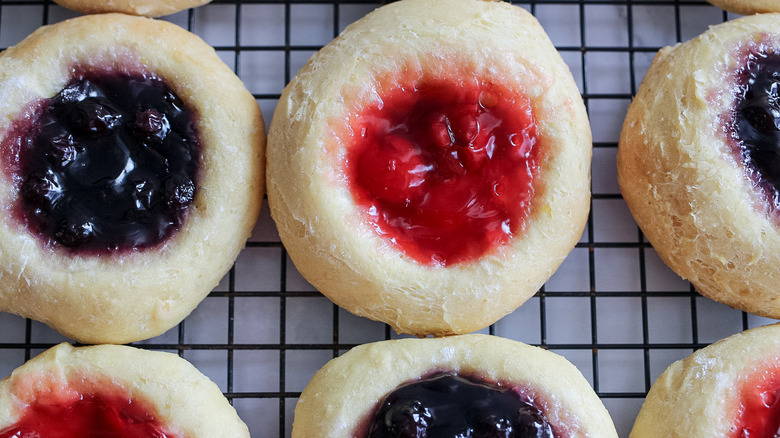 Total time: 3 hours, 12 minutes
Ingredients
3 ½ cups all-purpose flour
⅓ cup sugar
2 ¼ teaspoons instant yeast
½ teaspoon salt
1 cup warm milk
4 tablespoons butter, melted
1 whole egg
2 egg yolks
1 tablespoon lemon zest
1 cup canned pie filling of your choice
Directions
In a large bowl, whisk together the flour, sugar, yeast, and salt until combined.
Add the warm milk (it should be between 110-115 F), butter, egg, egg yolks, and lemon zest to the bowl, mixing until a sticky dough comes together.
Turn the dough out onto a floured surface and knead it with floured hands for about 6-8 minutes until the dough becomes smooth and elastic.
Place the dough in a greased bowl, cover it, and let it rise in a warm place for about 1 hour until it doubles in size.
Next, divide the dough into 16 equal portions.
Roll the portions into balls and place them on baking sheets lined with parchment paper.
Cover the baking sheets and let the dough rise in a warm place for another 90 minutes.
Preheat the oven to 350 F.
Use a floured ¼-cup measuring cup to press indentations into the center of each dough ball.
Fill each indentation with a heaping tablespoon of the pie filling of your choice.
Bake the kolaches in the preheated oven for 12-15 minutes, until the rolls are light golden brown.
Let them cool slightly, then serve warm.
Nutrition
| | |
| --- | --- |
| Calories per Serving | 179 |
| Total Fat | 4.4 g |
| Saturated Fat | 2.4 g |
| Trans Fat | 0.1 g |
| Cholesterol | 37.4 mg |
| | |
| --- | --- |
| Total Carbohydrates | 30.3 g |
| Dietary Fiber | 1.0 g |
| Total Sugars | 5.0 g |
| Sodium | 87.8 mg |
| Protein | 4.2 g |