Duff Goldman Is Begging You Not To Experiment With Eggs Benedict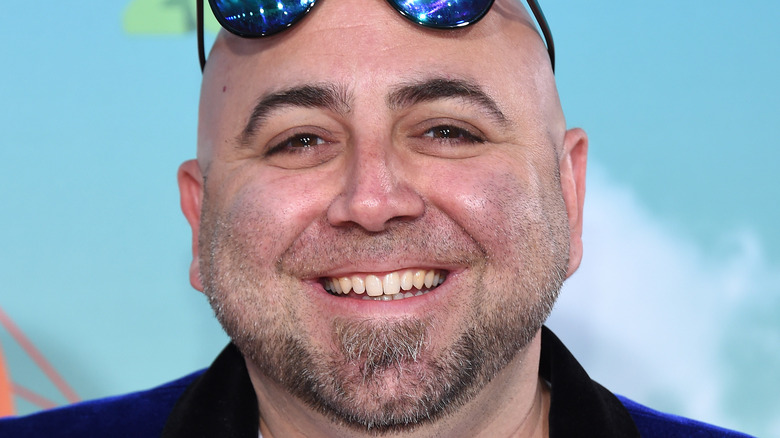 DFree/Shutterstock
Eggs Benedict is the ultimate brunch staple that has all the things to cure a hangover: bread, Canadian bacon, a poached egg, and smooth, rich Hollandaise sauce. Its origins are murky, like other food origin myths, with a few places and people taking credit for the dish. Depending on who you talk to, the invention of eggs Benedict is either credited to a rich couple, Mr. and Mrs. LeGrand Benedict, bored with the menu at iconic steakhouse Delmonico's in New York City's Financial District (via Insider). Or, a debonair rabble-rouser, Lemuel Benedict, who requested the elements of the dish at the Waldorf Hotel after a night of hard partying. Fitting, right? The ultimate hangover cure, invented by a hungover guy (via The New York Times).
Usually accompanied by boozy brunch drinks like a bloody mary or a mimosa (a little bit of "the hair of the dog," if you will), it's served in both the fanciest of restaurants and the humblest of home kitchens. It's a fairly easy dish to whip up, even for the intermediate home cook; the most intimidating task is making the Hollandaise. But for the love of everything, according to cake baker extraordinaire Duff Goldman, don't do anything extreme to eggs Benedict.
According to Duff Goldman, eggs benedict is perfect the way it is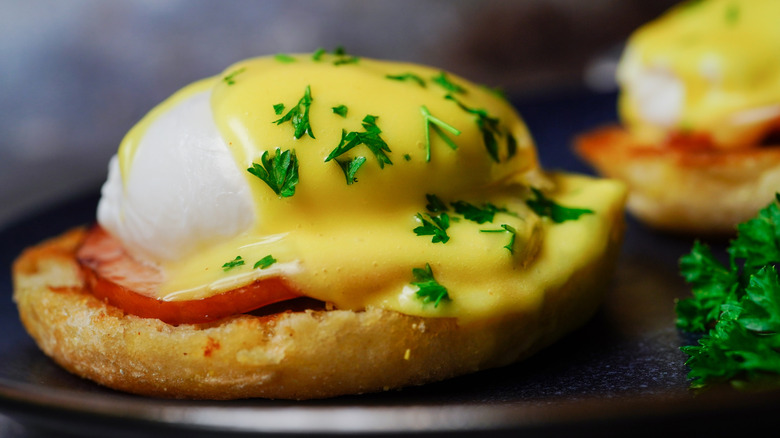 vm2002/Shutterstock
During an appearance on the Food Network's "The Best Thing I Ever Made," Goldman expounds on his love for eggs Benedict. "I make old school, real eggs Benedict," he says. If you make it at home, Goldman wants you to keep it simple: English muffin, Canadian bacon, poached egg, and Hollandaise. "Don't mess with eggs Benedict. Don't do, like, roasted pineapple on there ... deep fried Funyuns or something like that." He explains that eggs Benedict is perfect the way it is. As he walks viewers through making the dish, he also offers some tips and reassurances about what some home cooks view as a complicated or intimidating dish. However, when it comes to Hollandaise sauce, "the first time you make this, you're gonna mess it up; just accept that into your heart." He assembles the rest of the dish and serves it up with home fries (via YouTube).
And with any dish, eggs Benedict is ripe for innovation, popping up on menus as eggs Florentine (swapping bacon for spinach) or replacing the Canadian bacon with smoked salmon. Just don't put anything weird on there, like, M&Ms or something.