Subway And Patrick Mahomes Teamed Up For A New Chicken Sandwich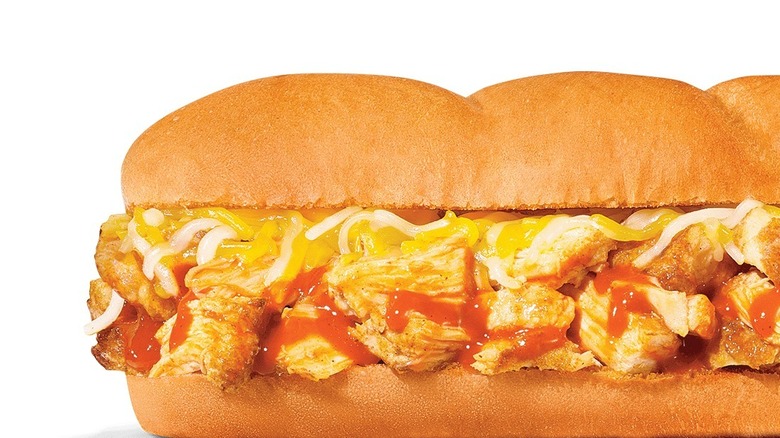 If you're a Subway fan, you may recall the chain's major menu update in 2021, "Eat Fresh Refresh," which came with a list of sports celebrities to promote it. The list included Charles Barkley, Tom Brady, Serena Williams, Megan Rapinoe, and Stephen Curry, as QSR explains.
The inclusion of sports stars in Subway ads continued with the 2022 addition of the No-Look Chicken sandwich by Kansas City Chiefs quarterback, Patrick Mahomes. Chew Boom announced the sandwich as part of the Vault lineup, Subway's digital-only menu. Unlike the Eat Fresh Refresh sandwiches, this chicken sandwich can be ordered only through the Subway app or online. Subway announced the news on its Instagram page in early December 2022.
On the Subway website, the No-Look Chicken sandwich comes with a playful warning about how "saucy" it is. It features "rotisserie-style chicken dressed in twice the Frank's RedHot Buffalo sauce, with a double helping of Monterey cheddar served" on artisan Italian bread, but customization is always an option.
What are people saying about the sandwich?
When the sandwich first launched, several customers shared their thoughts, including YouTube food reviewer @theendorsement, who described it as "one of the worst-looking subs ever in the history of the world." After taking the first bite, he complimented the hot sauce flavor and amount of chicken in the sub, but he later called it "basic" and not worth the price before rating it a 62 out of 100.
YouTuber @ZacknDad also reviewed the sandwich, to which he added banana peppers and other veggies. The banana pepper and hot sauce combo was the dominant flavor for him, which he enjoyed, but he said it masked the chicken taste. His overall flavor rating? A 7 out of 10.
In the original Instagram post, there weren't many positive comments about the three-ingredient sandwich, but the post still collected more than 4,400 likes. Although it seems unlikely that this sub will go down as one of the top sandwiches Subway has ever offered, it's definitely piqued the curiosity of many fans, based on those likes.
Subway's No-Look Chicken by Patrick Mahomes is available at participating Subway locations for a limited time, according to Chew Boom. And remember, it's part of the restaurant's secret Vault menu, so you can't order it in person.