A Single Egg Can Save Your Pie From Suffering A Soggy Bottom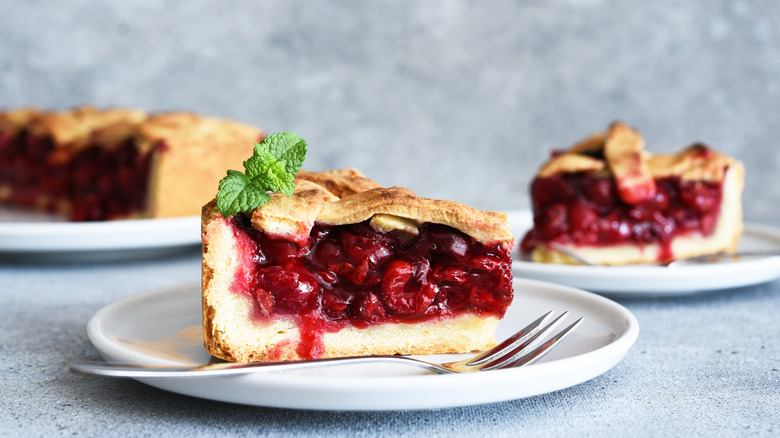 zefirchik06/Shutterstock
We may receive a commission on purchases made from links.
Ahh, the dreaded soggy bottom –- any baker's nemesis. Blind baking is the most foolproof way of preventing a soggy bottom, using pie weights and a stint in the oven to firm up the crust. But, according to Ree Drummond, if you don't have pie weights you can use dried beans, rice, or even sugar (and then you're left with toasted sugar which is simply divine). 
While blind baking works most of the time for custard pies like pumpkin or lemon curd, a lot of fruity pies are double-crusted with a top and a bottom, so blind baking won't work. A raw pie crust top won't stick to a blind baked bottom, plus the top will melt before it's had a chance to get crisp and flaky in the oven. You might also choose to forgo a blind bake if you're in a time crunch. So what can you do?
There are a few hacks to ensure your bottom is crisp. You can sprinkle the bottom with equal parts flour and sugar, also called "crust dust," which will absorb excess liquid as the pie bakes (via King Arthur Baking). You can even use a dusting of plain breadcrumbs, as Dorie Greenspan does. And, brushing the crust with melted butter will create a hydrophobic layer between the filling and the crust. There are plenty of other ways to avoid making mistakes when baking a pie, but there's another trick you can use.
An egg wash is multipurpose and your pie's best friend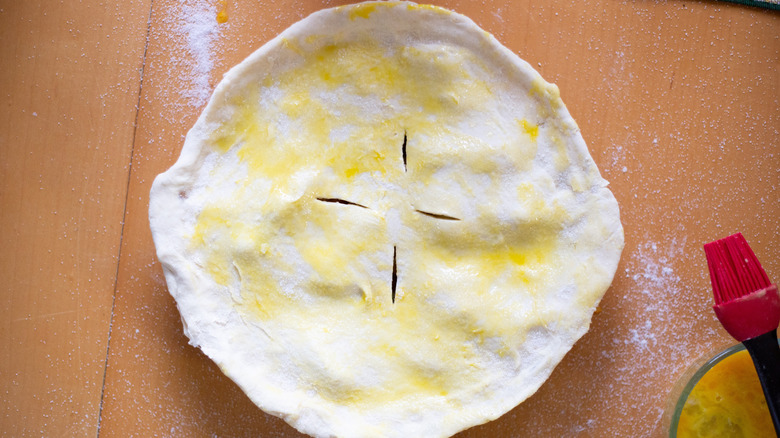 Ems Images/Shutterstock
You can save your pie crust with an egg. Make an egg wash with the whole egg or just the egg white with a bit of water or milk. Brush it on your unbaked pie crust and pop it in the oven or refrigerator for a few minutes to set before filling the pie. You can also brush it on blind-baked pastry and do the same thing before adding your pie filling. The egg will form a barrier between your crust and the filling, saving your guests from a soggy bottom (via The Pioneer Woman). 
Many bakers advocate for using just egg white, as it's flavorless. If you're worried about wasting an egg for just a few brushes on the bottom of your pie, there are other ways to use egg wash in your baking. It's super handy for sealing and joining pie crust tops and bottoms, acting as glue. It's also great for giving your pastry that burnished, golden color you see in bakery windows. For added crunch and sweetness, consider sprinkling decorating sugar on your egg-washed pastry before baking. And, if someone has an egg allergy, corn syrup will work just as well (via Boston Girl Bakes).