The Best Camping Grills In 2022
Varavin88/Shutterstock
We may receive a commission on purchases made from links.
There's not much that beats freshly grilled meat and vegetables at a beautiful campsite, whether you're cooking for yourself or for a group. The smell, the taste, the experience of grilling — it's all a part of traditional camping, and having the right grill by your side can truly make a difference.
That's why we've gathered the best camping grills for your purposes. Our picks cater to just about every camping need, from those who set up camps in between backpacking trips to people who need a simple grill to cook over an open campfire. We also found options that fit a range of budgets, are large enough to cook for several people at once, and combine multiple features for a truly unique grilling experience at your favorite campsite.
Although there are numerous camping grills on the market today, we believe there's one on this list that will work for everyone, from casual campers to camping enthusiasts.
How we selected products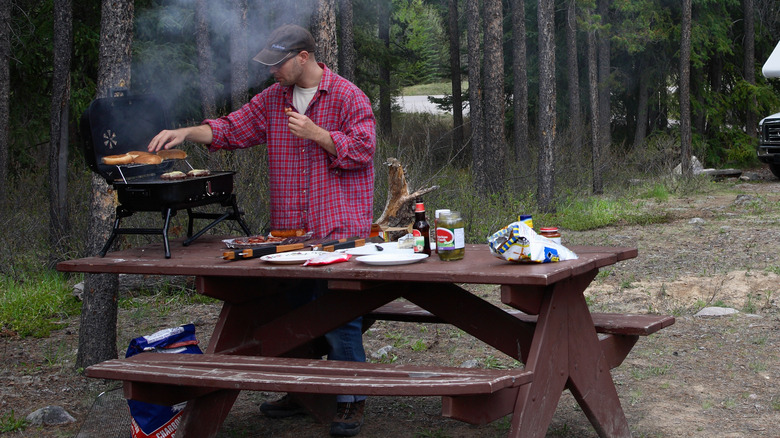 Tom Fowlks/Getty Images
When choosing camping grills to add to our list, we first considered important qualities, like being lightweight, portable, and offering various features to avoid having to bring multiple appliances along. Then, we created categories based on what most people would look for when searching for the best camping grill to buy.
Not only did we look for grills that best matched each category, but we also assessed several other factors, like overall features, quality, ease of use, general popularity, and user reviews. We know how important it is for camping enthusiasts to find equipment that reliably works and withstands the elements, so we placed a lot of emphasis on reviews from real customers who are pleased with their grill purchase. We examined multiple reviews for each product on official brand product pages and online retailers, like Amazon and Home Depot, before selecting the top worthy contenders.
Best overall camping grill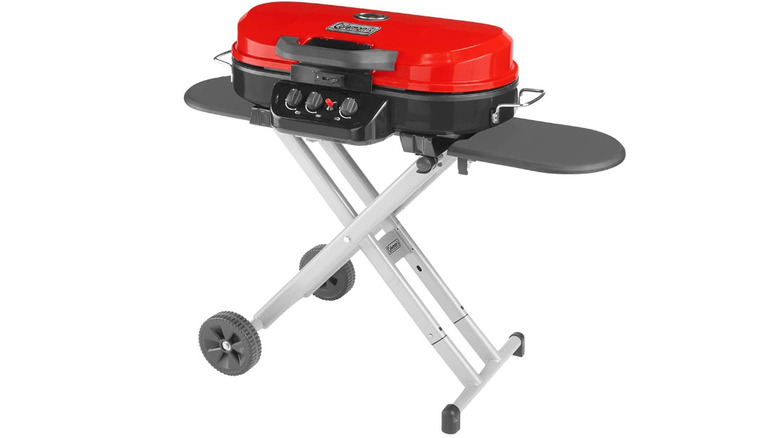 Coleman
If you're not looking for something highly specific with your camping grill and you simply want one that works and has just about everything necessary for a delicious campsite meal, the Coleman RoadTrip 285 portable stand-up propane grill is an excellent choice. From its portability to cooking power to ease of use, this Coleman grill can churn out tasty food without a lot of fuss, giving you more time to camp.
This grill has up to 20,000 BTUs of cooking power for its modest surface area — enough to feed a few people at a time. Three separate burners allow you to use as much or as little of the grilling surface as necessary, and each is adjustable to meet the cooking requirements of various foods. When you're done using it, the quick-fold legs and locking lid keep it a fraction of its full size, making it easy to move around the campsite or tuck back into a trailer. 
One reviewer on the Coleman website is highly impressed by this grill, stating, "This portable grill was everything I hoped it would be. It assembled easily — the instructions were not even necessary! — and I was cooking fresh salmon half an hour after opening the box."
The Coleman RoadTrip 285 portable stand-up propane grill is available on Amazon for $289.99 as of December 2022.
Best budget camping grill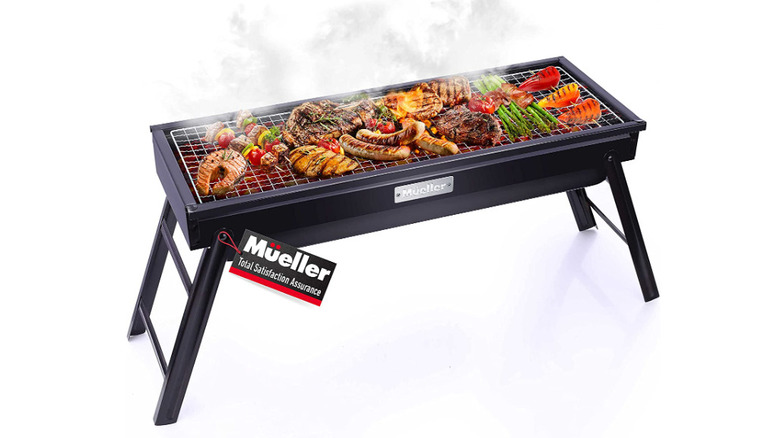 Müeller
Camping on a budget? The Müeller portable charcoal grill is less than $40, yet it allows for a traditional grilling-while-camping experience with its compact, lightweight, and portable profile. The legs fold completely down for easy storage when not in use, and you can set the grill up in seconds when you're ready to cook again. Although it has a smaller cooking area than other options on our list, it's just the right size for a couple or small family who doesn't want to spend their whole camping budget on a grill.
Despite its low price tag, the Müeller charcoal grill has a stainless steel cooking grate built to last through many meals and unpredictable weather. A heavy-duty heat-resistant metal frame also adds strength to the unit, and all the components are dishwasher-safe for easy cleaning. At the time of this writing, reviewers on Amazon rate this grill an average of 4.2 out of 5 stars.
The Müeller portable charcoal grill is available on Amazon for $34.99 as of December 2022.
Best camping grill to splurge on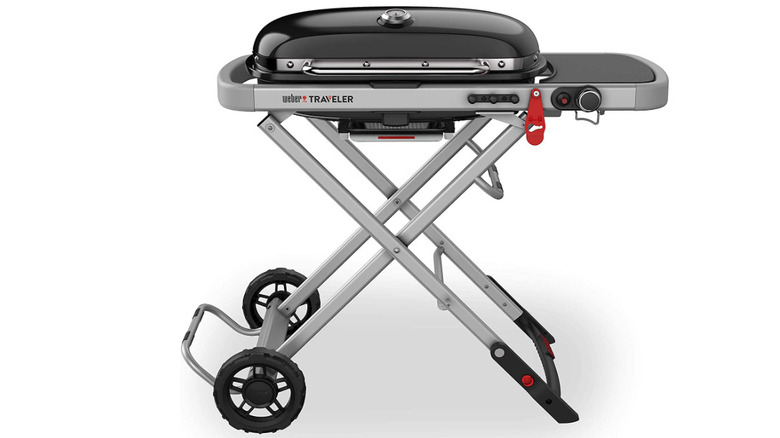 Weber
If grilling is a significant part of your camping experience, you may want to splurge on a grill that's going to let you make the most of your cooking time. That grill is the Weber Traveler portable gas grill, which will basically take care of all your cooking needs at the campsite. It has a full 20-gallon propane tank to ensure you have enough to last throughout your trip, and the grilling area holds up to 15 burgers at once, ideal for large groups. At the end of the day, you can fold the grill down to save space.
A 4.6 out of 5 rating on Weber's website at the time of this writing shows how much campers love this model and are easily willing to pay the price for it. One customer says, "I bought this for use in our travel trailer trips, but when I did a trial grilling on our deck, I was so pleased with the performance that I have used it for grilling almost all our meals since. It lights up immediately and maintains the grilling temperature very well."
The Weber Traveler portable gas grill is available on Amazon for $369 as of December 2022.
Best camping grill for minimalists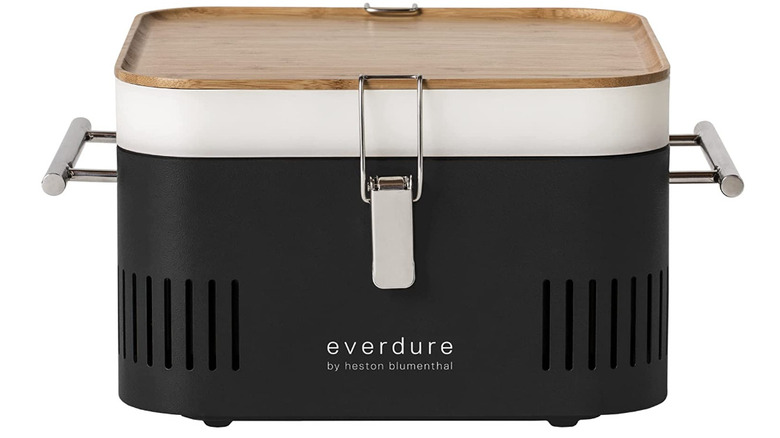 Everdure
Do you want a simple grill that actually looks nothing like a grill? If so, the Everdure Cube portable charcoal grill is right up your alley. This grill is a minimalist's dream with its no-fuss appearance reminiscent of a stylish cooler. It only has a few pieces too, so you won't need to worry about losing important parts while enjoying the outdoors. Convenient external handles help you carry it around the campsite with ease.
The Everdure Cube also takes cleaning into consideration. The main firebox is made of porcelain, so food and debris wipe away easily. Meanwhile, the charcoal tray can be removed to wash separately. One Amazon reviewer states, "It was way over my budget — but how many $30 crappy grills do I have to go through? This thing is the best. You barely need any charcoal, and it is hot and cooks evenly. It is a pleasure to look at and clean. The cooking surface isn't that small, it is a very efficient use of space."
The Everdure Cube portable charcoal grill is available on Amazon for $169.40 as of December 2022.
Best camping grill for backpackers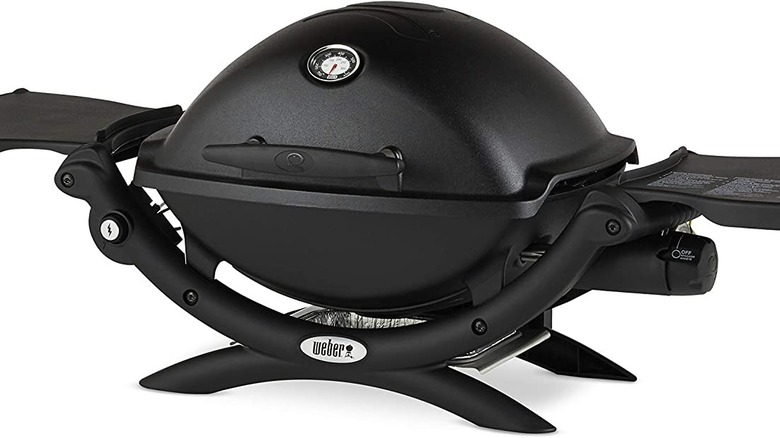 Weber
Backpackers shouldn't have to skip out on grilling just because they have minimal space to work with. Instead, pack up the Weber Q 1200 portable propane gas grill, which folds down neatly for easy storage. This small but mighty grill has one burner and a compact frame, yet still offers 8,500 BTUs of power and a 189 square-inch cooking surface. Two working tables on the sides of the grill fold down for easy storage. An optional cover is also available if you'd like to store everything in your backpack without worrying about a mess.
At the time of this writing, Weber customers give this portable grill a 4.7 average score out of 5, frequently raving about its convenient size, quality, and reliable performance. One customer comments, "Excellent even heating and cooking. The quality expected of a Weber. Portability and consistent cooking performance. Would highly recommend."
The Weber Q 1200 portable propane gas grill is available on Amazon for $259 as of December 2022.
Best camping grill for groups
For long camping trips with a large group of people, the portability of your grill may not be as much of an issue as it could be for shorter excursions. The Camp Chef Big Gas III grill camp stove certainly isn't the easiest to move around the campsite, but if you're staying put for a few days, it has everything you need to cook tasty meals for numerous people.
This grill has three burners offering as much as 90,000 BTUs and a surface area of more than 617 square inches. With this size, you can hold everything from kebabs and hot dogs to sausages and burgers in order to cook a group meal in one shot. The grill also features a diffuser plate that helps spread heat evenly across the surface for thorough and quick cooking, allowing everyone to enjoy their meal at the same time (via Cabela's). As of this writing, the Camp Chef grill has an average rating of 4.6 out of 5.
The Camp Chef Big Gas III grill camp stove is available on Cabela's retail website for $479.99 as of December 2022.
Best propane camping grill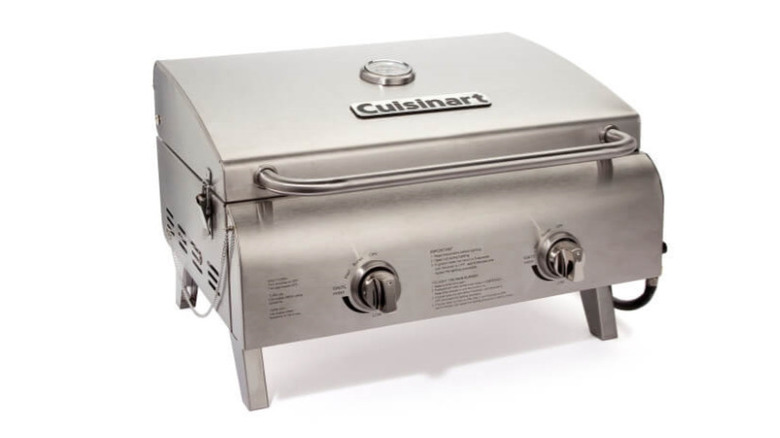 Cuisinart
The Cuisinart Chef's Style tabletop grill blends portability, power, and convenient propane grilling to top our list as the best propane camping grill. This grill may not look like your traditional gas grill, but its compact size sits right on a picnic table and it folds up into an easy-to-carry grill with a handle when you're done using it. 
Still, you don't need to sacrifice performance for convenience because this Cuisinart grill still provides 20,000 BTUs across its two burners and 275 square inches of cooking surface. Plus, lighting it couldn't be easier, thanks to its twist-to-start igniting system that even a grilling novice can figure out.
At the time of this writing, over 4,000 Amazon reviewers have given this grill an average rating of 4.6 out of 5, pointing out its super quick heating and cooking times, adjustable burners for better control, and excellent build quality.
The Cuisinart Chef's Style tabletop propane grill is available on Amazon for $159.99 as of December 2022.
Best charcoal camping grill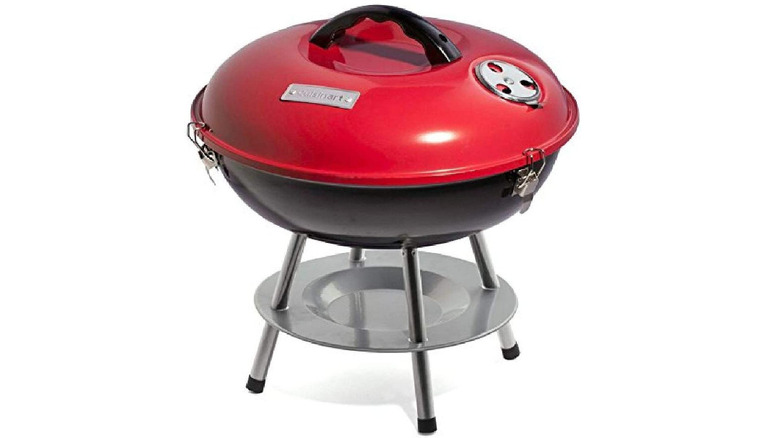 Cuisinart
If you're a lover of bold barbecue flavors that come from a traditional charcoal grill, the Cuisinart portable charcoal gas grill is a good one to try. In terms of simplicity, it's tough to beat. There are no fancy bells and whistles on this grill, but it's extremely lightweight and compact for convenient portability. It can also withstand a lot of heat with its enamel-coated firebox, so you can get a strong blaze going from your charcoal without worrying about warping or ruining the surface. We also like its lid design, which includes an adjustable vent to help you control airflow as you prepare the coals and cook your food.
This Cuisinart charcoal grill has more than 12,000 ratings on Amazon at the time of this writing. Its easy assembly and low price tag are among the top praises for it, but many reviewers also mention that it's simple to clean once you empty out the charcoal and perfectly sized for small camping groups.
The Cuisinart portable charcoal gas grill is available on Amazon for $21.99 as of December 2022.
Best over-fire camping grill
Keep things simple at the campsite by using the Texsport camp grill, which doesn't require you to pack a propane tank or charcoal with your camping gear. Instead, place the grill directly over your fire pit for real-deal rustic cooking. This grill is available in two sizes — 24 by 16 inches and 36 by 18 inches — so be sure to choose the right one for your fire pit and group size.
Direct flame from an open fire is no match for this barebones grill, which is crafted with heavy-duty steel and powder-coated for additional protection. The frame is already slim and minimal, but you can still fold down the legs to tuck the grill away when not in use. With an average rating of 4.6 out of 5, Amazon reviewers rave about the grill's impressive surface area, portability, and quality craftsmanship that withstands tough heat. Some campers also mention bringing this grill along as a reliable backup in case any issues with their main grill arise.
The Texsport camp grill is available on Amazon for $22 or $56.50 depending on size, as of December 2022.
Best camping grill for tailgating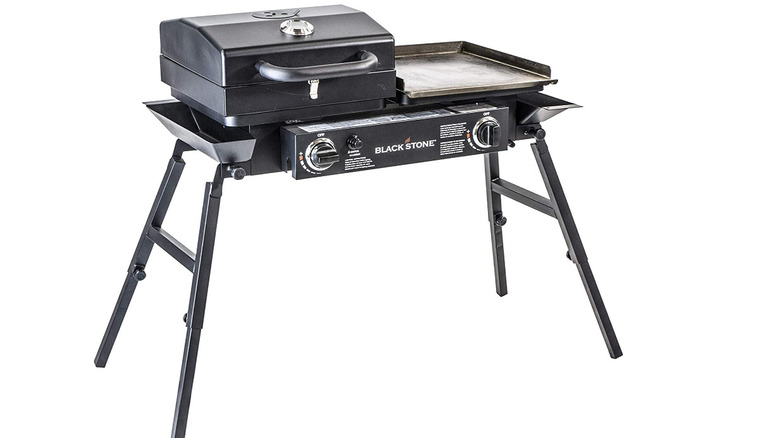 Blackstone
Tailgating is part of the experience for many campers, bringing together groups of people to socialize and enjoy great food. A camping grill made for tailgating should be portable with a large surface area and easy to clean and store for the next meal. The Blackstone gas tailgater combo grill/griddle has all of the above. 
We love that it has grill and griddle surfaces, allowing you to cook multiple kinds of meals from breakfast to dinner, without needing different pieces of equipment. It cranks out 35,000 BTUs from its two adjustable burners and has 477 square inches of cooking space, which is perfect for a large group of tailgaters.
This grill remains sturdy on uneven ground, thanks to its adjustable legs that you can position at varying heights. The Blackstone grill also has a quick and easy setup with virtually no assembly necessary, which is ideal for moving to different campsites and tailgating spots. At the time of this writing, this grill gets a 4.6 out of 5 rating with more than 1,700 reviews on Amazon.
The Blackstone gas tailgater combo grill/griddle is available on Amazon for $299.99 as of December 2022.
Best grill for RV camping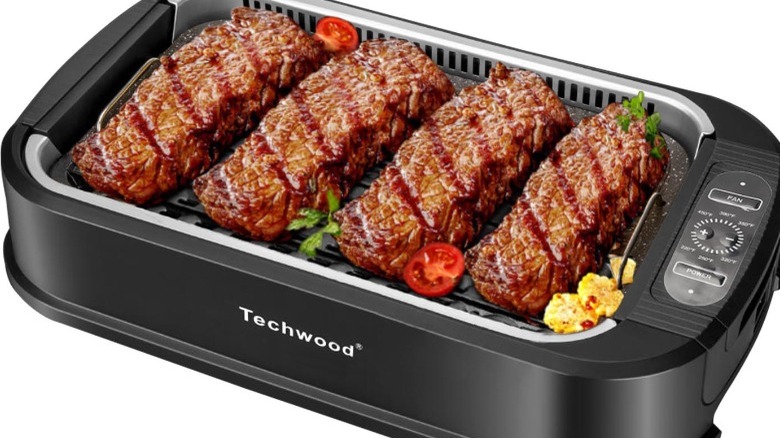 Techwood
Do you need a small grill to use inside your RV to cook a meal in inclement weather? If so, the Techwood smokeless indoor grill can do the job. This electric indoor grill achieves just about the same flavor results as you'd expect from a traditional grill, but without the smoky after-effects. It prevents about 92% of the smoke you'd normally get with a charcoal or gas grill, making it a safe and suitable option for cramped RV kitchens. Don't worry — the non-stick grill racks still leave the grill marks you expect from your home-cooked camping meal.
This Techwood grill has about 200 square inches of cooking space, which provides room for six to eight servings. Its small size won't take up much-needed counter space in your RV. Although some Amazon reviewers admit that it takes a bit longer than more powerful grills to reach the necessary temperature, it cooks fast and evenly once it does.
The Techwood smokeless indoor grill is available on Amazon for $124.98 as of December 2022.
Best camping grill and smoker combo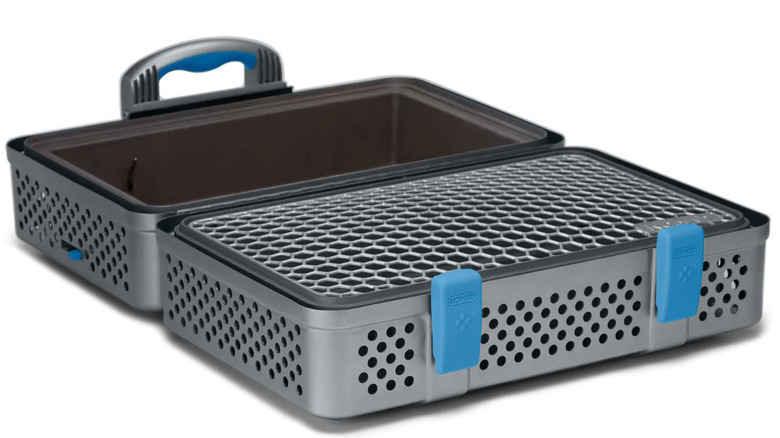 NOMAD
The NOMAD grill & smoker offers two delicious camping cooking methods in one compact and convenient piece of equipment. This unit looks nothing like the grills or smokers you're used to and folds up into a briefcase-style box to carry from place to place. Still, it's incredibly durable with its diecast cooking boxes and stainless steel grates. The carrying case is also treated with an anodized finish to prevent corrosion when you're using it outdoors.
A built-in thermometer helps you keep an eye on your cooking temperature at a glance, whether you're smoking meat or grilling vegetables. Meanwhile, airflow vents help you control how much air moves in and out of the unit. Over 1,200 reviewers on NOMAD's website rate this grill and smoker combo with 5 out of 5 stars at the time of this writing, and several reviews praise its quality craftsmanship, reliable cooking, and portability for outdoor adventures. One reviewer states, "NOMAD is the raddest, baddest grill I have ever used. Made grilled salsa and tacos tonight with Binchotan charcoal. It was off the charts delicious."
The NOMAD grill & smoker is available on NOMAD for $649 as of December 2022.
Best trailer-hitch camping grill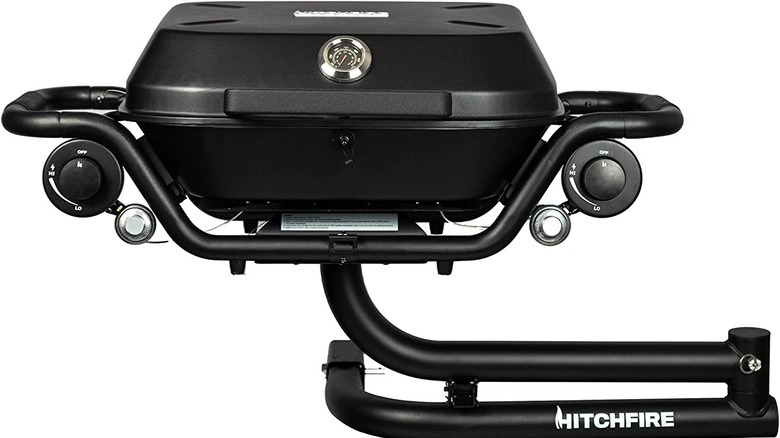 Hitchfire
Trailer hitch-mounted camping grills allow for portability at its finest. Hook the Hitchfire F-20 to your RV or vehicle hitch, and you won't need to wheel it around the campsite, assemble, or disassemble it. You can choose between setups that allow the Hitchfire F-20 to swing out to the left or right, depending on how your vehicle is designed. If you want to use the grill in an area where vehicles are prohibited, it can detach from the hitch for tabletop usage.
The grill has two adjustable burners with up to 20,000 total BTUs for quick cooking. An 18-inch by 22-inch cooking area offers plenty of space for medium to large groups. It's also compatible with other Hitchfire accessories, like side tables, griddle tops, and RV hookup kits, to customize the grill to your needs. At the time of this writing, the Hitchfire F-20 has a 4.3 out of 5 rating on Amazon, mostly for its reliable quality and functionality.
The Hitchfire F-20 is available on Amazon for $649 as of December 2022.