Joanna Gaines Is 'Grateful' For Her Recent Surgery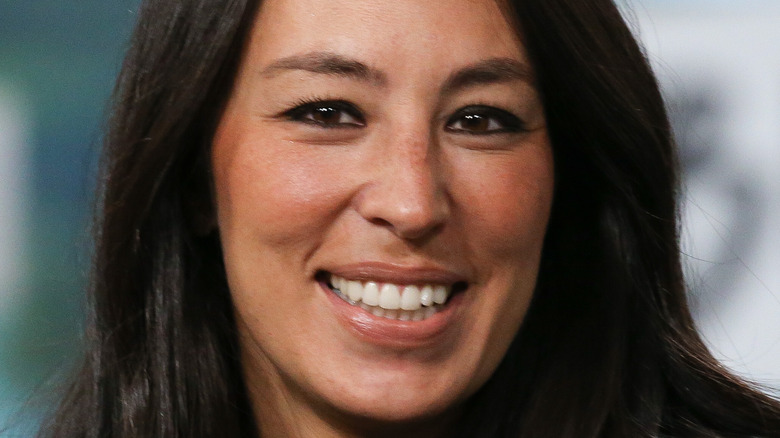 Rob Kim/Getty Images
While many people grapple with busy schedules during the holiday season, one can imagine Joanna Gaines' daily happenings are busier than most. Alongside her husband, Chip Gaines, the Kansas native juggles various business ventures, including Magnolia Home, Magnolia Realty, Magnolia Seed & Supply, Magnolia Press, and The Shops at the Silos, as noted by their Waco Heart of Texas profile. The TV personality has also embarked on solo projects, including several New York Times bestselling novels (via Business Woman). One of her most personal projects was published this year, a memoir titled "The Stories We Tell."
After a long and hectic year, Joanna Gaines could use the holiday season to recharge. The mother-of-five is known for getting into the Christmas spirit as early as possible. Last year, Gaines posted a photo on Instagram capturing her setting up her Christmas tree with her son, Crew, on November 5. "It was 54 degrees today so...," the "Fixer Upper" star captioned the post. This year, the holidays are looking a little different for Gaines. The 44-year-old is using the holiday season to recover, but not in her home, in the hospital, due to a recent surgery.
The Fixer Upper star loves spending the holiday season reflecting and reminiscing
In a recent Instagram post, Joanna Gaines gave her followers an update on her health. The Waco resident recently had surgery for a long-time back injury she's had since high school (via Page Six). "I hurt my back in high school from cheerleading — basically a basket toss turned back injury, and I've been dealing with it ever since," Gaines explained in an Instagram post.
Gaines revealed how the same injury caused her to miss her second date with her now-husband. "I've always joked that my back likes to act up at the most inconvenient times, and I was a bit stressed bc of the timing of it all with the holiday season." Even though Gaines is missing the most wonderful time of the year at home, she found the silver lining. "I'm truly grateful for the forced rest during the busiest time of the year. It has been a gift to simply stay put, stare at the wonder all around, and just be still," she shared.
Even in past years, one of Gaines' favorite parts about the holidays is reminiscing. Her family decorates their tree with ornaments of sentimental value, some of which include ornaments made by her kids. "While the Popsicle-stick picture frames have cracked over the years, and the photos within them have faded — it only makes me love them all the more," Gaines wrote in an essay in "Magnolia Journal" (via Taste of Home).