The McDonald's 'Nothing Burger' Has The Internet In Shambles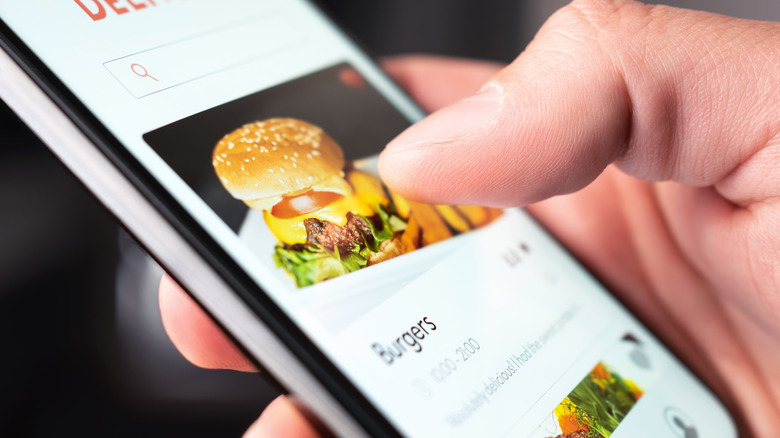 Tero Vesalainen/Getty Images
When you have a food delivery app that allows you to customize your meal, and you combine it with someone fueled by "what if" questions, well, a "nothing burger" is inevitable. For those of you who aren't familiar with the McDonald's app, it allows you to purchase certain menu items with the option to customize the toppings.
So, for example, you can order a Double Smoky BLT Quarter Pounder with Cheese and either add it to your bag as it's pictured, or you can select the "Customize" button. This option allows you to change the amount of every ingredient that's included in the burger, from the lettuce to the salt to the beef patty. "None" and "0" are among the choices for many of these items.
You know where this is going, don't you? Apparently, a man decided to have some fun with the customization feature when he placed an order for a McDonald's cheeseburger via Doordash, which he later called a "nothing burger." He shared the experience on his Twitter page, including what he received. The tweet has received more than 17 million views so far.
He got exactly what he ordered ... and didn't order
The incident happened five days before Christmas. Cartoonist Rob DenBleyker customized his McDonald's cheeseburger by removing every ingredient that comes with it, including the beef patty and bun. So the final order summary read, "No Mustard, No Ketchup, No Diced Onions, No Pickle, No American Cheese, No Meat, No Regular Bun, and No Salt." The tweet implies that he did this intentionally to slake his curiosity.
He later replied to his own post, revealing that DoorDash replied to his mobile order and said McDonald's was confused about what he wanted on his cheeseburger. DenBleyker didn't respond. So, he got what he ordered. Nada. Just an empty wrapper in a bag. The grand total, including the tip for the DoorDasher? Fifteen bucks.
Many followers enjoyed the outcome. One commented, "This is amazing." Another said, "I have found my people." A third follower tweeted, "I appreciated this." But others weren't so amused. Several people addressed the fact that he was just wasting the employees' time for a laugh and expressed their disapproval. Other followers shared their own similar, humorous experiences with customizing their orders via a mobile app.
As part of his caption in the tweet implies, this isn't the first time DenBleyker has done this. His December 17 tweet reveals a prior attempt to order a "nothing burger" from McDonald's, but instead of getting a bag with an empty wrapper, he got nothing at all. That order cost him about $2.