What Was The First New Flavor Added To Oreo?
For years now, a hallmark of the Oreo cookie brand has been the ongoing introduction of new flavor combinations, going far beyond the sweet white creme sandwiched between two chocolate wafers that has remained the brand's flagship since its introduction in 1912. Just this year, for instance, Hello, Yummy, noted Oreo's introduction of Toffee Crunch and limited-edition Ultimate Chocolate cookies. And that's not all. Thrillist recently recounted Oreo's limited holiday edition items for 2022, comprising Oreo Snowballs, a chocolate shell covering a traditional Oreo; Oreo Joy!, another take on the classic cookie, but with red-dyed creme filling and holiday designs on the wafers; the self-explanatory White Fudge-Covered Oreos; and Oreo Storybook Sandwich Cookies, miniature Oreos in holiday-themed packaging intended as Christmas stocking stuffers.
According to a 2019 Medium post by Maximilian Schramm — founder of MSDT International, a specialty food distributor — Oreo by then was producing, or had produced, 85 different cookies, although some were limited editions and others weren't available in the United States. Among the limited editions was the 2019 Nabisco Oreo Marshmallow Moon cookie, celebrating the 50th anniversary of the first manned landing on the moon. Instead of the usual Oreo logo, they featured engravings of the moon and stars, a man walking on the moon, and a rocket — and the packaging glowed in the dark! But what was the first ever new flavor added to the Oreo line-up? The answer might surprise you.
Oreo's first new flavor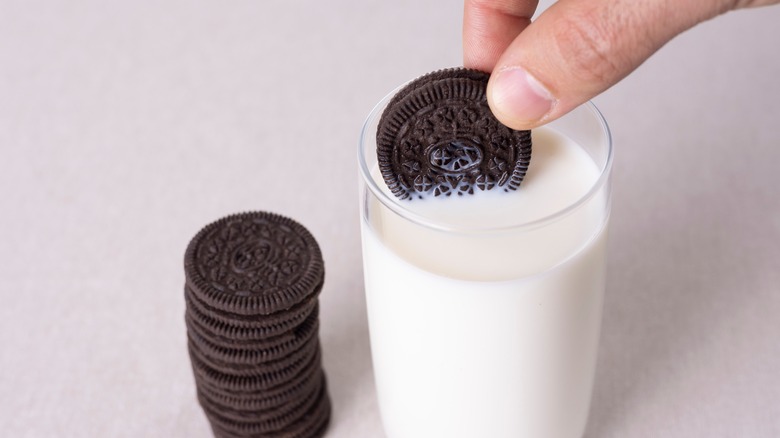 Dreamer Company/Shutterstock
However much Oreo's strategy of introducing new flavors might seem to be a scattershot method of keeping the brand name in front of consumers, a high-ranking company official told The New York Times two years ago that an objective for novelty Oreos is to drive sales of the brand's most familiar cookie. Justin Parnell, then vice president of marketing and head of Oreo U.S. for Mondelez International, whose brands include the famed cookie, said the novelty creations keep consumers interested in the traditional Oreo. "When we do it well, it drives our classic Oreo cookie, as well as the sales of the limited edition," Parnell told the Times.
So, what was Oreo's first venture beyond its classic cookie? Sometime in the 1920s, according to Biscuit People, the cookie maker introduced a lemon-filled Oreo that was taken off the market after what the brand said on Facebook was "a short time." Beyond that, little information is available on the discontinued cookie. While Oreo now offers a cookie with yellow vanilla-flavored wafers atop lemon creme filling, the Facebook post appeared to ask whether people would try a lemon-creme and chocolate wafer Oreo, and got a thumbs-up from more than 600 people, along with comments including "Of course" and "Give me that Oreo!" A few years ago, Oreo appeared to have indulged that desire, at least for a time, with a limited edition Lemon Twist Chocolate Oreo reviewed by The Impulsive Buy.