The Secret Menu Subway Chicken Parmesan Sub You Should Know About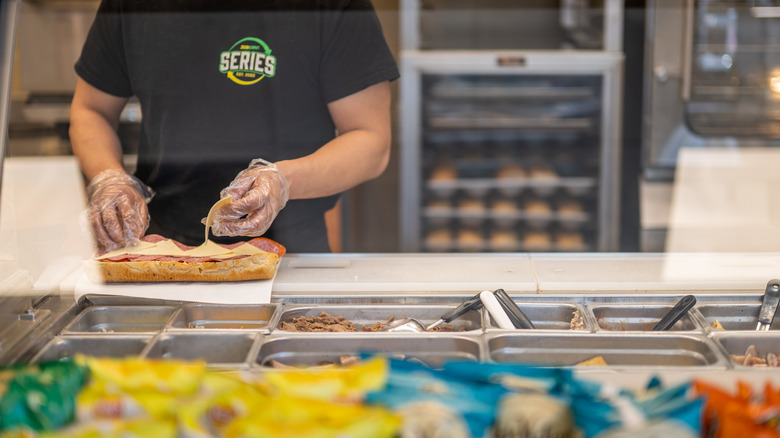 Brandon Bell/Getty Images
Sandwiches can be found on the menus of many fast food chains, but only a small number are dedicated to this lunchtime staple. Thus, when craving a sandwich of any sort, stopping by a local Subway is many customers' go-to. Despite the fact that Subway's food isn't exactly what you think it is, this Connecticut-based chain is adored by many Americans, at least according to the data. Per QSR Magazine, Subway ranked eighth in the fight for America's top fast food chain in 2021, besting all other restaurants in the sandwich category, including Panera Bread, Arby's, and Jimmy John's.
At Subway, customers can order just about anything they want between two slices of bread (within reason, of course). Whether you are craving an Italian BMT, Veggie Delite, or Meatball Marinara, the sandwich world is your oyster. With approximately 40 different options on the menu, it would be hard for anyone to try every single flavor combination. But if you're a regular at the sandwich chain and looking for something new, you can always give the secret menu a whirl. One of the options on this hidden list is a chicken parmesan sub.
This chicken parm-inspired sub used to be on Subway's regular menu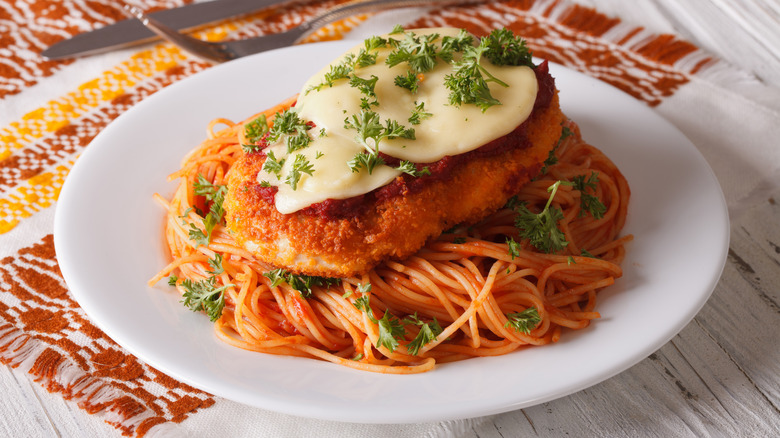 Alleko/Getty Images
From the Pizza Sub to the Deconstructed Breakfast Taco, there are so many hidden sandwich gems that can only be found on Subway's secret menu, according to Restaurant Clicks. While Subway has several sandwiches featuring chicken at the forefront, none is quite like the Italian-inspired chicken parm sub.
Back in the day, this fan-favorite pick was actually included on Subway's regular menu until it was removed in 2010. Nevertheless, Secret Menus says you should still be able to try it by requesting a sandwich filled with roast chicken, marinara sauce, parmesan cheese, spinach, olives, and a sprinkle of black pepper, feeling free to add or replace ingredients to suit your taste buds. 
As with every fast food hack, people have their own favorite ways of enjoying the chicken parm sub. One creative Subway worker made their own breading by crushing croutons on top of the chicken (via Reddit), while another user called the combination "wonderful" with mozzarella cheese and their "usual veggies." However you customize your chicken parm sub, remember to ask for it toasted for maximum melty textures. As Restaurant Clicks explains, the parmesan will also create a nice coating over this non-fried, relatively light version of chicken parm.