The Legit Way To Make Your Chick-Fil-A Sandwich 'Buffalo Style'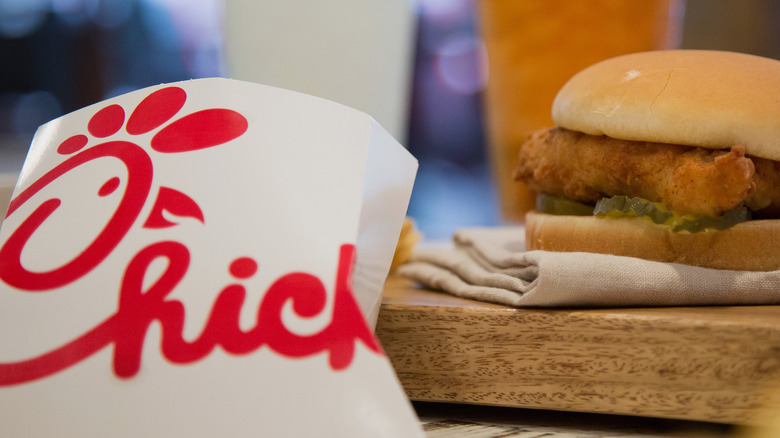 Michael Nagle/Getty
When you are craving a crispy yet juicy chicken sandwich, Chick-fil-A is many people's spot of choice. From Popeyes chicken sandwich to Burger King's Ch'King Sandwich, many other fast food joints feature fan-favorite spicy chicken sandwiches. So what helps Chick-fil-A's version stand out above the rest?
As it turns out, there's a reason why Chick-fil-A's chicken is so delicious, and unsurprisingly, it all comes down to the quality of the chicken it sources. According to its official website, Chick-fil-A never uses chicken meat that has been ground or separated, and all of its chickens are raised cage-free and are free of added fillers, steroids, hormones, and antibiotics. Rest assured, the next time you bite into a sandwich from this Atlanta-based chain, you will know the meat is of the highest quality.
As for the Chick-fil-A chicken sandwich recipe? That's one secret the restaurant chain won't spill. According to Taste of Home, this top-secret recipe is under lock and key at the company's Atlanta headquarters. While no one will ever know exactly how this sandwich is made, there are numerous copycat Chick-fil-A recipes you can now make at home as well as menu hacks for customers to take advantage of. For instance, there's a simple way to transform Chick-fil-A's spicy chicken sandwich into a buffalo chicken sandwich.
Don't forget to ask for extra pickles and a few packets of zesty buffalo sauce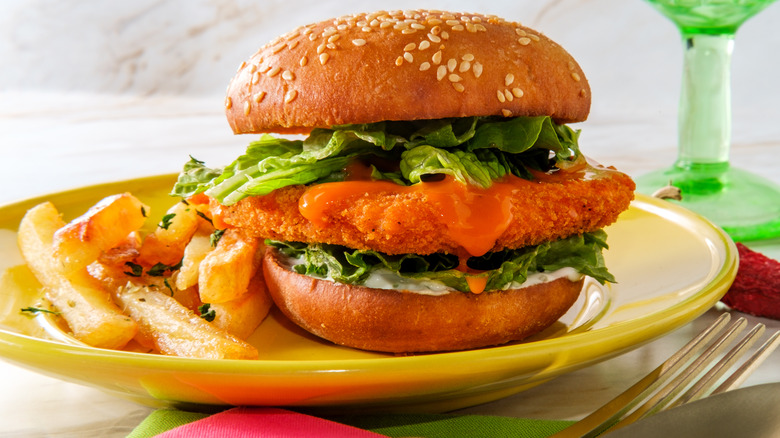 Ezume Images/Shutterstock
If you have a hankering for a buffalo chicken sandwich and there's a Chick-fil-A just down the street, you're in luck. Even though Chick-fil-A doesn't feature a buffalo chicken sandwich on its menu, it's very easy to DIY with free ingredients from this chicken chain, as noted by The Krazy Coupon Lady. First, you will want to order a spicy chicken sandwich as your base. This sandwich has a multigrain bun, dill pickle chips, and pepper-seasoned boneless chicken breast.
Next, you will want to make sure that you ask for extra pickles and a couple of packets of buffalo sauce. Simply drizzle your buffalo sauce on the bun and place the extra pickles on top, and voila! You've got yourself a buffalo chicken sandwich.
Feel free to customize this sandwich to suit your preferences. For instance, if you're not a big pickle fan, hold the extra pickles. If you don't handle spice too well, order the Original Chicken sandwich as your base, not the spicy chicken sandwich. If you're ordering your sandwich to-go, you can also top your handheld dish with ingredients and condiments from your home.