TikTok Isn't Impressed By A McDonald's Worker's Churros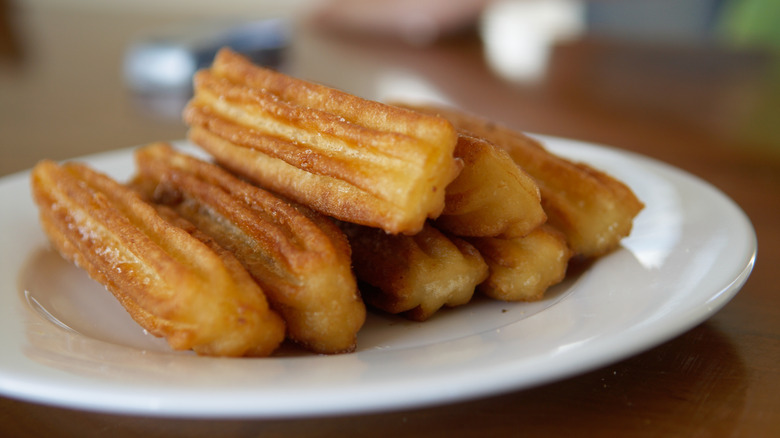 Gaby Messina/Getty Images
Thanks to TikTok, it's not uncommon to see videos of fast food workers getting creative and sharing the best customizations for popular menu items. We've seen employees from a variety of food chains share their order hacks and tips, including a Starbucks barista who shared how to order a secret menu item, and a Chick-fil-A employee who showed us how you can add some extra spice to your chicken nuggets.
Every now and again we'll even see employees go completely rogue and make items that aren't printed on the menu at all. Impressively, one Subway worker shared a video on how they made "nachos" at the restaurant, using a bag of chips and the chain's sandwich toppings. Well recently, another worker has shared a TikTok featuring an off-menu item they made during their shift. A McDonald's employee who goes by @bentenproductions recorded how they whipped up some "churros" for their coworkers, and let's just say that people had very strong opinions on the attempt at the dessert. Here's what people had to say about it.
TikTok users are not fans of the creation
The now-viral TikTok, which has over 2.2 million views, shows the McDonald's worker demonstrating their culinary creativity by using unconventional ingredients for their "churros." While traditional churros are made by frying pastry dough and sprinkling cinnamon sugar on top, the TikTok user slices up the restaurant's hamburger buns and submerges them into a deep fryer. They then add some white sugar — without cinnamon — to the fried buns. 
People had mixed reactions about this, with some pointing out the dessert's missing ingredient. "Can't call it churros if there ain't cinnamon with the sugar," one user commented. Another person who claimed to have made something similar gave their input on the churros. "I've done it, it just tastes like fried oil-soaked bread," they shared. Luckily, others had suggestions on how to improve upon the recipe. "Deep fry a McGriddle and then sprinkle the sugar on it," they said. "Tastes like a funnel cake from a carnival fr."
While there doesn't seem to be any evidence that McDonald's has ever sold actual churros — not fried hamburger buns — at any of its U.S. locations, it reportedly sold churros at one of its international restaurants in 2015. So, perhaps TikTok can convince the right people to bring the dessert to the U.S. Who knows, maybe we'll see an updated recipe make it onto the full-time menu!