New York City Is Home To The Only Makgeolli Brewery In The US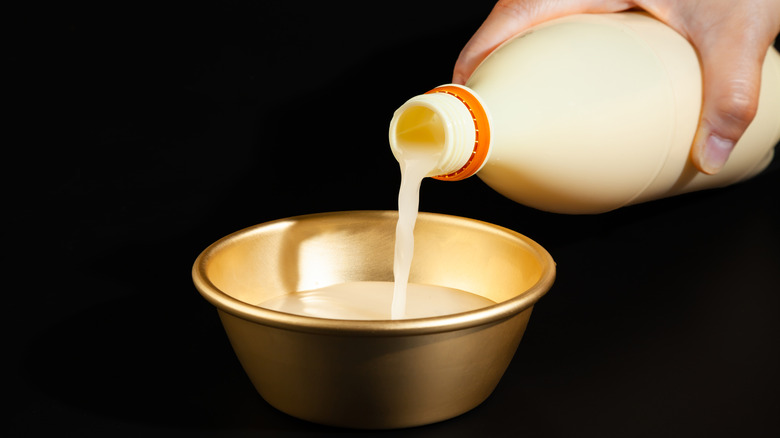 Nitiphonphat/Getty Images
New York City is known for its vibrant bar and nightlife scene, but it has also recently become a mecca for Makgeolli lovers. This rice-based drink, which originated from Korea, is alcoholic and has a uniquely thick and slightly carbonated texture (via Beer and Brewing).
Makgeolli's popularity is spreading throughout the United States, with people using it to complement Korean barbecue and seafood (via Alcohol Professor). Be Korea reported that the drink can sometimes be found at Walmart and through online vendors. The beverage can also be made at home, but it is quite a lengthy process, and not everyone might have the ingredients to make it on hand (via Maangchi). 
Fortunately, for those who live in New York City, there is a Makgeolli brewery located in Brooklyn. There, people aren't just tasting the different variations of the drink, but are also immersed in the history and production process of Makgeolli.
Hana Makgeolli isn't just a tasting experience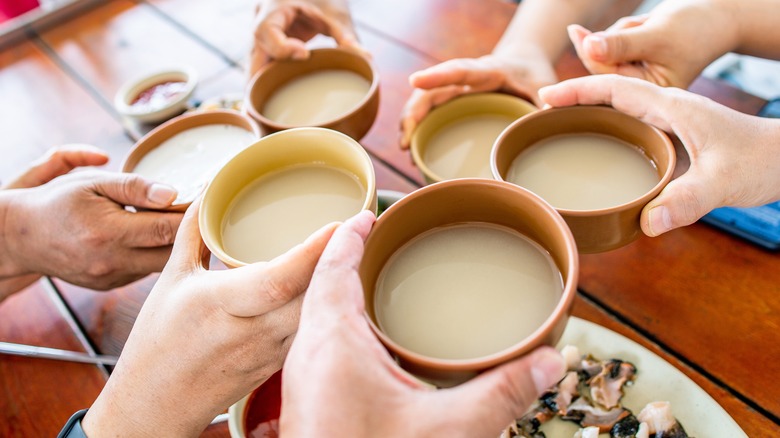 Stock for you/Shutterstock
Hana Makgeolli is located in Greenpoint, Brooklyn, and it is dedicated to sharing authentic Makgeolli using traditional ingredients and methods. This is displayed in its use of nuruk, which is an organic rice, and is used in many other alcoholic beverages including soju (via Kimchimari). The brewery's team, which is composed of Alice and John, has been creating makgeolli in the United States since 2017. It also gives tours to visitors of Hana Makgeolli, with one TikToker documenting his experience in a video. The TikToker stated that he particularly enjoyed the in-house Takju, which he purchased to bring home.
Although not everyone might be able to get to Hana Makgeolli in person, there are some benefits to tasting Makegeolli made in a traditional brewery. According to Alcohol Professor, store-bought versions of the drink typically contain around 6-8% alcohol, but those made with traditional methods can have as much as 12-18%. Thankfully, Hana Makgeolli sells its product on its Shop page and even a subscription service for sool (alcohol) lovers across the country.