Instead Of A Sausage McMuffin, This McDonald's Customer Received A Bag Of Cash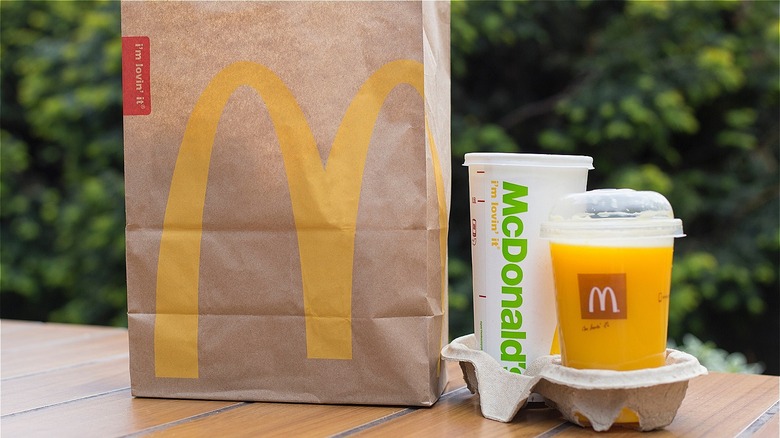 Ksana Durand/Shutterstock
McDonald's has developed quite the reputation in its almost 70-year history. It's known all over the world for its golden arches, Big Mac and other burgers, Chicken McNuggets, Happy Meal, World Famous Fries, and low prices. Sometimes McDonald's is known for its whoopsies, too. Some of them are minor, like when they give a customer somebody else's order, or they completely screw up the order, or they don't give the correct condiments at the drive-thru. And what's the deal with the frequently broken milkshake machines?
The fast food chain has also made some more substantial, headline-making mistakes, too, like accidentally giving a customer thousands of dollars when in place of a breakfast order. Imagine ordering a Sausage McMuffin from the drive-thru and getting wads of cash instead. It's a very unlikely error, but it happened to a customer who shared the experience on TikTok. His response to the blunder received mixed responses from viewers.
He left McDonald's a richer man
In the TikTok video, Josiah Vargas explains how he was handed a large plastic McDonald's bag that he thought contained his Sausage McMuffin. He looked inside to find several sealed plastic bags filled with cash. "Their f****ing deposits!" he said. He suspected the total amounted to a couple thousand dollars. "Why would they do this?" he added.
Since it was clearly a mistake, Vargas took the high road and went inside the restaurant and let the employees know what happened. "Now I have to return this because I'm a good person ... I guess," he said. The employees seemed just as surprised as he was to see the cash and showered him with gratitude and hugs. He said some were even moved to tears.
He ended the video by encouraging others to "do good." Most commenters applauded him, claiming he saved their jobs and showed integrity by "doing the right thing even when no one is looking." Others tagged McDonald's in their reply to say Vargas deserved a bigger reward. But a few viewers felt he should have kept the money. One respondent said, "That amount wouldn't phase the corporation a bit." Another person commented, "I would literally be like, 'The universe has blessed me.' and drive away. Lol."
His reward for returning the money? Free McDonald's for a month, plus $200 in cash. Although he admitted to wanting to keep the money, he said giving it back was a "good trade value."