How To Tell When The Barbecue At Buc-Ee's Is Really Fresh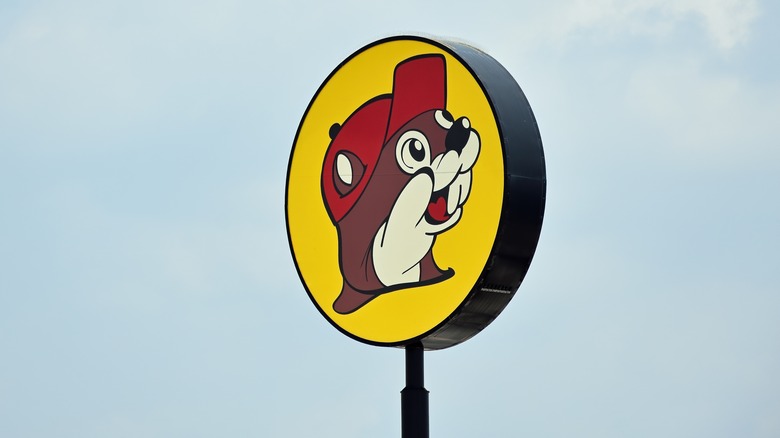 Ray Shrewsberry/Shutterstock
Those of us that take road trips know just how important gas stations and travel centers are when traveling. Whether it's to refuel the vehicle or grab a bunch of snacks for the rest of the trip, travel centers and gas stations have tons of offerings. One in particular called Buc-ee's is the travel center of all travel centers, and the company actually holds a few world records for the longest car wash at 255 feet long and the largest convenience store at 66,335 square feet, per Buc-ee's. Founded in 1982, Buc-ee's is also known for having one of the cleanest bathrooms in the United States and features an adorable little beaver with a red cap as the company mascot (via Buc-ee's).
One of the biggest highlights of Buc-ee's is the variety of food and snacks that are available, and the travel center has its own brand of a huge offering of snacks, including popcorn, bean dip, hot sauce, granola clusters, and more, per Atlanta Magazine. There's also a huge wall of Buc-ee's jerky with lots of flavors such as teriyaki, Mesquite pepper, lemon pepper, and ghost pepper. The popular travel center also has self-branded gummy worms, caramel corn, peach rings, dried fruit, chocolate-covered peanuts, trail mix, yogurt-dipped pretzels, warm cinnamon cashews and pecans, and Beaver Nuggets, which are corn puffs in various flavors. 
You'd be surprised to find that Buc-ee's also offers fresh barbecue, and there's an easy way to tell when it's fresh. Here's how.
The employees with yell to let customers know when the barbecue is fresh
In addition to all of the aforementioned offerings, Buc-ee's also has fresh barbecue at a large counter in the middle of the travel center called "Texas Round-Up," per Atlanta Magazine. You can find pulled pork and brisket sandwiches at the barbecue counter, and conveniently, the barbecue station workers let customers know when fresh barbecue is being sliced by yelling loudly that there's "fresh brisket on the chopping block." For sweet lovers, Buc-ee's has a huge fudge offering, with flavors including cookies and cream, chocolate, peanut butter, and birthday cake. There's also a fudge sampler pack that includes other flavors such as vanilla pecan, red velvet cake, key lime pie, and M&M.
Buc-ee's makes fresh food all day, every single day, and breakfast is offered from 4 a.m. to 11 a.m. (via Buc-ee's). From 11 a.m. on, lunch is served, with the jerky wall, fudge, bakery, Dippin Dots, and more being offered all the time. After all the munchies, you'll definitely need something to wash it all down, and Buc-ee's has tons of drink options. You can indulge in Buc-ee's brand-flavored lemonades and sodas sweetened with cane sugar, as well as other sodas, Arizona ice tea, Icees, and coffee with syrups and creamers.