Jason Segel Fell Accidentally In Love With An Ice Cream Shop Slogan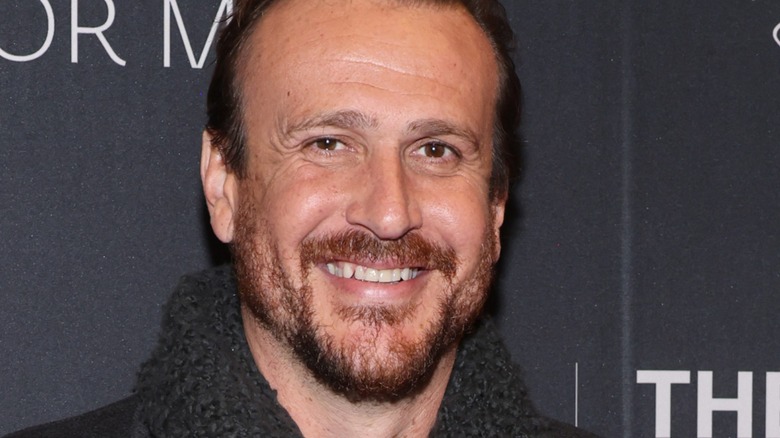 Cindy Ord/Getty Images
Jason Segel learned first hand how friendly and helpful customer service goes a long way in developing rapport with customers and building loyalty. According to Zendesk Blog, 83% of people view customer service as a deciding factor in what businesses they choose to patronize. And, the positive impact of projecting a friendly face to the public is matched by the damage caused when customers have negative interactions with representatives of the brand. About half of all customers will opt to shop elsewhere after a single bad experience.
In the restaurant business, critical encounters begin as soon as the customer walks through the door — often with a greeting — and don't end until they leave, hopefully feeling satisfied. With platforms like Yelp! and TripAdvisor, it doesn't matter if your food is superior to the competition because just one bad review will announce to the world that the service isn't up to snuff, 7Shifts reported.
Segel's exchange with an employee serving ice cream is an example of how the best customer service can keep customers coming back for more.
Jason Segel mistakes friendly service for genuine connection
Actor Jason Segel's encounter with a person selling ice cream had him convinced he was receiving special treatment from a "kind-faced" stranger, he recently told Stephen Colbert on "The Late Show." Shortly before the onset of the Covid-19 pandemic, The "How I Met Your Mother" actor visited an ice cream shop for a taste of comfort following a breakup. The person serving his ice cream was attractive and treated him kindly, he said. At the end of the interaction, she looked at him and said, "Never forget the joy you bring to the world."
Segel reported feeling like the protagonist in a romantic comedy starring Tom Hanks. This experience stuck with Segel as the pandemic forced him to shutter inside his house. When he ordered ice cream from the same shop, which stayed open for delivery, the bag his ice cream arrived in had a handwritten note that read, "Never forget the joy you bring to the world." Instantly Segel began to imagine a future with this comely ice cream pedlar.
Fast forward to the next time he pulled up at the ice cream shop post-pandemic, and Segel spotted another customer holding a bag with the same message. Come to find out, this sentence was the shop's slogan, and he left feeling defeated. Segel linked his desire for connection with the ice cream shop employee to his Series, "Shrinking," in which he plays a psychologist.