We Finally Know The Release Date Of Top Chef Season 20
Time to sharpen your knives and taste buds because "Top Chef" is back for their monumental Season 20 dubbed "Top Chef World All-Stars," and the contestants are not holding back. The popular food competition show will start its culinary adventure in London, England where the best chefs from across the globe will battle each other for the title. If you are a hardcore fan and can claim that you have watched every episode of this high-stress and high-reward show then you may see some familiar faces. The 16 contestants that will be showing off their prowess in the kitchen are comprised of winners and finalists from "Top Chef" shows from around the world including Italy, the Middle East, North Africa, Canada, Mexico, Poland, Spain, and of course the United States, according to Bravo.
Although the show has been known to travel to exotic locales throughout the course of one full season, this will be the first time that the original series will be hosted in a different country. Season 20 will begin in London, then as the course of the series unfolds the contestants will skip around the United Kingdom and create culinary delights in such places as Highclere Castle and Tottenham Hotspur Stadium until the final showdown in Paris, France. Let's take a look at what else you can expect from the highly anticipated new season.
Here is what's in store for Top Chef Season 20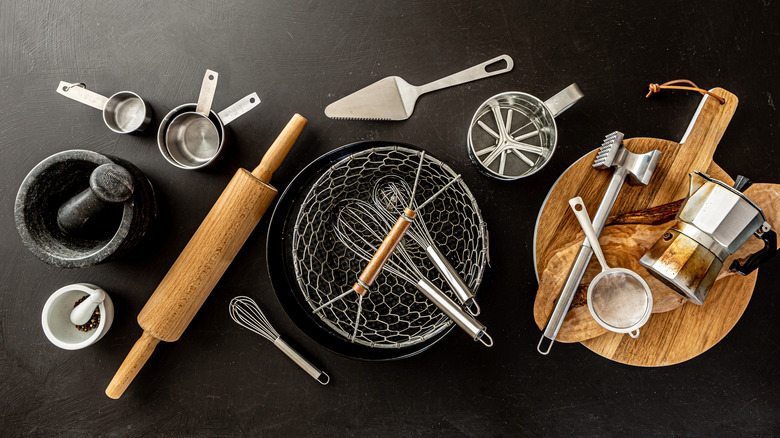 Pinkyone/Shutterstock
If you enjoy the fast-paced action in the kitchen and seeing how some of the most creative dishes are born from the minds of cooking professionals, then tighten up those apron strings because Season 20 of "Top Chef" looks like a doozy. The show will premiere Thursday, March 9 on Bravo. Mainstay host Padma Lakshmi returns with head judges Tom Colicchio, and Gail Simmons as well as a rotating array of guest judges and respected experts which include Aquiles Chavez, Gaggan Anand, Asma Khan, Judy Joo, and restaurant critic Jimi Famurewa to name a few, according to Bravo.
This season promises to be jam-packed with action as the contestants from 11 different "Top Chef" variations are tossed through the wringer and pushed beyond their comfort zone to create feats of fabulous food mastery. From the trailer you see the chefs being treated to twists and turns, thrills and spills, as well as enjoying a little pub crawl, of course. However, when it comes to the competition you can see through all of the sweat and tears that every competitor will be putting their very best dish forward.