The Sweet Swap To Take Your Copycat Shamrock Shake To The Next Level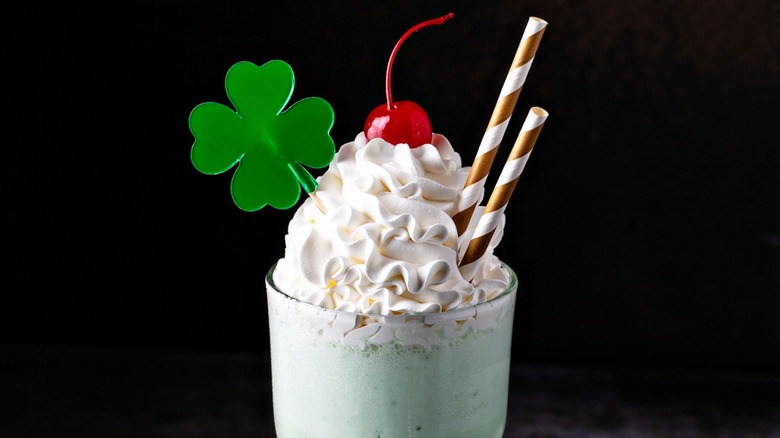 Elena Veselova/Shutterstock
The Shamrock Shake from McDonald's is a popular seasonal milkshake that the fast food chain typically returns to its menu around March in honor of St. Patrick's Day, per allrecipes. Invented by Hal Rosen in 1967, the Shamrock Shake from McDonald's was added to menus in 1970 at various McDonald's locations in the United States (via McDonald's). While the Shamrock Shake has a mint flavor now, it used to have a citrus lemon and lime flavor. Additionally, the Shamrock Shake is so loved by fans that McDonald's offered an Oreo Shamrock McFlurry in 2020 to commemorate the shake's 50th birthday.
According to McDonald's, the chain's popular Shamrock Shake is made with vanilla soft-serve ice cream, Shamrock Shake syrup, and whipped cream as the topping. Still, that doesn't really give Shamrock Shake fans much insight into making one at home. Thankfully, there are plenty of copycat recipes online and on TikTok that give McDonald's fans a more precise recipe to work with, and there's a secret ingredient swap that can take your copycat Shamrock Shake to the next level.
Replace vanilla ice cream with mint ice cream to elevate your Shamrock Shake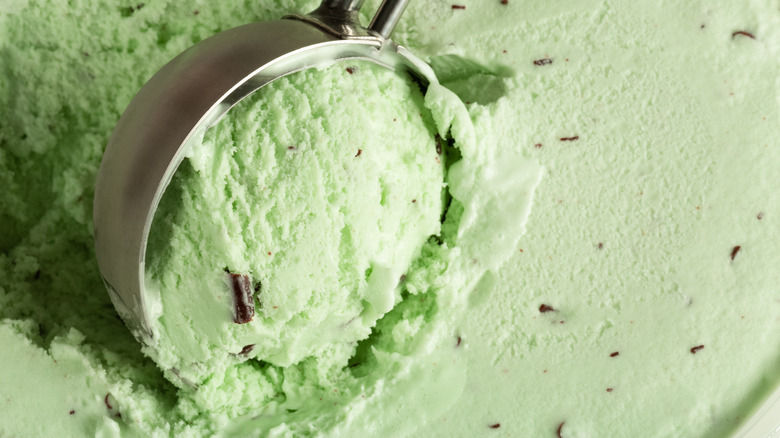 Psdphotography/Getty Images
TikTok user @designeatrepeat shared their version of the popular Shamrock Shake from McDonald's, and they blend together vanilla ice cream, milk, vanilla extract, mint extract, and green food coloring. A handful of commenters praised the copycat Shamrock Shake recipe and claimed it was better than the one you can get at a McDonald's drive-thru. One person suggested adding some chocolate chips to the milkshake recipe for some extra sweetness.
In another Shamrock Shake copycat recipe from allrecipes, the same ingredients are used, with the addition of chocolate syrup and decorating sugar. However, just like the commenter on @designeatrepeat's TikTok that suggested adding mini chocolate chips, a comment under the recipe from AllRecipes offered another suggestion that will actually elevate your copycat recipe. Ian Miller commented "I found that if I use my homemade mint ice cream, it was one of the most delicious deserts [sic] I've ever consumed." 
So, next time you want to recreate the Shamrock Shake from McDonald's, try using mint ice cream instead of vanilla ice cream.