7 Best McDonald's Celebrity Meals Ever, Ranked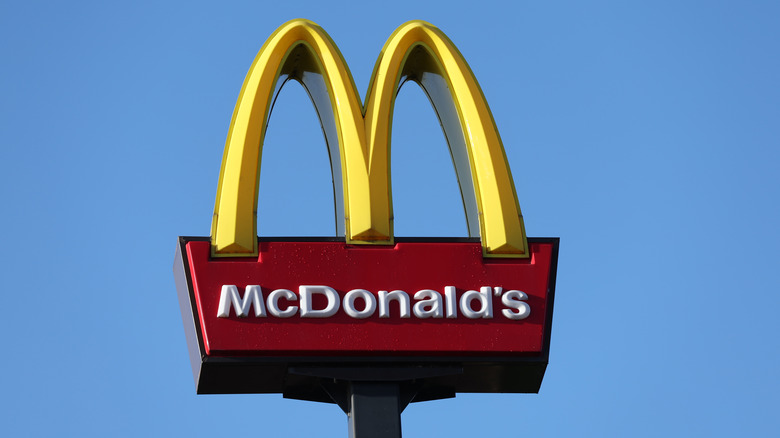 Nathan Stirk/Getty Images
McDonald's really did something with its celebrity meals. In the early '90s, the casual dining giant tapped none other than Michael Jordan to create a special sandwich. Nearly 30 years later, some marketing exec at McDonald's had a stroke of genius and suggested the franchise bring back the practice, setting off a firestorm of celebrity meals from some of our favorite people in entertainment. And we'd love to see it continue (though we do have some suggestions moving forward).
For whatever reason, we as a society are more apt to buy something if it has a celebrity endorsement. And although McDonald's needs no help boosting its products, it's making a killing with these celebrity meals. Just because it's making money, though, doesn't mean all the meals are great. While some are creative and tasty, others are basic and boring. To delineate the good from the great, we ranked the McDonald's celebrity meals. Order a McFlurry and settle in. Here is our ranking for McDonald's celebrity meals.
The BTS meal was pretty basic
Our list begins with the BTS meal. In case you're (somehow) unfamiliar with them, BTS is a Korean pop group, and they've effectively taken over the universe with their music. Continuing with their world domination, the group collaborated with McDonald's on a celebrity meal in 2021, and despite the meal lacking imagination, it caused major media hype. 
The BTS meal was fine, it just could've been better. It included a 10-piece chicken nugget, fries, and a coke. The only interesting part of the meal was its "limited-time" sauces, which came with cajun and sweet chili sauces. It's not exactly BTS's fault that their meal was so plain; we understand McDonald's has a hand in this, too. But, given McDonald's continues to use celebrity meals as a marketing tactic, it needs to get more creative with the meal offerings and not solely rely on celebrity status. 
Unless nuggets and fries are your go-to order — and you want to try new sauces — there's no reason to order this meal. Sure, it'll taste good, but include a limited-edition menu item or something inedible á la Happy Meals. We're tired of the same old, same old.
Cardi B and Offset's meal is a little spendy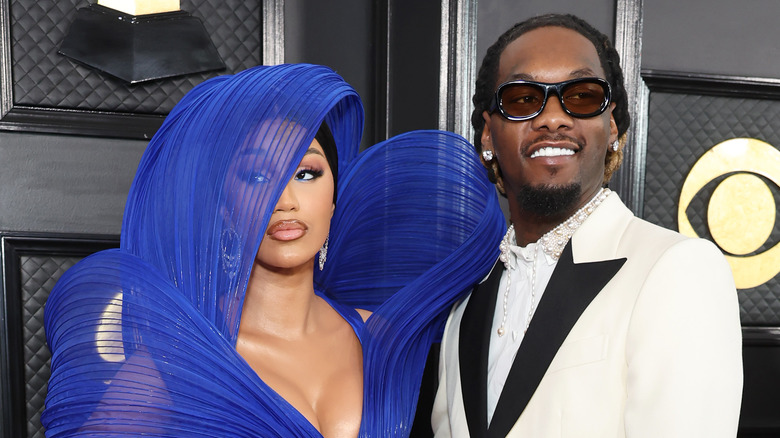 Amy Sussman/Getty Images
Coming in next is the Cardi B and Offset meal, and there's a lot to admire about the McDonald's collaboration with the rap couple. First off, this is the only meal that features a couple uniting to promote a meal for the fast food chain (every other meal is either an individual or a band). Because of that, Cardi B and Offset's meal is perfect for couples to share, making it apropos that the meal was announced right before Valentine's Day in 2023. The meal features a Quarter Pounder with cheese, a cheeseburger, fries, an apple pie, Coca-Cola, Hi-C Orange Lavaburst, and barbecue sauce for dipping. You could eat it on your own, but it'd be better to share.
The rap couple's meal loses points because of its price. While the total varies depending on location, in some places, it's cheaper to order the items individually rather than as the celebrity-endorsed meal. There also isn't anything novel included in the meal, aside from ordering it using the name. 
Still, it's McDonald's, so the food tastes good, and the promotion was well marketed. Cardi B and Offset starred in a Super Bowl LVII commercial for the restaurant, which is an unequivocal flex.
J Balvin's meal didn't include a drink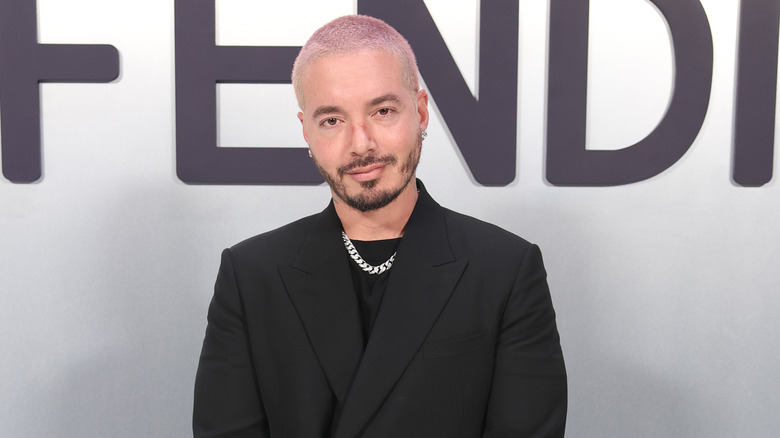 Daniele Venturelli/Getty Images
J Balvin is best known for his music, and he was the second celebrity after Travis Scott to garner their own meal collaboration in the McDonald's celebrity meal renaissance. Considering J Balvin's worldwide popularity — he was the most-streamed artist on Spotify in 2018 — choosing the Colombian singer for the spot was a smart move on McDonald's part. 
J Balvin was the first Latino to earn a Mickey D's meal, and the significance was not lost on him. "It is crazy because we're talking about Michael Jordan and Travis Scott, so it's a blessing. ... It's a big campaign, so I feel really proud of it," he told Complex of the collaboration.
Now on to the celebrity meal itself. J Balvin's, compared to some, was relatively simple: a Big Mac, an Oreo McFlurry, fries, and ketchup. Simple but good. J Balvin loses us at the omission of a drink. Sure, you can order a drink to accompany the meal on your own, but given it's a meal, we expect something other than ice cream to wash down the food. That being said, we appreciate the ice cream inclusion, and overall, it's a solid meal that deserves applause for its history.
Saweetie's meal was quite unique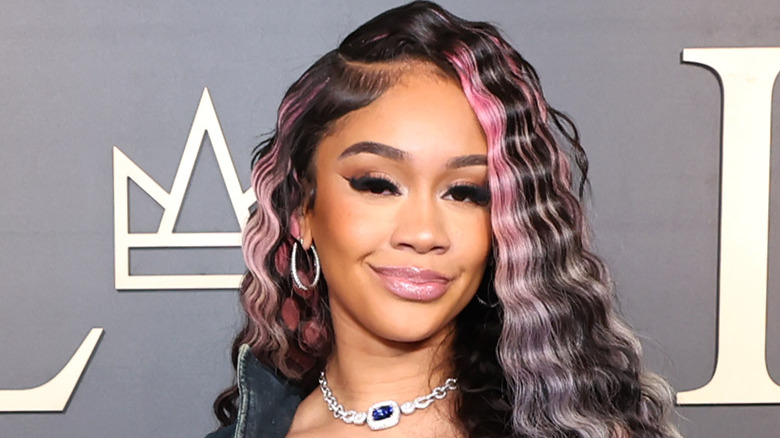 Amy Sussman/Getty Images
In 2021, McDonald's announced its next celebrity collaboration with Saweetie, another rapper to have her own meal. Of all the celebrities on this list, you're likely least familiar with Saweetie: She's got the fewest monthly listeners on Spotify, she hasn't won a Grammy, and she's relatively new to the game. But, if you ask Saweetie herself, the collaboration made sense. 
"I think it came about because of the concoctions that I normally do on my Instagram Live, and most of those concoctions are from McDonald's, so I think that's what piqued their interest," she told Hola! about her work with the fast food franchise. Saweetie's McDonald's meal included a Big Mac, chicken nuggets, fries, a Sprite, barbecue sauce, and, notably, "Saweetie 'N Sour" sauce. The second sauce alone is enough to make us want the rapper's meal.
Aside from the punny sauce, the meal seems pretty basic. And sure, it's likely a go-to order for several McDonald's customers, but as Saweetie's done in her Instagram Live videos, and as she suggests patrons also do, there are tons of unique ways to alter the food so it's a little different than you're used to. Saweetie suggests putting fries on your Big Mac or sandwiching nuggets between sesame buns, and, of course, using ample sauce. Major props for creativity.
The Mariah Menu was a festive days-long event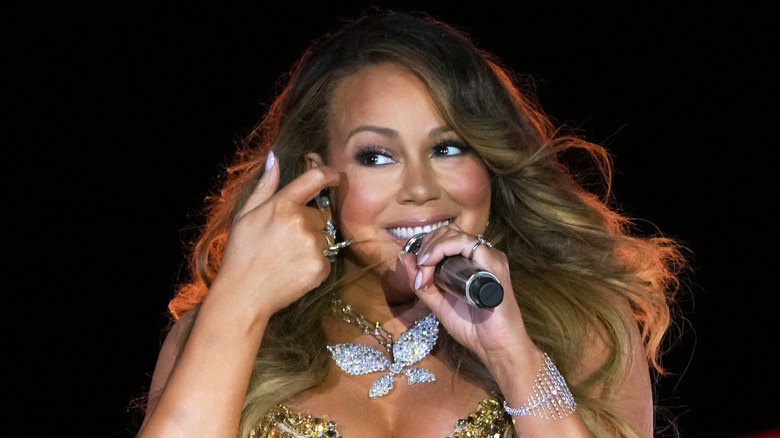 Kevin Mazur/Getty Images
McDonald's knew what it was doing when it teamed up with Mariah Carey, and it did so for more than just a meal. In 2021, the Golden Arches revealed it had teamed up with the Elusive Chanteuse for a special 12 Days of Christmas menu. If any celebrity was going to get more than just a meal from McDonald's, it was Carey.
The McDonald's celebrity menu featured 12 different items on the 12 days leading up to Christmas, the offerings ranging from sandwiches like Big Macs and McChickens to desserts like apple pie and chocolate chip cookies. A few days even included breakfast items. The foods themselves weren't revolutionary picks, but the festivity, celebrity, and making it a multi-day event made up for the lackluster menu choices. 
Carey's menu also featured something more celebrity meals need: Along with the food, USA Today reports that 10,000 fortunate fans walked away with a free Carey-signed beanie, and on a different day, some took home a free Carey-signed t-shirt that featured a photo of the star eating McDonald's. The merch alone was enough to draw crowds. Should McDonald's include more merch items in its celebrity meals again, it can keep this cash cow mooing for years to come.
Travis Scott's meal was a total hit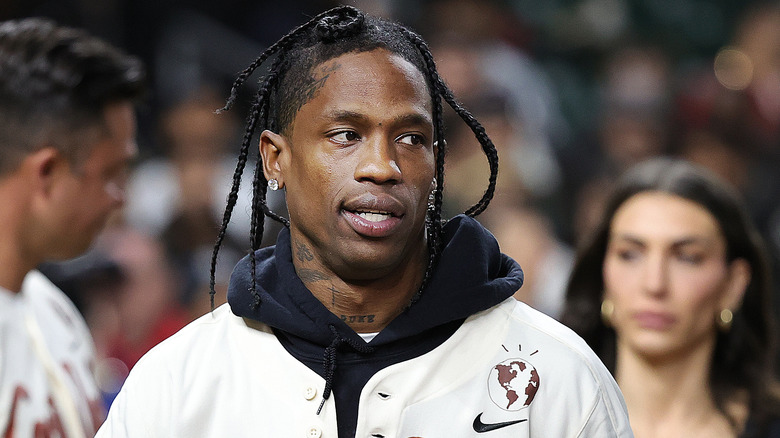 Bob Levey/Getty Images
Of the modern McDonald's celebrity meals, Travis Scott's is by far one of the best. Including a Quarter Pounder with Scott's favorite toppings, Sprite, fries, and barbecue sauce, this meal had nearly everything we could ask for in a celebrity meal. It had a unique menu item (the sandwich), a stellar commercial, and loads and loads of hype. Scott's meal was so popular that the McDonald's meal caused issues in the supply chain — and it seems to have made him tons of money. 
While we would've appreciated some merch (and no, the nugget-shaped pillow Scott sold on his website doesn't count), we can't deny how awesome this meal was. Scott's McDonald's celebrity meal was most certainly lit but had something else on its side: nostalgia. McDonald's hadn't done a celebrity meal collaboration with anyone since the 1990s. McDonald's capitalized on the reboot craze in its own way by incorporating something else: novelty. 
Although the celebrity meal idea was nothing new, the honoree made it seem new because most of the artist's fans are either too young to remember the first McDonald's celebrity meal (more on that later), or they weren't even alive to experience it. This combination of marketable feelings made Scott's meal a hit, and it'll be hard for the restaurant to recreate that magic.
Nothing can beat the Michael Jordan meal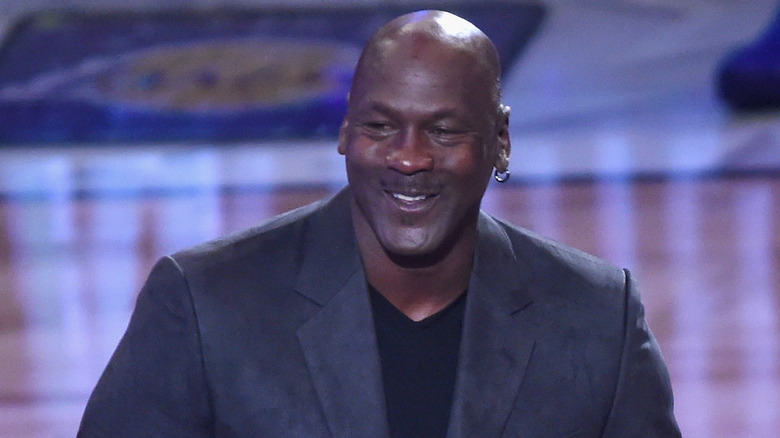 Jayne Kamin-oncea/Getty Images
No celebrity McDonald's meal is likely to top the original: the McJordan Special. Back in 1991, when most celebrities were covering magazines or cereal boxes, basketball star Michael Jordan was teaming up with McDonald's. The McJordan meal included a Quarter Pounder with Jordan's favorite toppings, and to make matters more exclusive, it was only sold in the Chicago area. 
Despite its limited availability, the nation knew about the McJordan Special thanks to a national commercial. And although patrons outside of Illinois weren't going to see the McJordan Special listed on their menu, they could certainly ask for their burger to include onions, bacon, mustard, cheese, pickles, and barbecue sauce, just like Jordan. After success in the Chicago area, the sandwich did become available in other select markets (via The Retro Network).
The McJordan Special takes the top for several reasons: It was the first collaboration of its kind, it caused an insane frenzy, and it sounds pretty tasty. Few people are as legendary as Jordan, so we can see why the restaurant chose to start and stop with the Bulls icon. But, without that one celebrity meal, we might not have any of the ones we have today, McDonald's or otherwise. And ba da ba ba ba, we love them.