There's No Reason To Only Use One Cheese For Grilled Cheese Sandwiches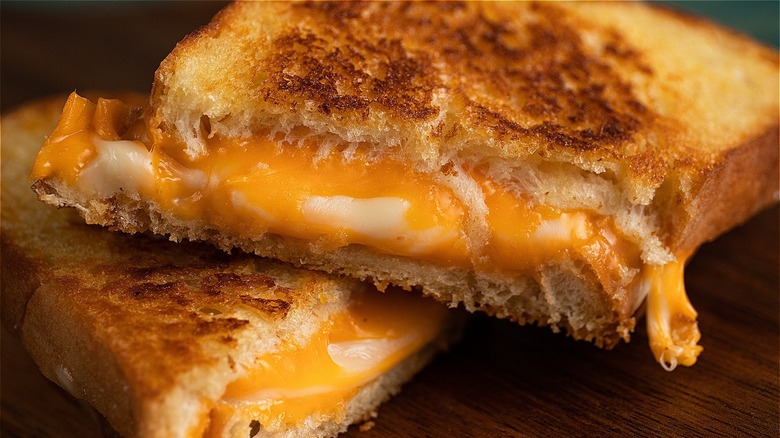 Jean Pierre Pinochet/Getty
Grilled cheese is a childhood comfort food that wows even with only three ingredients: butter, bread, and cheese. Well, what if we told you your grilled cheese could be taken to new heights by adding a just few extra ingredients? 
So many things can be made better when paired with a bit of cheese — chili, popcorn, fries, or even wine. Cheese pairing with wine is in itself an art, so who's to say that we shouldn't be taking our cheese selection when it comes to making a grilled cheese sandwich just as seriously? The Pioneer Woman lists some of the best cheeses for making grilled cheese, with American cheese, fontina, Havarti, and gouda as her top four choices. Each of these cheeses would make a standout grilled cheese on its own, but do we really think one cheese is enough? Let's take another look at what assembling the proper grilled cheese using different types of cheeses could look like.
The more cheese the merrier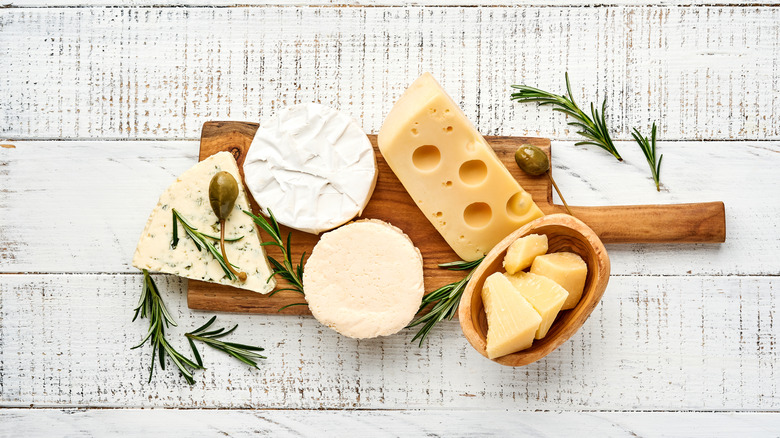 Katarzyna Hurova/Shutterstock
Making a grilled cheese sandwich with different types of cheese means you can craft a unique cheese flavor each time you make one. Even the popular cheese and deli meat purveyor Boar's Head has a recipe for an All American Grilled Cheese that calls for both Vermont yellow cheddar cheese and American cheese. They're not the only ones using multiple kinds of cheese, though. 
Chef and Youtube personality Andrew Rea, for one, advocates using more than one type of cheese for your grilled cheese sandwich. In a Youtube video about making "advanced" grilled cheese sandwiches, Rea creates different types of grilled cheese using cheese combinations like aged cheddar and brie, Monterey jack, mild white cheddar, and cream cheese, as well as Comté and brie. 
Mixing cheeses with higher moisture content, like brie, with those that contain less moisture, like aged cheddar, may be difficult. To avoid issues, Babish uses a food processor to form a grilled cheese-appropriate paste. Even if you don't have a food processor or blender, shredding at least two kinds of cheese together in a custom blend is sure to elevate your grilled cheese game. We think mixing multiple types of cheese to make a grilled cheese sandwich should be standard practice, given that cheese is the star ingredient, after all!