The One Ingredient You Won't Find In Boxed Stock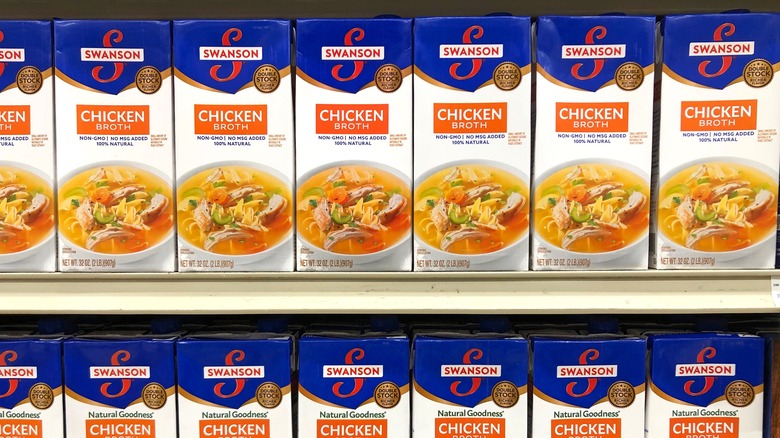 Sheila Fitzgerald/Shutterstock
The recipe you're making for dinner tonight calls for chicken stock, but your homemade version is still in the freezer and won't thaw in time. So, you head to the store to grab a box of chicken stock, but it doesn't have the consistency or depth of flavor you were hoping for.
If you've made your own stock at home from your Ina Garten roast chicken recipe with a twist, you know how much better compared to the store-bought variety. The products even look different. Stock in a box is pale and watery, and when you taste some, it feels like you're drinking salty, vaguely chicken-flavored water. Homemade stock, on the other hand, has a rich golden color. It has a smooth, rich mouthfeel that coats your mouth but not in an unpleasant way. And, the flavor is undeniably chicken, with perhaps some sweetness from the carrot and onion used during the slow simmer.
So what's missing from the store-bought stock?
Boxed stock is missing the ingredient that makes the homemade stock stand out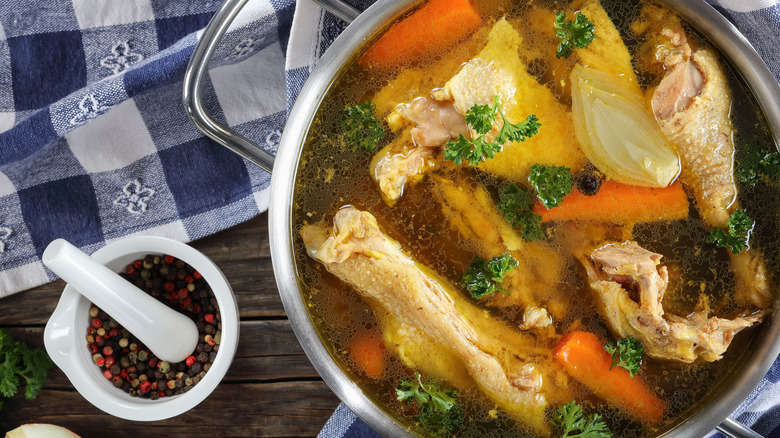 from my point of view/Shutterstock
After you've made and strained your homemade stock and put it in the fridge, you might notice that it's turned into gel, like a savory Jell-O. When you make chicken stock at home, you're extracting more than just flavor; you're extracting minerals, nutrients, and collagen from the bones, too. The collagen is what gives your homemade stock viscosity and a smooth mouthfeel that boxed stock just can't match. The stuff in the box is watery and thin because it doesn't have the gelatin content of homemade stock. Chef and author Noah Galuten, writing for Eater, asked chef J. Kenji López-Alt about the difference between boxed stock and homemade stuff. According to López-Alt, if you buy a box of stock and set it to boil and reduce, it won't — it'll just boil away to nothing, while homemade stock will reduce until it becomes a flavorful, hyper-concentrated demi-glace. This is because the ratio of liquid to meat is smaller at home than at scale. 
So, the next time you're cooking dinner and realize your stock is frozen, you have a few options. If you're desperate, opt for something like Better Than Bouillon, or follow our best stock and broth recommendations to get what you need, and don't be afraid to enhance the flavor of your boxed stock by adding a few chicken bones and a mirepoix and cooking for a bit.