TikTok Is Sizzling Over Steak With Cowboy Butter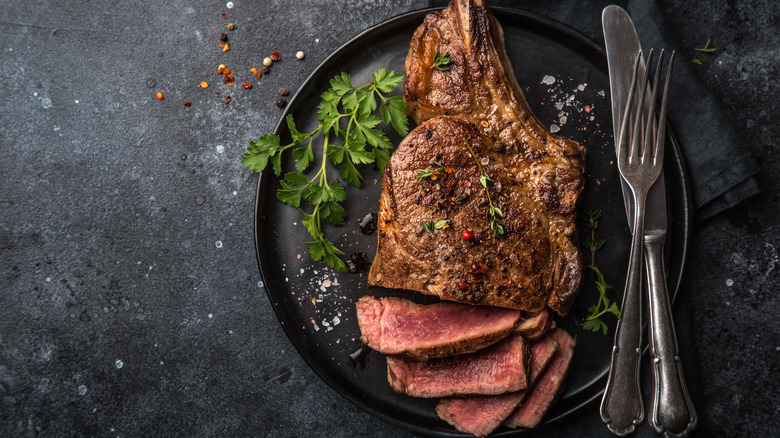 Anna Shepulova/Shutterstock
When you need a little dinner inspiration, one of the best places to look is at #FoodTok, a popular category for home cooks and chefs alike to share their recipes on TikTok. One of the most sumptuous recipes we've seen in a long while actually focuses on the sauce of a dish, not the entrée itself — hello, cowboy butter. User @JortsKitchen shared a video for such a sauce, and the recipe has received over 1 million likes (via TikTok). It's quickly making its way into other creators' videos on the platform as well. 
Now, before you rush to condemn sauce served with steak, hear us out. Yes, a properly seasoned and cooked steak doesn't require sauce. But we aren't talking about the crusty old bottle of cloyingly sweet steak sauce your dad used to douse his steak in. This is a butter-based sauce that complements the flavors of steak without being overwhelming. And sometimes, you've just got to shake it up in the kitchen. Here's how to make cowboy butter for yourself. 
Here's how to make cowboy butter
After you've seared and cooked your steak using your preferred method, leave it to rest while tented on the cutting board. This is the best time to make your sauce because it is butter-based and will congeal if left to sit for too long. The stunning cowboy butter recipe featured on TikTok is loaded with spices, savory herbs, and punchy lemon.
"Just made this and OH MY GOD!" commented one user. This sentiment was mirrored by another, "I just made this with a Gordon Ramsay steak recipe and OMG!" Perhaps most telling of all, one commenter simply left us with this thought: "I mean. I'm vegan but..." This over-the-top savory sauce really is just too good to resist.
While TikTok has primarily taken to using this recipe for various cuts of steak, it would work well with many different proteins or even as a bread dip. For example, cowboy butter would be delicious on salmon fillets, roasted chicken, baked potatoes, or even tossed over some fresh pasta.