Nashville Is Actually A Bar Theme Now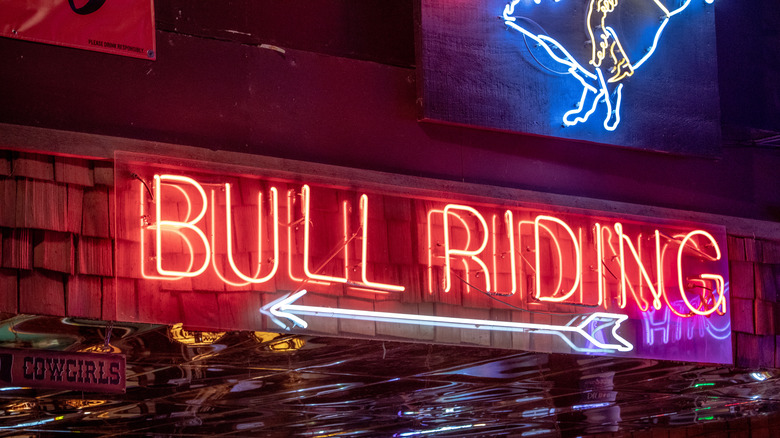 Bluewaterboundphotography/Shutterstock
Nashville is a city famous for its bars, from the iconic Stage on Broadway that's hosted some of the most beloved country music acts of all time, to the beloved dueling piano bar The Big Bang. This boozy, welcoming town is especially well known for the honky-tonks, or classic country bars. But people don't want to have to take a trip to the South every time they want to experience a taste of Nashville nightlife. That's why it's becoming more common to see this city turned into a theme for bars nationwide. 
For the last 10 or so years, trendy nightlife joints have been dominated by luxe, vintagey cocktail bars. Think art-deco wallpaper, velvet-lined booths, free-hanging Edison bulbs, and egg white-topped cocktails. But tastes seem to be shifting toward a more relaxed, social experience. That's where the kitschy Nashville-themed bar comes in — or as Eater calls them, "Yankee-tonks."
Welcome to the south, you yanks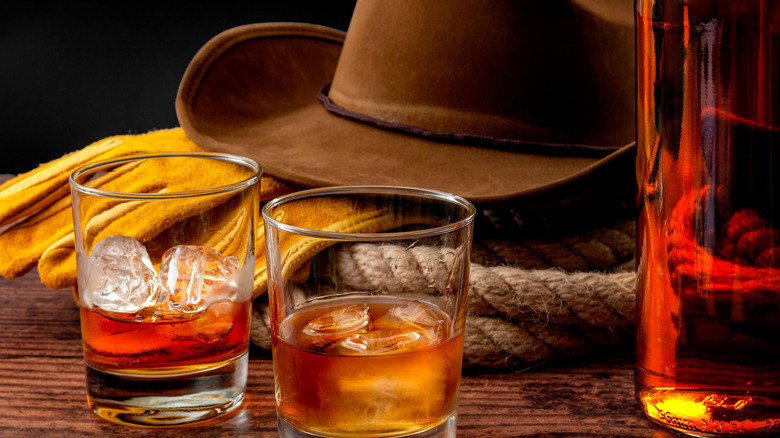 Victor Moussa/Shutterstock
While a Nashville-themed bar in New England may sound a bit, well, cheesy, it actually makes a lot of sense that everyone wants a slice of the city and its bar scene. Honky-tonks have earned a reputation for roaring country music, mechanical bull rides, late-night rowdiness, and being totally unpretentious — an ideal venue for a casual night out, a raucous bachelorette, and everything in between. Here's what we're seeing in Nashville-influenced honky tonks around the country. 
In West Chester, Pennsylvania, The Brickette Lounge recently reopened after its longstanding owners put it up for sale in 2019, according to What Now Philly. One Yelp reviewer writes, "It's like walking back in time. Up to a few years ago, it was just filled by cowboy types from who knows where?" But now, a honky-tonk in Pennsylvania is appealing to more than your standard country-western fan. The Brickette offers daily house-made barbecue, as well as "shot n' a beer" combinations like Jim Beam and a Budweiser, or tequila and Tecate. Décor includes a neon light cowboy hat that is great for Instagram pics. 
Bub City of Chicago, Illinois delivers the famous Nashville hot chicken sandwich that has taken the fried chicken world by storm, as well as $6 Bud Lights and Southern-inspired cocktails with names like "Back Porch Tea." And on Wednesdays, they host live music-accompanied karaoke. Finally, we can do-si-do with the best of them and eat spectacularly spicy chicken no matter where we are in the country.