The Best Frozen Ravioli Brands, Ranked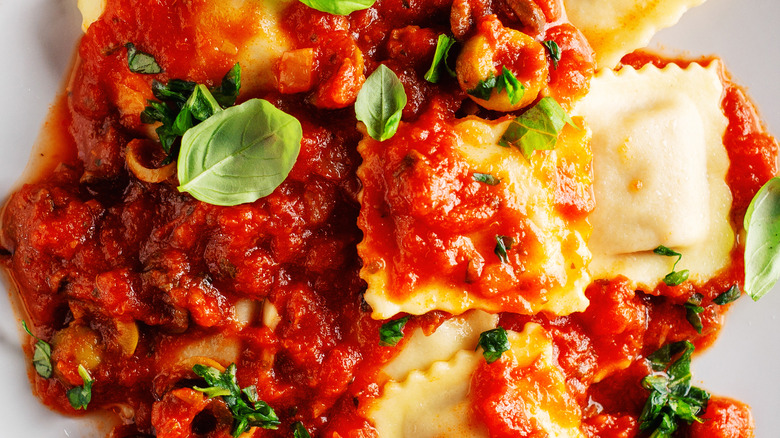 nerudol/Shutterstock
Ravioli, yummy pockets of pasta filled with cheeses, meat, and vegetables, started as a meal for the Italian aristocracy in the 16th century but is beloved today as a quick, easy meal. Ravioli pairs beautifully with marinara, but other sauces like Alfredo, pesto, or even garlic with butter or olive oil are all delicious. Dress it up with chicken, shrimp, or extra veggies, bread it and air fry it for an appetizer, feature it in a hearty soup, or use it for lazy lasagna. No matter how you make it, ravioli is always a family favorite.
Homemade ravioli is a foodie's dream come true. There's nothing like handmade pasta, customized with fillings and spices that suit your palate. But let's be realistic — making ravioli is super time-consuming and better suited for special occasions. For everyday meals, buying premade ravioli is less of a hassle. While some prefer to get it from the refrigerated section, frozen ravioli tastes almost the same and has distinct advantages: It's much less expensive, it's sold in larger packages to feed a family, and you can take advantage of sales and stock up because it keeps for months.
With so many brands of frozen ravioli available, we set out to rank the best brands of frozen ravioli so that wherever you shop, you can find the top choice for your next ravioli dinner.
Evol Portabella & Goat Cheese Ravioli
There's no denying that goat cheese isn't everyone's jam (though it is quite healthy for a cheese), but if you want to elevate a busy weeknight dinner or plan a candlelit date night, Evol Portabella & Goat Cheese ravioli could be a perfect choice. These babies are genuinely flavorful, stuffed with three savory kinds of cheese — goat, ricotta, and romano – and portabella mushrooms. These ravioli are on the table in a snap because instead of waiting for a pot of water to boil, they simmer for a few minutes in the included creamy basil sauce with cremini mushrooms, spinach, and red peppers.
Evol prides itself on healthy ingredients that are unprocessed and recognizable. Fans love this ravioli because it stands out in a sea of frozen meals that seem interchangeable, provides 13 grams of protein per serving, and is reasonably priced. Be aware that this ravioli is a single-serving bowl, so it's not the best choice if you're feeding a group; if you want to serve two people, we recommend adding vegetables or serving it with a salad and crusty bread, so you don't miss a drop of the sauce.
Amount of food aside, some kids are unlikely to enjoy the tang of the goat cheese, even if they're down with mushrooms and spinach (and how many kids eat those without complaining?). Evol's Portabella & Goat Cheese Ravioli are best suited for quick meals on the go when you want something a little decadent.
365 Four Cheese Organic Ravioli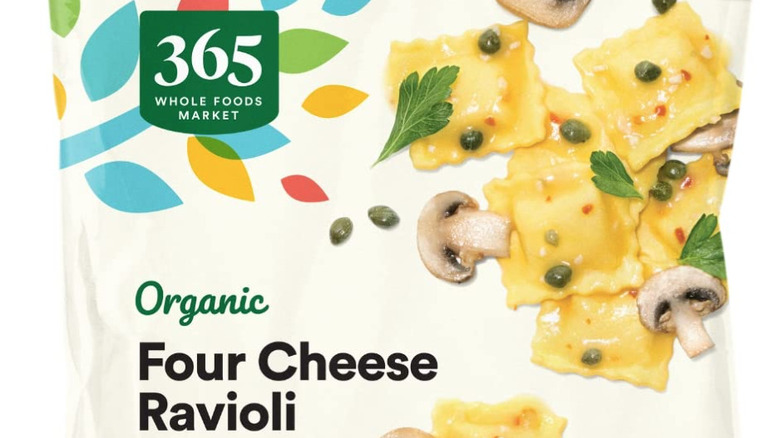 365 Whole Foods Market
Some of us have a love/hate relationship with Whole Foods: We love the atmosphere, buying organic foods, and selecting specialty items that send us scurrying to make cheese boards. The hate part kicks in at checkout when we spend the equivalent of a car payment for a bag of groceries. However, store brand 365 has exceptional products without breaking the bank; the Four Cheese Organic Ravioli is one. Four cheese ravioli isn't new, but 365 switches it up with a creamy blend of ricotta, Emmental, Fontal (think of it as French Fontina), and Provolone. The result is a decadent filling with a unique flavor that is pillowy-soft and pairs with any type of pasta sauce.
If you wonder why we've ranked this distinctive ravioli so low on the list, there are a few reasons. Yes, the 365 brand has lower prices than everything else sold at Whole Foods, but that doesn't make it a bargain. While about $6 for a 22-ounce bag of ravioli from Whole Foods sounds excellent, you can do better elsewhere and avoid the inevitable sticker shock for the rest of your groceries. Secondly, since 365 products are sold only at Whole Foods stores or on Amazon now that the e-commerce giant acquired Whole Foods in 2017, it's harder to find than other brands. If you plan to shop at Whole Foods anyway, you'll love this ravioli, but if your go-to store is elsewhere, there are other brands to try. 
Healthy Choice Cafe Steamers Four Cheese Ravioli and Chicken Marinara
Frozen entrees like Healthy Choice's Four Cheese Ravioli and Chicken Marinara are great options for a light meal. The package contains only 250 calories and 4.5 grams of fat, but it gives you a whopping 17 grams of protein, making watching macros a snap.
Eating chicken with ravioli might seem odd, but Healthy Choice uses white meat strips and marinara to complement the cheesy ravioli. Some wish for more sauce, but that's a matter of taste, and you can always add your own. Spinach rounds out the dish, so you have a complete meal right in front of you — although adding vegetables, a salad, or a piece of Italian bread would only improve things.
While this ravioli is tasty and convenient, it ranks lower on our list since it's a meal for one. If you're feeding a family or just one other person, you'd need to buy several boxes, so different brands are more convenient for group meals. When you look at the price, it's clear that buying much larger bags for a dollar or two more is the frugal way to shop. To be fair, though, this is a complete meal, and the price is far lower than buying lunch out, so it depends on your needs and preferences. If you want a single-serve easy meal, you can't go wrong with this one.
Mama Rosie's Ravioli
Mama Rosie's has been making pasta according to family recipes passed down from generation to generation since 1976. They have several sizes and shapes of cheese ravioli, so whether you like round or square or are looking for tiny ravioli for soup or jumbo ravioli to bread and fry, Mama Rosie's is sure to have what you want. If you want to branch out, try the mushroom or spinach ravioli — you can't go wrong.
Mama Rosie's uses ricotta and Pecorino Romano cheeses with a touch of Sicilian sea salt, beautifully brightening the cheeses' flavor. Unlike many brands, you can buy Mama Rosie's in different-sized bags, ranging from 12 to 60 ounces. This makes serving a family cost-effective; you won't have to use several bags for just one dinner. The 60-ounce bags come in super-kid-friendly varieties like the classic original cheese and the mini round cheese ravioli, so if your kids actually love spinach, you might still need a few bags.
Mama Rosie's ravioli are excellent with marinara or pesto, added to soup, or air fried after topping with a bit of sauce and plenty of shredded cheese. If you find them on sale, we recommend stocking up to have them on hand whenever you want a simple meal in minutes.
Giovanni Rana's Mushroom Ravioli
We love knowing that while ravioli is a handy meal shortcut, Rana products are the next best thing to homemade. Rana pasta is known for its authentic Italian recipes using fresh ingredients without preservatives, GMO ingredients, artificial flavorings, or hydrogenated fats. The mushroom ravioli has portobello mushrooms and four kinds of cheese: Ricotta, mozzarella, Romano, and Gorgonzola — which adds an unexpected savory bite. The pasta dough is thinner than other brands, so the mushroom flavor takes center stage. The more delicate dough lets it cook faster than other frozen ravioli we've tried, and leaves it tasting very fresh.
Rana makes other delicious ravioli flavors, including Chicken and Roasted Garlic, Maine Lobster, 4 Cheese, and Spinach and Ricotta. Some flavors come in a family-size bag that serves six; the regular 10-ounce bags feed "two and a half" people (we dare you to respect that serving size). It's readily available from Kroger stores, Target, and Wal-Mart.
We rate Rana a bit lower than other favorites because it costs more than other brands. Depending on your budget or grocery philosophy, this ravioli could be reserved for a splurge — while stock-up purchasing would go to a more cost-effective brand. However, if your attitude leans towards spending less on making a beautiful meal at home than you'd pay at a restaurant, Rana's line of ravioli is just the ticket. 
Amy's Ravioli Bowls Spinach & Ricotta Cheese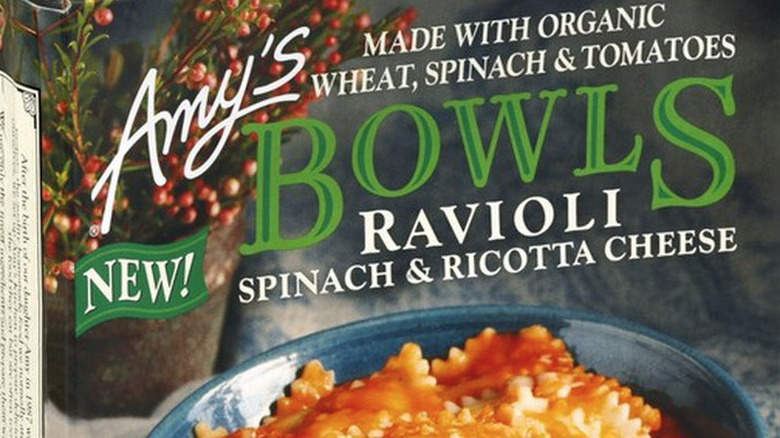 Amy's Kitchen
Amy's Kitchen is one of the premier brands of frozen organic entrees, making convenience foods for busy people that still want a more natural diet. Amy's entrees are low in calories and sodium and free of genetically modified ingredients, and many are vegan and gluten-free. The ravioli bowls are simple on-the-go fare because they cook in their cardboard bowls.
The Spinach and Ricotta Ravioli Bowl has a delicious filling of spinach, ricotta, tomatoes, and onions with a nice tender pasta dough that doesn't get rubbery even if you make it in the microwave (we prefer to make it in the toaster oven or air fryer). The tomato sauce isn't chunky and has a bit of spiciness, and Parmesan sprinkled on top completes the meal. Amy's also makes a Cheese Ravioli Bowl that's equally nice, but we like getting extra veggies.
This ravioli misses the very top of the list because it's a single serving and because, as with any Amy's entree, the price point is a bit high. However, if you're willing to pay for this frozen entree's convenience and exceptional quality, you can't go wrong with Amy's Kitchen.
Market Pantry Square Cheese Ravioli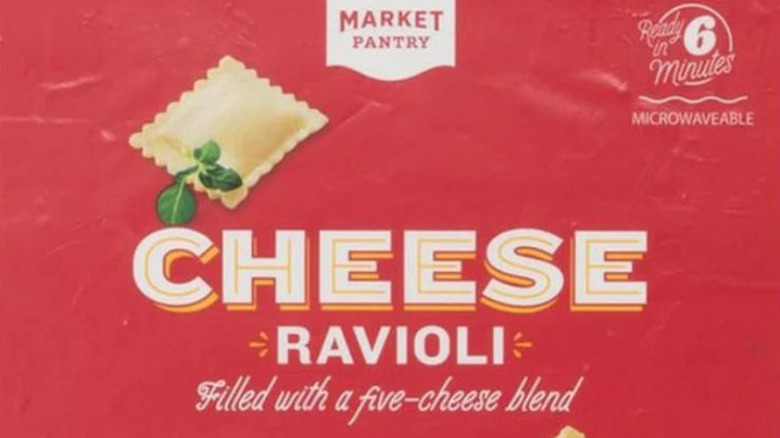 Target
Market Pantry is Target's store brand, and we love almost every product they make — especially Target's desserts. This brand is always affordable at about $4 for a 25-ounce bag. Target devotees know that not only are Market Pantry items frequently on sale but using the Circle app gets you even more discounts. We love to stock up on this ravioli during any Target run.
Market Pantry's square cheese ravioli has mozzarella and Asiago cheese, the usual ricotta and Parmesan, and parsley for a lovely pop of color. The filling is creamy and cheesy, more upscale than you might expect from a store brand. Target used to sell a whole wheat version of this ravioli that got mixed reviews that seems to be discontinued, but the semolina version is considered as good as name brands.
If you find that ravioli breaks apart when you cook it, there's an easy fix. Ensure the water is at a full boil before adding the ravioli to the pot. Drop the ravioli in carefully, a few at a time, but don't stir them — wait until they float to the top. Rather than dumping them into a colander, ladle them out of the water with a slotted spoon, and you should have a lovely bowl of ravioli. For an affordable go-to, Market Pantry frozen ravioli is a terrific option that feeds a family.
Bird's Eye Voila! Family Size Cheese Ravioli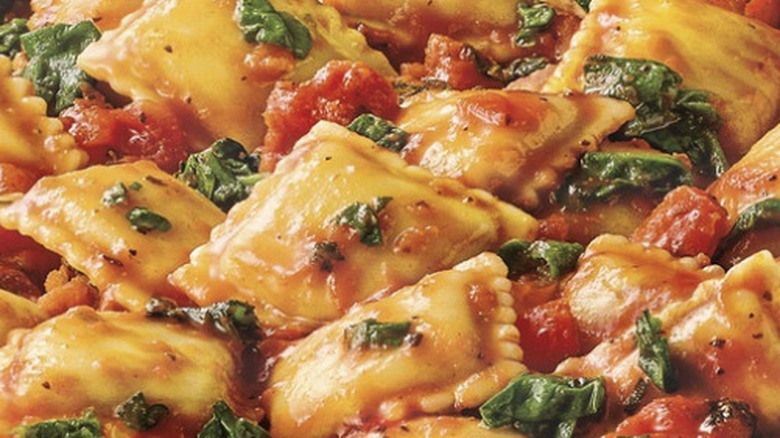 Birds Eye
Birds Eye is practically synonymous with frozen vegetables for a good reason. Its founder, Clarence Birdseye, industrialized flash freezing in the early 20th century. His Canadian travels taught him that Inuit fishermen used the icy climate to their advantage to preserve their catches. Birdseye patented a machine to maintain the integrity and nutrition of frozen vegetables. Birds Eye has expanded over the years to include entrees, sides, and kits for easy meal prep, and you can count on them for quality at a budget-friendly price point.
The Voila! line includes over two dozen meals that are wonderful for busy weeknights. They cook in minutes, and cleanup is simple since they're complete one-skillet or baking-dish meals. The Family Size Cheese Ravioli is one of the best deals on frozen ravioli: Nearly three pounds for less than $10. The cheese ravioli simmer on the stovetop after you add a bit of water to the sauce that comes along with it. We recommend tasting the sauce; although it comes with spinach, dried tomatoes, and onions, adding a combination of red pepper flakes, fresh garlic, basil, oregano, and rosemary will elevate the dish to taste more homemade.
Birds Eye ravioli ranks high on our list as a fine meal (better if you zhuzh it up) that is widely available no matter where you live at a very affordable price. Redditors love Birds Eye Cheese Ravioli as a staple for quick dinners on a budget.
Priano Cheese Ravioli
Aldi shoppers know a good deal when they see one; it's one of the best reasons to shop there. While nearly every grocery store sells products under its private brand, Aldi has a whopping 92 house brands only available at their stores, a pretty staggering bit of trivia. Priano is a private label covering Italian yummies such as pasta, cheeses, and various jarred pasta sauces.
You can usually find Priano Cheese Ravioli in the store, although Aldi is known to rotate items in and out depending on their supply. Depending on where you live, these come in a 25-ounce bag for a very reasonable price. The filling combines ricotta, Romano, Asiago, and Parmesan cheeses for a salty bite. Reddit users love the price and how easy it is to make delicious meals with Priano sauces combined with Aldi's frozen meatballs.
Price aside, we found Priano ravioli less cheesy than other brands, but if you're feeding picky kids, they might prefer less ricotta in their ravioli. If you miss the cheese, serve it with Alfredo or Parmesan shavings, and the mouthfeel will be as good as any ravioli on the market. If you live in one of the states that don't have an Aldi, it could be time for a road trip to stock your freezer.
Celentano Round Cheese Ravioli
Celentano's brand needs no introduction for most since their pasta and meatballs have been staples in the freezer aisle since 1947. Their ravioli is consistently delicious, and there's a wide variety, including beef ravioli, which is difficult to come by. They also make gluten-free cheese ravioli, so those with dietary restrictions can still dig into a big plate of ravioli without care.
We love round ravioli, and Celentano makes round cheese ravioli in mini and classic sizes (bonus: the beef ravioli is also round). We aren't here to tell you that square ravioli is terrible — all ravioli is lovely, and if you've ever made it from scratch, you know that squares are far easier to make. However, round ravioli is harder to find and is fun to eat. Plus, round ravioli seems to hold more filling — though we aren't sure if that's psychological or if rounds stretch to fit more. Either way, we're team round ravioli.
Celentano checks all the boxes: This ravioli cooks beautifully, is available almost everywhere, and is an affordable brand that still tastes good. The filling, made with ricotta, Romano, and parsley, is creamy and fresh and pairs with any sauce you prefer. It works well for fried ravioli recipes, but you can make life simple with Celentano's toasted ravioli in 4 Cheese or Beef. Stocking up on Celentano ravioli makes meal plans a snap.
Udi's Three Cheese Ravioli
Udi's Three Cheese Ravioli is another round ravioli option — who's with us that round ravioli taste better? — but they're also gluten-free. Before you dismiss the idea thinking that gluten-free ravioli isn't for you, think again. Many agree that even those who love gluten can't tell the difference.
The pasta is made from rice flour, corn flour, and the trifecta of gluten-free starches: Corn, tapioca, and potato. These ravioli — stuffed with ricotta, parmesan, and mozzarella cheese — include sauce cubes, so making a meal is a no-brainer. It's as easy as adding water to the cubes and simmering the ravioli until done. The resulting pasta is pillowy soft, with more filling than ravioli tends to have.
For an 18-ounce bag, Udi's ravioli are pricier than other brands, and the bag has only two servings. While that is usually a factor that would make ravioli rank lower on the list, those who need gluten-free ravioli should certainly reach for these, and since they're so yummy, those who don't will still enjoy them. We say keep an eye out for sales and stock up when you can.
Pasta Prima Five Cheese Ravioli
Pasta Prima frozen ravioli is our favorite pick when stocking up on cheesy pasta goodness. The pasta is always tender, not rubbery, and has plenty of cheese. While traditional ravioli uses ricotta and Parmesan, three-cheese blends are standard. Pasta Prima blasts that out of the water with a mix of ricotta, Asiago, Parmigiano-Reggiano, Romano, and fontina cheeses, making your taste buds sing at the creamy, salty decadence. The gluten-free option is also delightful.
Pasta Prima doesn't stop with five-cheese ravioli, though. Whether you like butternut squash, spinach and mozzarella, or mushroom, they offer plenty of non-meat ravioli for your dining pleasure. Their meat ravioli are different from the typical beef or lobster ravioli; instead, they offer ravioli stuffed with Italian sausage (plus four kinds of cheese) or grilled chicken and mozzarella, which we'd never seen before and found tasty. There's a seasoning packet in the bag, so you can whip it up with some olive oil or butter and have a meal in no time. Pesto, vodka sauce, marinara, or Alfredo make these ravioli even fancier if you have more time to cook.
Pasta Prima used to be available in giant bags at Costco, but over the past few years, they've disappeared, leaving disappointed shoppers. Safeway still carries Pasta Prima, or you can use the store locator to find a store where you live. Stock up on various Pasta Prima ravioli to enjoy a restaurant-quality meal in no time.