Fans Can't Decide Which Aldi Pasta Sauce Is The Best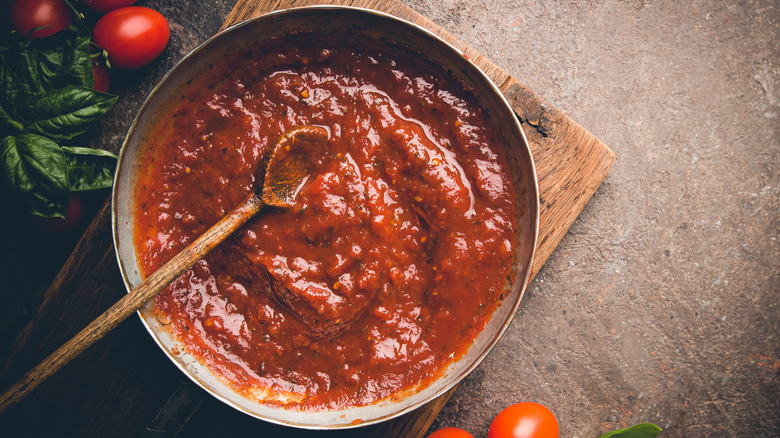 Goskova Tatiana/Shutterstock
When it comes to pasta sauce, every Aldi shopper prefers something different. One reviewer ranked the store's Specially Selected Premium Marinara as the best around thanks to its balanced flavors and notes of alliums, per The Kitchn. Back in 2018, Redditors agreed that the store's Reggano Traditional Pasta Sauce tasted the best, and fellow users agreed, replying with, "Yes thats hands down the best. So much better than any name brand sauce." Others preferred Priano's tomato basil sauce but others fired back that it tasted too salty.
The debate continued to rage on and users over at r/Aldi reignited the conversation. The thread, titled, "What is the best pasta sauce at Aldi?," received a ton of attention and shoppers from across the internet jumped in with their opinions. The top comment currently reads, "I've tried most of the Specialty varieties and the regular Marinara is the best. It has ruined all other jar pasta sauces for me," but not everyone agrees.
An Aldi pasta sauce debate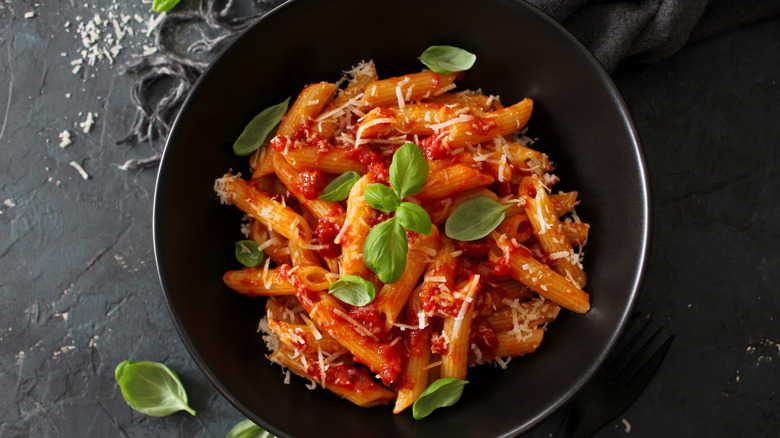 Ale02/Shutterstock
Some Reddit users found other Aldi sauces preferable. One Redditor jumped in with, "The speciality select ones are usually a safe bet. I really like the Kale Pesto (Parmesan?) one. The green and red Priano pestos in the small jars are super good too," while another replied with, "The vodka sauce in the glass jar is amazing. Not sure why it's called vodka sauce, to me it's not creamy enough. But it's my favorite by far, not just at Aldis. It might be by the Specialty brand."
Another replied with, "The organic marinara. [Tastes] just like Rao's but less than 2$ at my store," but another user fired back with, "They have a Chipotle pumpkin sauce in the fall. It's awesome and we always get 4 or 5 jars to last us a while." With so many selections to choose from, it appears like this heated debate will rage on as long as Aldi offers a range of sauces to choose from. If you feel torn between the top replies, use the opinions as a guide and hopefully you'll discover your favorite Aldi pasta topper.