Easy Pasta Alla Vodka Recipe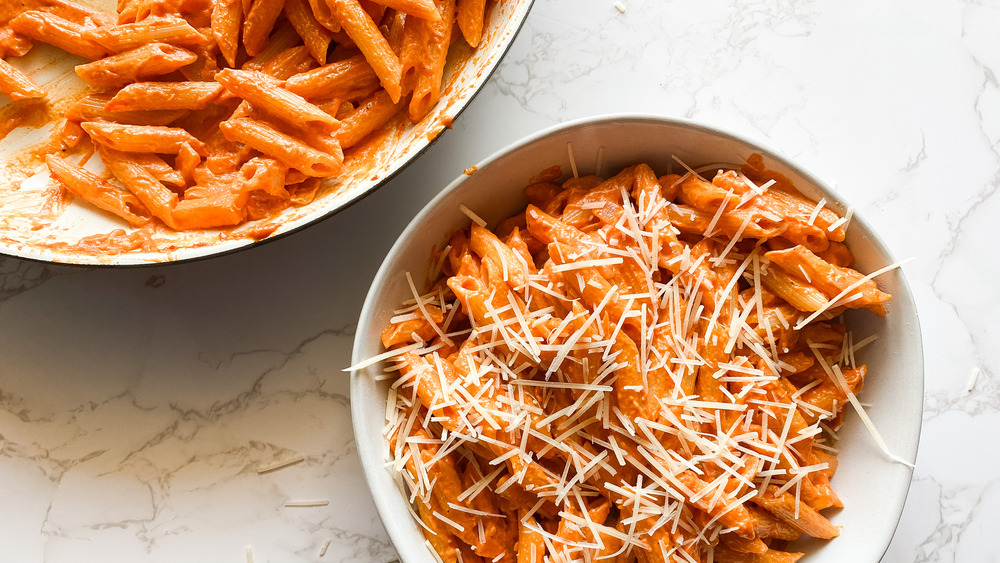 Kristen Carli/Mashed
"Is there anything better than pasta alla vodka?" asks registered dietician Kristen Carli of Camelback Nutrition & Wellness. She's absolutely correct when she answers her own question: "I don't think so."
On its own, this classic dish is a delight for the taste buds and can make a simple yet wonderful meal all on its own. But, pasta alla vodka is at its best when served family-style in a huge bowl with plenty of other foods out on the table. You can serve it with roasted chicken, with steak, or even with fish. "I love this served with Caesar salad and garlic bread," says Carli, adding, "This also pairs well with roasted vegetables like broccoli and asparagus."
For the record, yes, you most commonly hear of this dish called penne alla vodka, and penne is a perfect pasta shape for the meal. But, as Carli points out, "You can use any pasta shape." That being said, a shorter tube like a penne, casarecce, or rigatoni works best, as they can hold plenty of that delectable sauce and cheese, while something like an angel hair might let too much flavor slip right off. And if you ever want to take things to the next level, try making a lasagna alla vodka!
Gather your ingredients for pasta alla vodka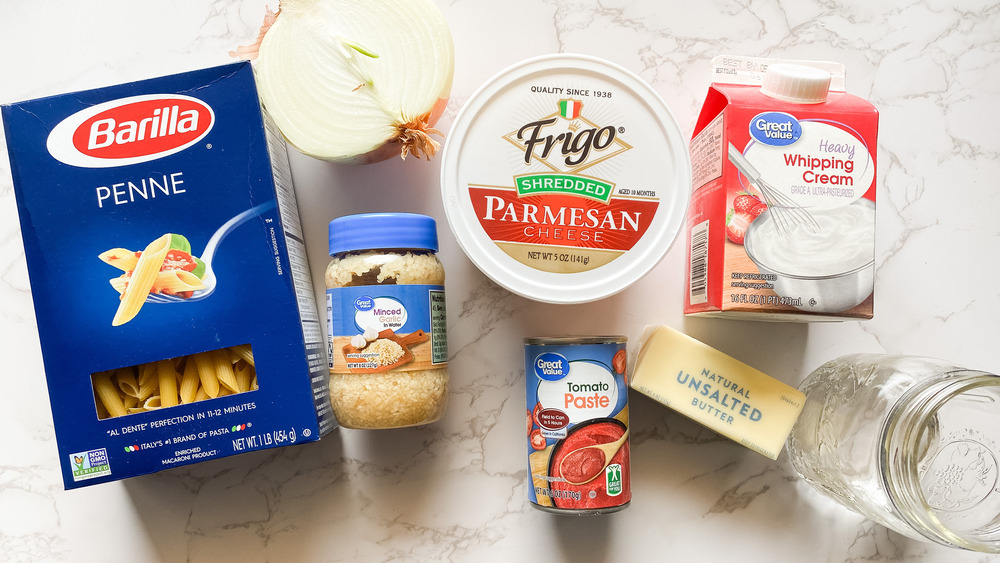 Kristen Carli/Mashed
As noted, you can use pretty much any pasta here, be it your favorite noodle or simply the one you have on hand, but for the sake of simplicity, we're featuring the classic. So, what you'll see pictured is 1 pound of penne pasta, butter, diced yellow onion, minced garlic, ¼ cup of vodka, tomato paste, heavy whipping cream, salt, pepper, and grated Parmesan cheese.
For the record, you can use a pretty budget-friendly booze without it impacting the quality of the taste. There's really no need to use a top shelf vodka in this recipe!
Cook the pasta, and begin making the vodka sauce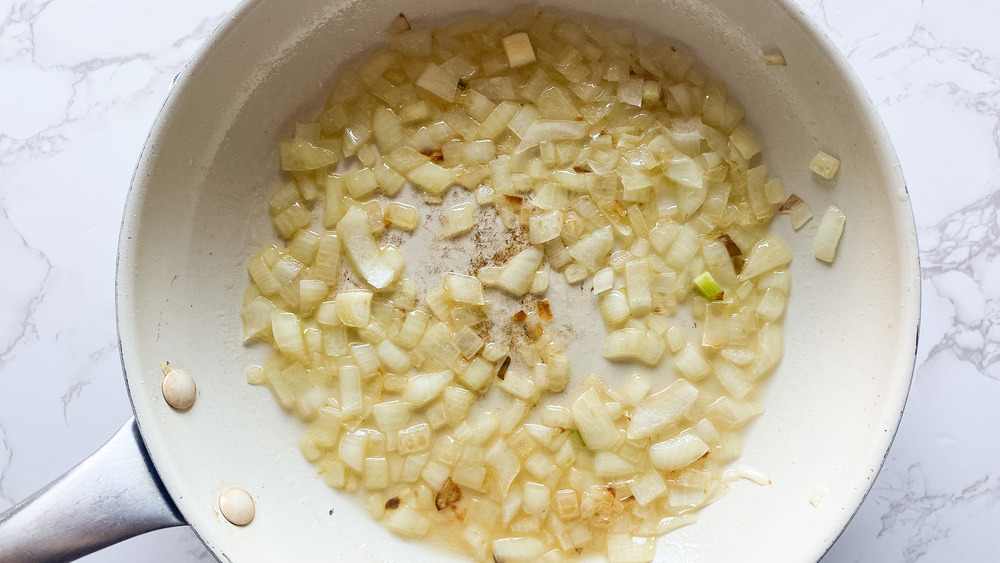 Kristen Carli/Mashed
Start off by boiling a large pot of water with a few pinches of salt tossed in. Add the pasta, and cook it according to the package directions. Meanwhile, heat a large skillet and add the butter. Once the butter has melted, add the onion and garlic and stir, then add the vodka. Allow it to cook for about one minute.
"Be sure to cook off the alcohol by allowing the vodka at least 30 seconds of bubbling," says Carli. Not cooking off the booze can negatively affect the flavor, but even more to the point, it may expose younger diners to alcohol, so when in doubt, most definitely let it cook off a bit longer.
Stir in the tomato paste, heavy whipping cream, and Parmesan cheese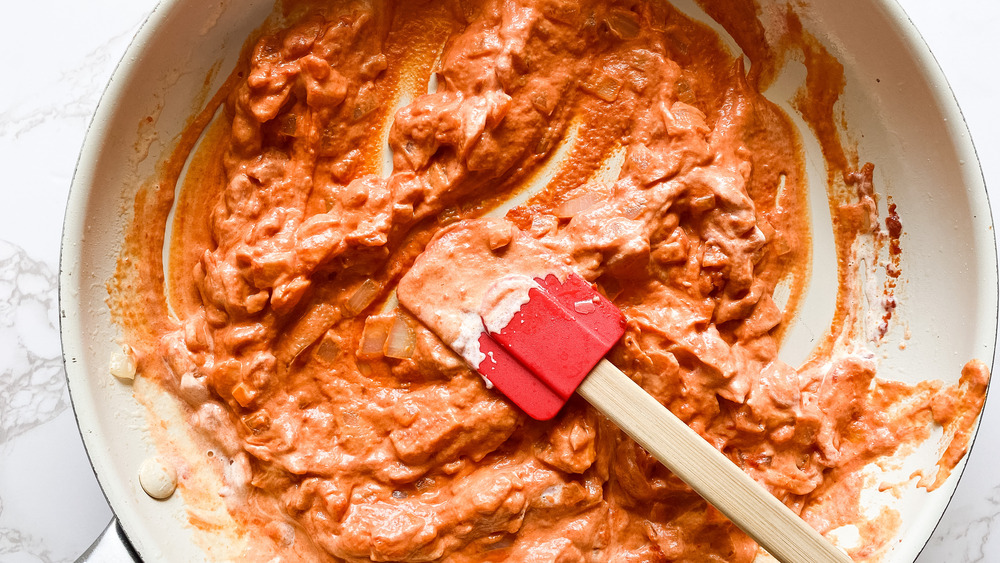 Kristen Carli/Mashed
Once you've given the vodka time to simmer away (and infuse flavor into the onions and garlic, all of which will be infusing an aroma of perfection into your kitchen), add the tomato paste, and stir to combine everything in the pot.
Then, lower the heat to low and add the cream. Stir to combine the lot of it. Next, add the Parmesan cheese, and stir slowly and constantly as it melts and combines into the sauce. If the sauce is too thick, you can add a dash more cream, but if you manage the heat well, it should now be perfect.
Add in the pasta, then serve and enjoy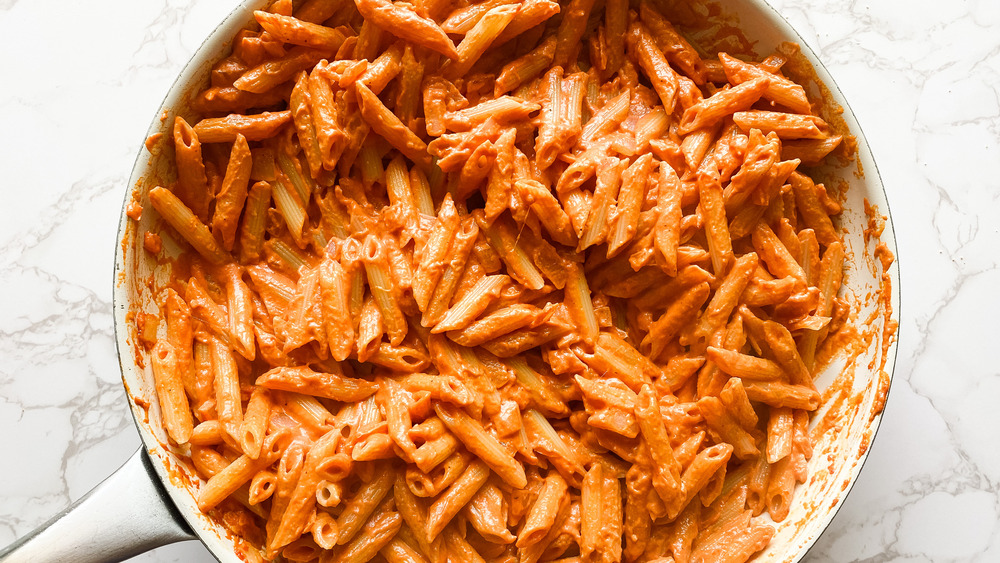 Kristen Carli/Mashed
The sauce is now done! Add the drained pasta into the skillet with the vodka sauce, and stir well until all of the noodles are well coated. Then, transfer it to a serving dish or you can dole out servings directly from the pot.
Top each serving with another sprinkle of Parmesan cheese, and if anyone likes it spicy, a pinch of red pepper flakes. And if everyone who will be eating the dish likes spice, note that Carli says, "I love the idea of adding red pepper flakes if you can handle a little heat," so go ahead and toss some in at the same time as you add the vodka while cooking.
Easy Pasta Alla Vodka Recipe
Pasta alla vodka is at its best when served family-style with tasty sides like Caesar salad and garlic bread.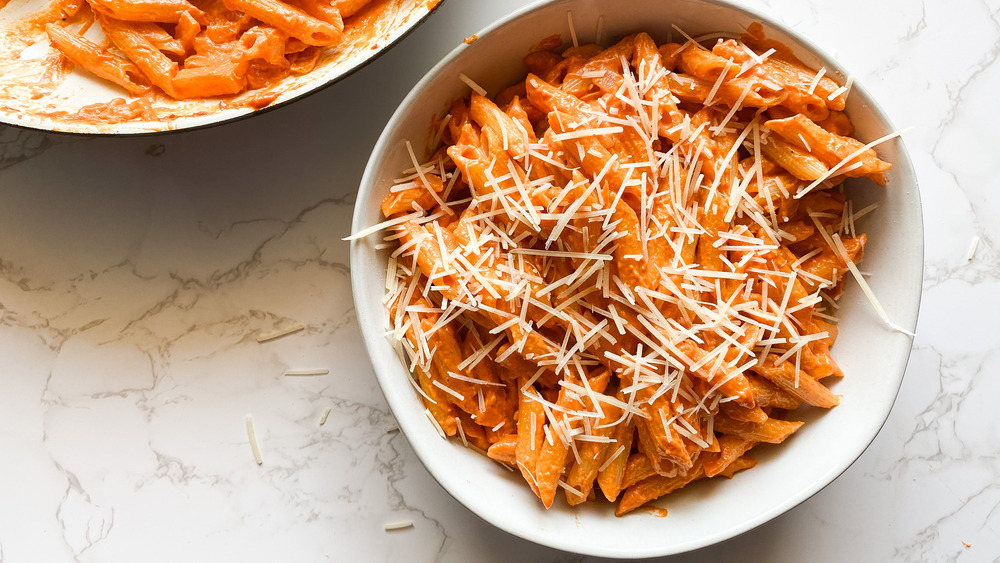 Ingredients
1 pound penne pasta
2 tablespoons butter
½ yellow onion, diced
2 teaspoon minced garlic
¼ cup vodka
8 ounces tomato paste
1 cup heavy whipping cream
1 teaspoon salt
½ teaspoon pepper
¼ cup grated Parmesan cheese
Directions
Boil a large pot of salted water, then add 1 pound of penne pasta and cook according to package directions.
In a large skillet, add 2 tablespoons of butter and turn the heat to medium. Once butter has melted, add diced onion and minced garlic, and stir.
Add ¼ cup of vodka and allow to bubble for about one minute, then add 8 ounces of tomato paste and stir to combine.
Lower heat to low, then add 1 cup of heavy whipping cream and stir to combine.
Add ¼ cup of grated Parmesan cheese and stir to combine.
Add drained pasta and stir to coat, then serve with extra Parmesan over the top of each serving.
Nutrition
| | |
| --- | --- |
| Calories per Serving | 801 |
| Total Fat | 32.2 g |
| Saturated Fat | 19.3 g |
| Trans Fat | 0.2 g |
| Cholesterol | 103.1 mg |
| | |
| --- | --- |
| Total Carbohydrates | 99.5 g |
| Dietary Fiber | 6.3 g |
| Total Sugars | 12.4 g |
| Sodium | 644.8 mg |
| Protein | 22.1 g |