8 Best And 5 Worst Foods To Get When Ordering Takeout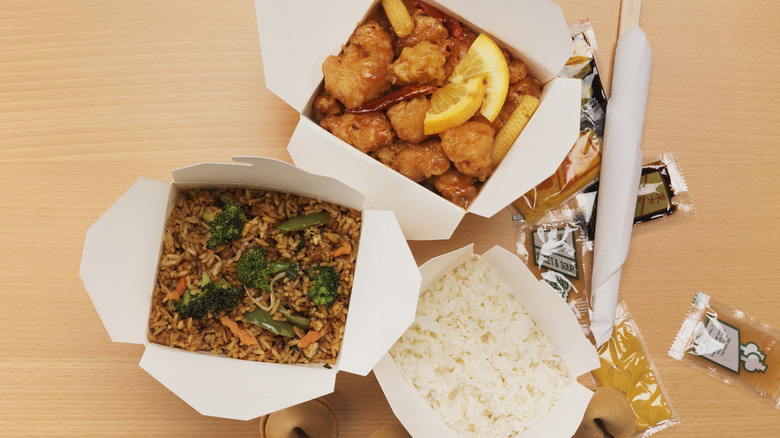 Digital Vision./Getty Images
Takeout is often the saving grace after a long day at work. There's really nothing better than treating yourself to a hot meal brought right to your doorstep, without so much as a dirty dish to clean when you're done. During the last few years, many of us have become more acquainted with take-out food than we ever would have imagined. With indoor dining at restaurants closed for long periods of time, it was the only way to enjoy a meal without having to cook.
After a few years of eating frequent take-out meals, we've figured out that some dishes are best enjoyed immediately. As much as you might crave your favorite dish from the restaurant down the street, it may not be worth ordering for delivery. Whether food safety is at play or the food simply won't taste good, you're better off enjoying some meals at the restaurant. Thankfully, there are still some take-out meals that will taste just like you're sitting in your favorite booth. To make sure you don't make the wrong selection, we've compiled a list of the best foods to order for takeout and the ones that should be avoided. 
1. Best: Thai food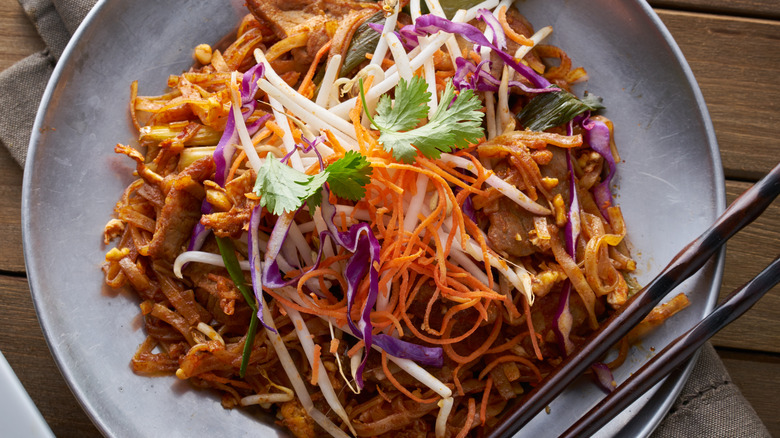 Rez Art/Getty Images
Thai food is an obvious choice when you want to fill your stomach without getting any dishes dirty. Whether you're craving pad Thai or a bowl of green curry, you really can't go wrong ordering it to your door. Thai food is the ultimate comfort food, full of warming spicy flavors and deep-fried appetizers. Plus, unless you're Thai, we can probably assume that any Thai food you make yourself will be a sad imitation of what you'll get at a restaurant. Some dishes are better left to the pros.
Grubhub's report on the top ordering trends of 2022 confirms what we know from personal experience. Out of all the food ordered for takeout, pad Thai was the fourth most popular dish, behind cheese pizza, cheeseburgers, and burritos. It's hard to beat perfectly cooked noodles in a flavorful peanut sauce.
A Reddit thread about favorite take-out foods also mentions Thai cuisine as the way to go. While some users simply listed "Thai food" as a whole, others had specific dishes in mind. One reply said, "Thai food. Fresh shrimp rolls with hot sauce, pad Thai, red curry. When I'm craving something it's usually lettuce, noodles, or spicy things, and that order satisfies all three!" 
2. Best: Pizza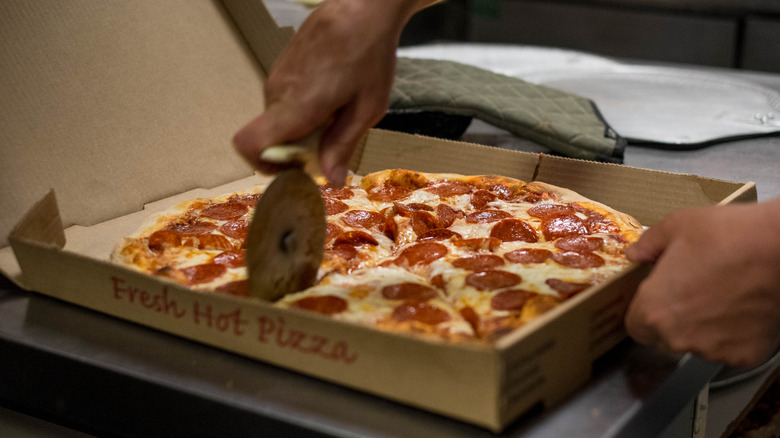 Dkhoriaty/Getty Images
Pizza is another go-to order when you're craving a yummy meal but don't have the motivation to cook it yourself. It's the perfect choice for takeout, especially if you're feeding a group. It comes in a suitable size to feed the family, and it stays delicious even if your delivery driver has a few stops to make before dropping it off. The box keeps the pizza nice and hot, and a well-made pizza crust stays firm throughout the trip.
Fans of takeout agree with this sentiment on Reddit, listing pizza as one of the best options. One comment says "I love pizza delivery, deliciousness is just brought to your door." Grubhub's report on the top ordering trends of 2022 seconds this sentiment, with cheese pizza as the third most ordered take-out meal. Not only is it frequently ordered on Grubhub, but pizza has also been shown to be the most popular take-out food in the world. Polling 100 countries across every continent, Moneybeach discovered that pizza tops the charts for delivery worldwide. Whether you're a fan of Papa John's or a loyal lover of Domino's, it's hard to argue with that.
3. Best: Burritos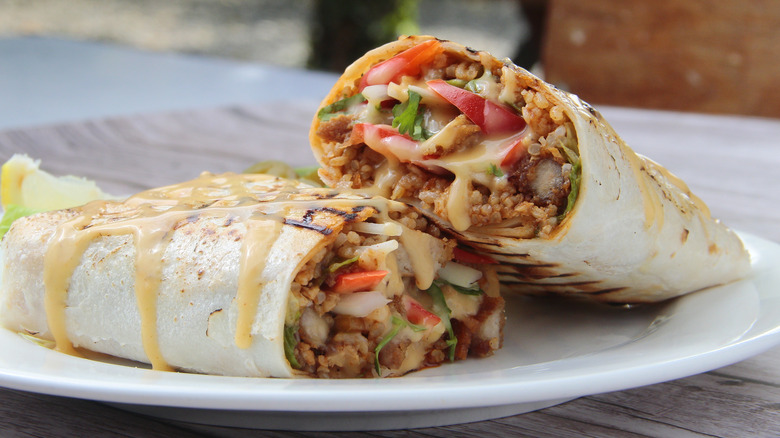 Junpinzon/Shutterstock
Burritos are another great option when you're looking for a filling, flavorful meal that you can order from your phone. This versatile Tex-Mex food can be anything you want it to be: a breakfast burrito, a classic Chipotle version, or even a California burrito with french fries added in. Plus, burritos are a mess-free version of their cousins, nachos and tacos. As long as you can fit it in your mouth, all of the tasty goodness should stay safely packaged up in the tortilla.
Grubhub's data show that burritos were the top take-out choice in 2022, and we can't say we're surprised. Whether you order your burritos from classic fast-food spots like Qdoba or you support your local Mexican restaurant, it's hard to beat a tortilla filled with a hearty combination of meat, beans, rice, and the works. Along with being undeniably delicious, burritos have a long shelf-life and won't be ruined by the drive. This convenience is likely part of the reason burritos were ordered so often last year — as well as the fact that they satisfy every desire for comfort food. 
4. Best: Burgers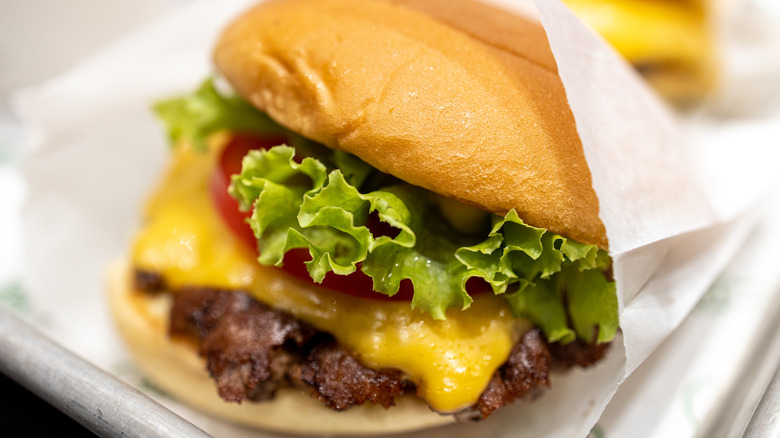 Bug King88/Getty Images
We often order takeout when we're feeling too lazy to cook for ourselves, which makes it the perfect time for comfort food. Burgers are the ultimate comfort, loaded with carbs, meat, and melted cheese. Although it might not be the healthiest option on the take-out menu, burgers are a go-to when you want to let loose. Plus, you'll be able to customize your order as you please, whether you prefer a classic burger with cheese and lettuce, or a burger smothered in sauce and topped with extras like grilled onions or blue cheese.
Based on Grubhub's ordering data from 2022, cheeseburgers were the second most ordered food of the year, surpassed only by burritos. Nothing is more American than a burger and fries, so it makes sense that Americans are most drawn to this combo when having a night in. If you're getting hangrier by the minute but are paralyzed by indecision, a burger is an easy choice. Dependably tasty and filling, a juicy burger on a toasted bun won't let you down.
5. Best: Chicken sandwiches and nuggets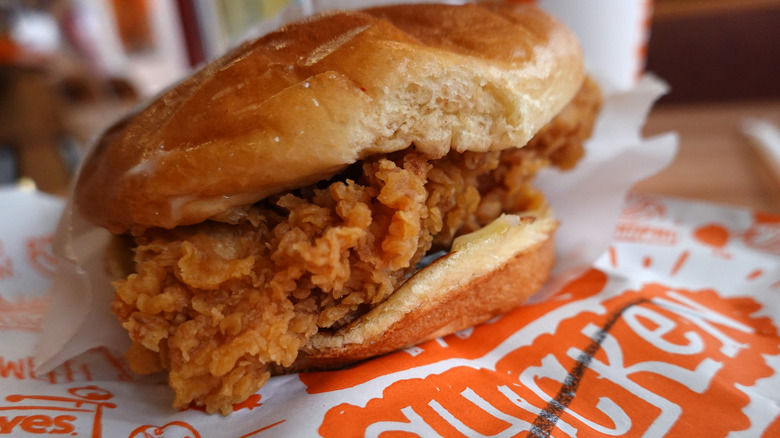 Scott Olson/Getty Images
Getting a take-out meal is all about convenience and pleasure, which is why the best take-out foods are those that are perfect for a night when you want to treat yourself. That being said, yummy isn't enough; the food needs to taste just as good after a 30-minute delivery drive. Chicken sandwiches and nuggets fit both of these descriptions, making either option an optimal meal choice for a night in.
DoorDash did its own research to see which items were getting the most love from its delivery customers, and we weren't surprised to see fried chicken dishes high on the list of favorites. According to DoorDash's report, chicken sandwiches and nuggets were the third most-ordered take-out food in early 2022. When you're looking for a bite to eat from the comfort of your couch, both chicken dishes retain plenty of juiciness encased in a well-seasoned crispy shell.
6. Best: Hash browns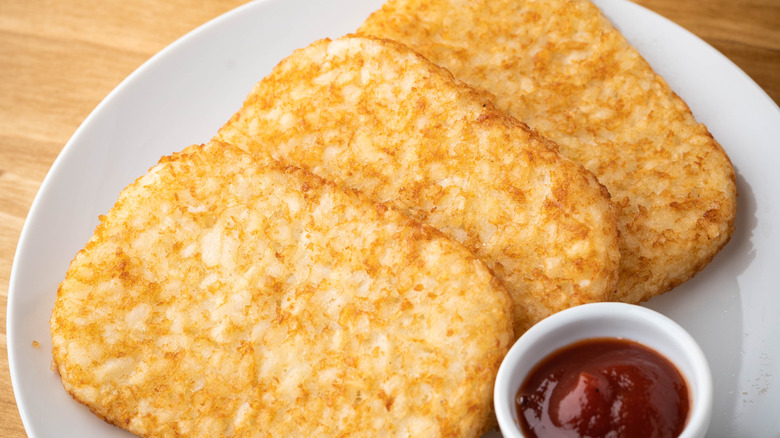 Ahirao Photo/Getty Images
Chances are that if you're getting takeout, you're in the mood for something warm and carb-heavy. Nothing fits the bill quite like a stack of crunchy, perfectly greasy potatoes. Get crazy and add melted cheese on top, or smother them in hot sauce — either way, hash browns don't disappoint. The starchy dish is often a side with an omelet or bacon, but we all know that they're tasty enough to be the star of the show. 
DoorDash users of 2022 are familiar with this fact, as evidenced by their popularity. People ordered hash browns for delivery even more than cheeseburgers, and the beloved breakfast item was in the top five most-ordered foods in the first few months of the year, right up there with chicken nuggets and burrito bowls. It's unclear whether people typically order hash browns for breakfast, as an afternoon snack, or as breakfast for dinner, but the numbers speak for themselves. Hash browns are a great option for takeout when you're in the mood for a hearty side dish and are not up for cooking it yourself.
7. Best: Mexican food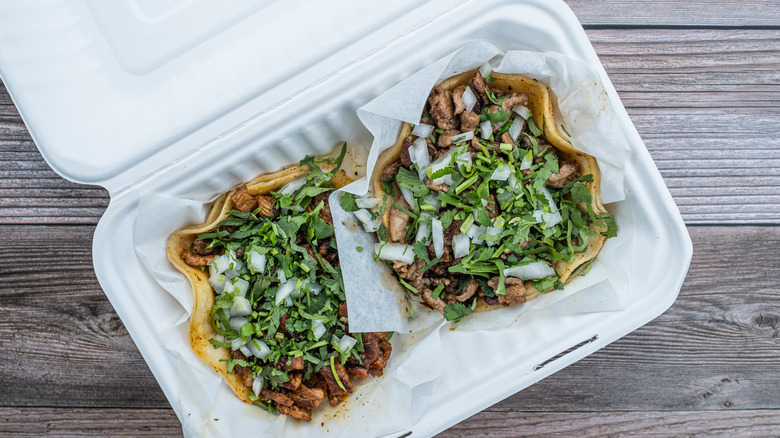 SRM Digital/Shutterstock
Although we listed burritos in a category of their own (we all know they deserve it), Mexican food as a whole is an excellent choice for takeout. Your definition of Mexican food might be a Taco Bell Chalupa Supreme, or perhaps it's a family-owned food cart serving true Mexican street food. Either way, few things are more satisfying than a plate of hearty Mexican food. 
This is another option that you can easily customize to your taste, since Mexican food includes enchiladas, chilaquiles, tacos, and everything in between. Reddit users sharing their favorite take-out meals consistently list Mexican food as a go-to choice. One person specifies, "Cheese enchiladas from my local Mexican restaurant," while another writes, "A burrito bowl from Chipotle. Sometimes I get crazy and get it in the tortilla instead." Whether you consistently go for the same order from Taco Bell or are eager to discover authentic Mexican eats around town, this vibrant cuisine doesn't disappoint.
8. Best: Chinese food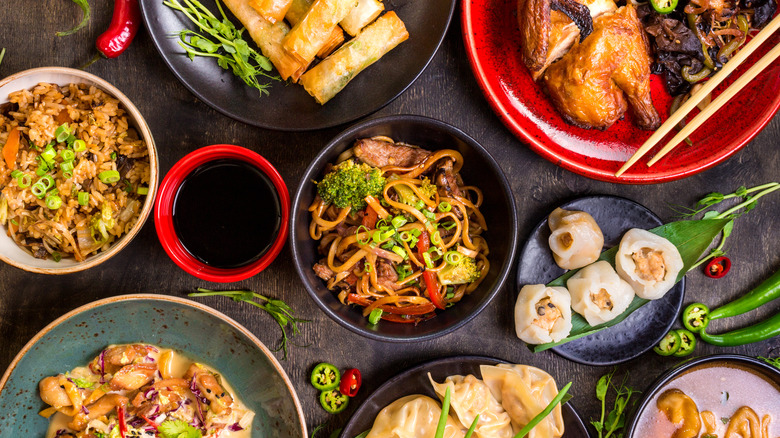 The Some Girl/Getty Images
Chinese food is a classic take-out alternative that's ideal whenever you want to treat yourself to a meal that's high in flavor. Just curl up in front of a good flick with lo mein or kung pao chicken and you're set for the night. It's also guaranteed to retain its flavor and texture after a long delivery trip. The veggies are typically crunchy enough to survive some extra steaming, and the noodles will only get more flavorful with time.
Fans of takeout on Reddit agree that Chinese food is an obvious go-to when you're too tired or hangry to cook. Some remark that anything from Panda Express will do the trick, while others list their favorite dishes. One user enthusiastically shares: "Chinese food. Egg fried rice, pancakes, soft fried noodles with beansprouts and onions, oh god get in my belly."
Chinese food is actually the most popular take-out option in North America, according to a poll conducted by Moneybeach. After collecting data from 100 countries worldwide, the results revealed that Chinese food was the second most ordered takeout globally and the top choice in North America, Australia, and a number of other countries around the world. For a cheap, delicious meal that satisfies your cravings, Chinese food is the way to go.
9. Worst: Eggs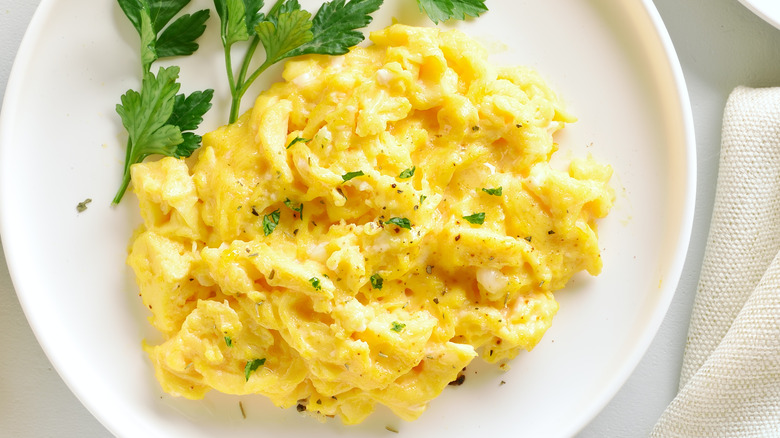 Tatiana Volgutova/Shutterstock
This may seem like a no-brainer, but we won't judge any omelet enthusiasts who've been a little too optimistic about their take-out options. However, eggs are undeniably better when eaten right out of the pan, whether you're having them scrambled, over easy, or to top a mound of hash browns. This is about more than just a matter of taste preference; according to the U.S. Food & Drug Administration (FDA), eggs should be served immediately after being cooked. Warm egg dishes should stay warm, while cold egg dishes need to be refrigerated until it's time to eat. Unfortunately, getting takeout means that your eggs might cool off during transit, arriving at your door cold and unappetizing. This is not only gross but also a food safety hazard.
As the FDA explains, you could refrigerate cooked egg dishes until you're ready to serve them, but you'll have to heat them up to 165 degrees Fahrenheit to be safe. Ordering egg dishes for takeout means that they won't maintain their temperature or be reheated before they get to you. Even the most ardent lovers of eggs probably don't enjoy a plate of cold scrambled eggs or warm deviled eggs. No matter how hungry you are for a classic breakfast, we don't recommend getting eggs for takeout. Stick to hash browns and bacon, or muster the motivation to whip up some scrambled eggs in your kitchen.
10. Worst: Sushi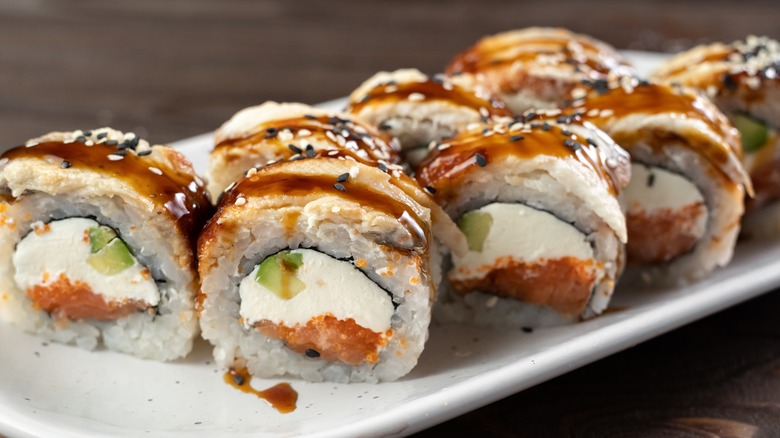 Lysenko Andrii/Shutterstock
Sushi is another meal that sounds like a great idea when you're sitting at home in your sweats envisioning a delicious dinner. However, no matter how much you love this Japanese dish, it's safest to enjoy it at the restaurant, straight out of the kitchen. Since it's made with raw fish, sushi is a delicate food that needs to maintain specific temperatures to remain safe for consumption.
According to Healthline, sushi goes bad within two hours of sitting out, and even sooner at hot temperatures. The reality of getting takeout is that you can't count on your food being kept at optimal temperatures before it gets to you. For all you know, the restaurant may have had your delivery bag on the counter for 20 minutes before the delivery driver is able to pick it up. From that point, your driver may have a number of other stops before yours. 
Unfortunately, this means that your food may sit out for upwards of 45 minutes before it gets to your door. Depending on the temperature, this is getting close to the maximum amount of time that sushi can safely sit out before it becomes a food risk. To avoid any doubt, the next time you're craving a sushi dinner, do yourself a favor and head over to the restaurant.
11. Worst: Pho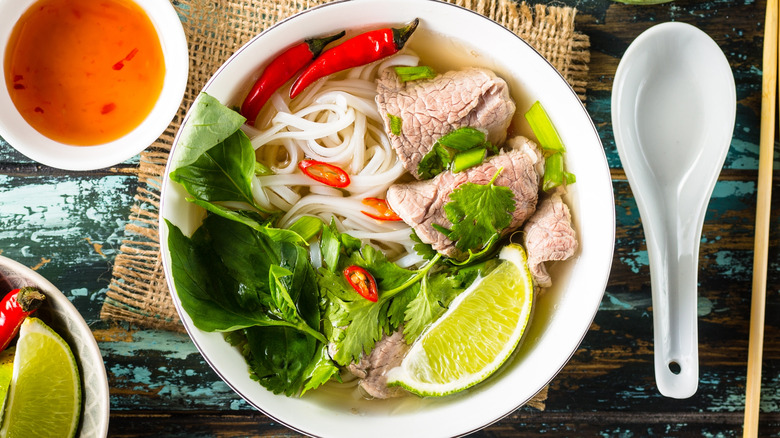 Diep Hoang Hai/Shutterstock
As tasty as a warm bowl of pho might be at your local Vietnamese spot, getting it for takeout is to be avoided at all costs. As many pho lovers know from personal experience, when the noodles and the broth sit together in a container, it's only a matter of time before the noodles soak up all the liquid and become a mushy mess.
Loving Pho explains that the traditional way to enjoy a bowl of pho is to eat the majority of the noodles and leave any broth that's left over. This prevents the noodles from absorbing too much liquid, much like what happens if you overcook pasta. The outlet notes that in Vietnam, asking for a take-out container for your pho will surely earn a confused look because it just isn't done. 
Although most Vietnamese restaurants know to keep the broth and noodles separate, it's best not to take your chances with this one. Pho is yet another dish that's at its peak the moment it arrives at your table from the kitchen.
12. Worst: French fries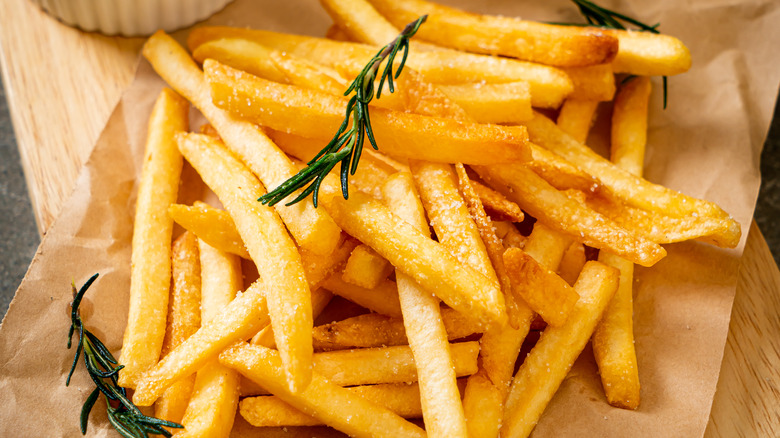 Go With Stock/Shutterstock
We'd love to order them straight to our door on the regular, but french fries are one of the worst foods for takeout. As crispy and delicious as they are when served hot, their beloved crunchiness doesn't stand the test of time — even 10 minutes in a bag can leave them soft and soggy. Personal experience has taught us that french fries are far better hot and crunchy out of the fryer. Even bringing french fries home as leftovers is a gamble, unless you have an air fryer to bring them back to their original crispy glory.
In response to the question "What are the worst foods for food delivery?" one Reddit user matter-of-factly answered, "French fries. They suck after being in a to-go box for more than 10 minutes." Unfortunately, this is a simple truth about fast food. French fries are beloved for their crispiness, but once it's taken away, they're just not the same.
If you have a hankering for french fries but don't feel like eating out, getting them for takeout will only leave you disappointed. Instead, go for a classic pad Thai or burrito. Better yet, keep frozen fries in your freezer for when the craving for starchy spuds hits. That way, you can enjoy this fast-food staple right out of the pan or oven, with no delivery drive in between to ruin their iconic crunch.
13. Worst: Ice cream and milkshakes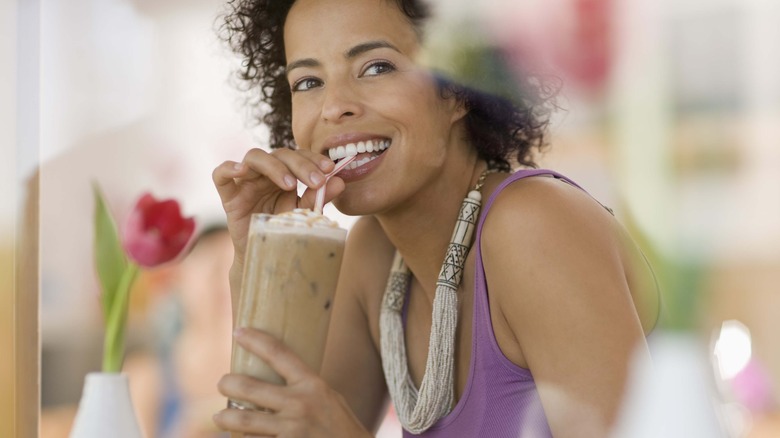 Jupiter Images/Getty Images
Ice cream and milkshakes are perfect choices when you're in the mood for a refreshing sweet treat. Especially in the summertime, nothing hits the spot like an ice cream cone or an Oreo milkshake. However, this creamy dessert was not designed to be a take-out food. Ice cream typically takes around 20 minutes to melt, so chances are that by the time your frozen dessert arrives at your door, it'll be a liquid mess.
If you're planning on bringing ice cream with you on a trip, you can keep it cold and firm with ice packs or dry ice. However, the typical delivery driver doesn't have these supplies on hand, which is why ice cream-based treats are best enjoyed straight out of the freezer. When you're in need of a milkshake or an ice cream-based dessert, it's best to muster the strength and head to the ice cream shop or grocery store rather than ordering it through a delivery app.