Jennifer Lawrence's Favorite Sandwich Is Also Chili, Pasta, And A Pizza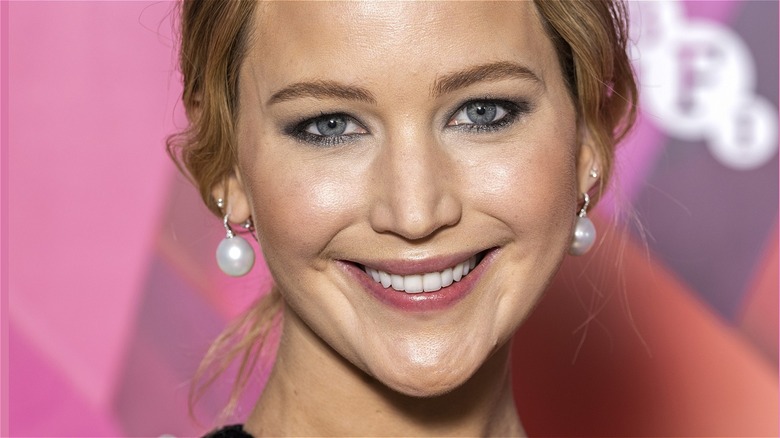 Gareth Cattermole/Getty
What makes a sandwich, a sandwich? According to the Merriam-Webster Dictionary, the lunchtime staple is either "two or more slices of bread or a split roll having filling in between" or "one slice of bread covered with food." That seems pretty cut-and-dry. However, as both foodies and non-foodies probably know, the concept of what is and isn't a sandwich isn't quite as simple as its definition makes it seem.
For years now, the question of whether or not certain handhelds can be classified as sammies has plagued the world almost as much as whether pineapple belongs on pizza. Hot dogs are probably the most divisive dish within the debate that just about everyone from Alex Guarnaschelli to Snoop Dogg has weighed in on. The sandwich status of burritos, hamburgers, and lobster rolls has been hotly contested, and then there's actor Jennifer Lawrence's favorite sando, which adds an entirely new level to the never-ending discussion.
During an interview with Glamour back in 2016, the "Hunger Games" star was asked about her greatest food invention, which she said was a concoction called the "chili pizza sandwich." Before we go any further, we have to issue a warning to all the sandwich purists, because once you hear the details of the Oscar winner's creation, you might be seeing red.
Jennifer Lawrence's chili pizza sandwich has been met with rave reviews
It's no secret that Jennifer Lawrence loves to eat, but did you know she's also got a knack for working in the kitchen, too? In 2020, Us Weekly reported that the "Silver Lining's Playbook" star joined her pal Amy Schumer via cell phone on an episode of "Amy Schumer Learns to Cook," during which she shared her roast chicken recipe that includes "lots of butter, olive oil, and lemon."
The dish certainly sounds exquisite. However, it's not Lawrence's favorite recipe that she ever came up with. Rather, that accolade would go to her "chili pizza sandwich," which she explained to Glamour is made by topping a slice of pizza with southern chili – a.k.a. chili with noodles – followed by a second slice of pizza. (See, sandwich purists, we told you this one was going to be a bit of a doozy).
JLaw's creation certainly pushes the boundaries of what is a sandwich, though there doesn't seem to be much debate over how delicious the actor's slightly bizarre creation actually is. A number of people have volunteered as tribute to re-create the star's elaborate meal, including Elite Daily's Kelli Boyle, who scarfed down the entire thing. "The spice from the chili combined with the cheese from the pizza was a yummy combo ... And the crunch from the pizza did a good job of balancing out the texture from the chili and the noodles," they said.