You Can Now Buy Starbucks Egg Bites At Costco But Only For A Limited Time
Since their breakfast debut in 2017, Starbucks' Sous Vide Egg Bites have become a staple item among super fans of the Seattle-based coffee joint. They've also established themselves as a trendsetter, shaping offerings at restaurants and stores in the years that followed. Back in 2020, Food Business News noted that retailers were increasingly offering their own versions of egg bites, which American Egg Board, Chicago's vice president of market development, Nate Hedtke, linked to the popularity of Starbucks' product. Hedtke explained that people enjoyed eating them, and the bites had the benefit of "fit[ting] into many of the dietary eating patterns people were following, from keto to paleo to gluten-free to Mediterranean."
While some people might feel at ease chowing down on a fluffy egg bite at their neighborhood Starbucks, hitting up the cafe every morning can get a bit pricey. For those Starbucks fans who want to save their hard-earned money without having to sacrifice their favorite foods, Costco has recently begun selling at-home versions of the breakfast go-to.
Starbucks egg bites aren't available at all Costcos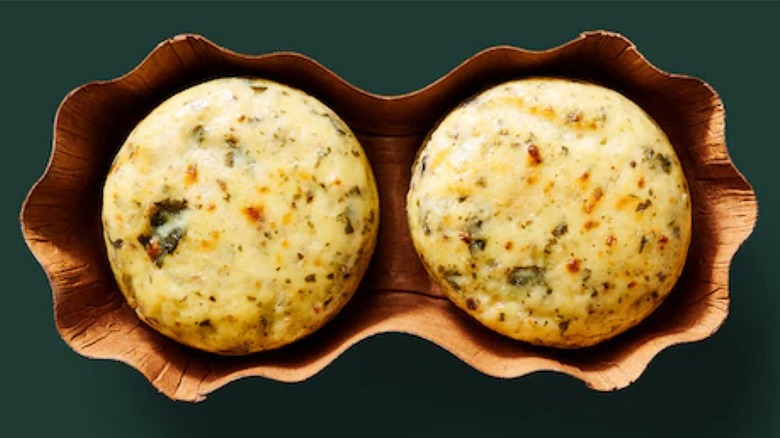 Starbucks
The Instagram user Costco_doesitagain caught wind of the Starbucks egg bites and excitedly shared the discovery with followers. But the arrival of the item was also confirmed in a statement received by Tasting Table. That statement also made it clear that these egg bites are only sticking around on a limited basis. Exactly how long we don't know. Cost-wise, purchasing Costco's version of the Starbucks egg bites will save consumers at least a few dollars, with a box of 10 bites coming in at just under $15.
As Starbucks fans know, the restaurants offer different varieties of bites, such as Kale & Mushroom and Egg White and Roasted Red Pepper. But currently, it's Starbucks Sous Vide Egg Bites with Uncured Bacon & Gruyère that will have a spot on Costco shelves. But availability will be limited to certain stores in the Northeastern United States.
The egg bites are only the latest Starbucks item to appear at Costco. Kirkland House Blend coffee is made by Starbucks as well. While this may come as a surprise to some fans, Costco wasn't exactly trying to keep its partnership a secret with certain bags of java beans bearing a "Custom roasted by Starbucks" stamp. This recent breakfast collaboration with Costco is certainly an exciting development for fans of both brands, but it remains to be seen how the at-home egg bites will stack up against their cafe equivalents.