We Tried The New Burger King Flame Grilled Whopper Doritos. They Were Smoky And Delicious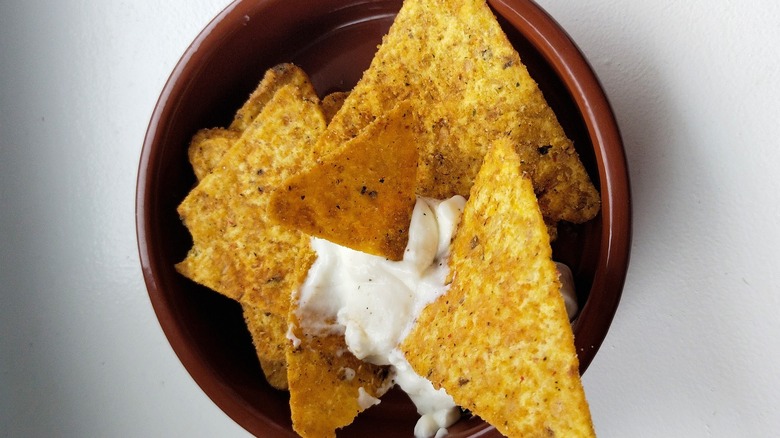 Nads Willow/Mashed
Enjoying a Burger King Whopper is a special treat for many people. Not only are fast-food fans in the U.S. chowing down on this iconic burger but also across the pond in the U.K. too. Another U.S. brand that's super popular in this part of the world is Doritos. The Super Bowl and tailgate parties may pass Brits by. However, with world-class football matches, summer picnics, and movie nights in there's plenty of time when only chips and dips will do.
Imagine if you could have both a burger and chips at the same time. Now consumers in the U.K. can with the launch of Flame Grilled Whopper Doritos. That's right, you can now enjoy the taste of a Burger King Whopper translated into a bag of Doritos. While this might sound like a wild fusion of flavors, is the actual taste terrific or terrible? Do you get the savory sensation of both Doritos and a Whopper or a somewhat strange combination of the two that is totally different? This collab sounds like a perfect pairing but the proof is in the pudding. Since English superstar Sir Elton John joined celebs in the 2023 Doritos Super Bowl ad, perhaps he'll be tempted to dip his hand in a bag. But who else will? We tried the new Flame Grilled Whopper Doritos, and this is what we thought.
What do you get in a bag of Burger King Flame Grilled Whopper Doritos?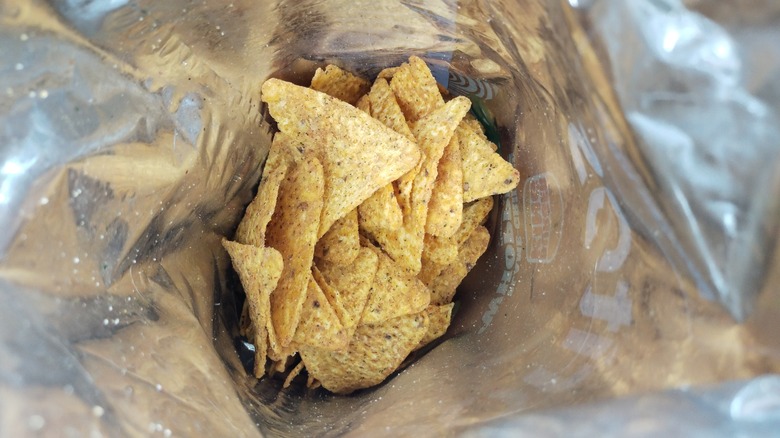 Nads Willow/Mashed
While it looks like a regular bag of Doritos, there's no mistaking the Burger King influence in the design of the Flame Grilled Whopper Doritos. The burger-brown background color evokes a sense of meaty flavor that makes you want to rip open the bag and dig straight in. Even the regular triangular graphic that loops through the Doritos lettering looks enticing. Its fiery design really pops as it seems to emphasize the flame-grilled taste that's promised inside. It almost looks like a hot grill. The tagline for the product is "The Triangle Whopper Has Arrived." But has it?
At the bottom corner of the bag, the Whopper ingredients are depicted with vibrant illustrations. There's a patty with chargrilled marks across it, a sesame bun, and a slice of pickle, plus lettuce, tomato, and onion. This reminds you of exactly what flavors to expect. And who wouldn't like the idea of turning the taste of a Whopper into a corn chip? A fun element is the words printed at the bottom of the bag: "Burger not included." There's no doubt that the visuals work and our taste buds are ready.
The chips cost less than a Whopper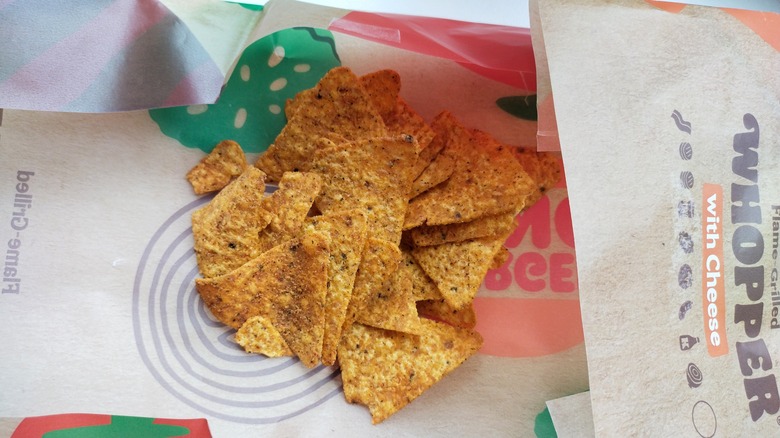 Nads Willow/Mashed
To order a Whopper from Burger King in the U.K. in March 2023 it's going to cost you £4.99 which is equivalent to around $6. This is a higher price than consumers pay in the U.S. where a Whopper sets you back just $4.19. Meanwhile, Flame Grilled Whopper Doritos are retailing at either £1.25 for a small bag or £2.25 for a larger bag, which reflects the usual price for other Doritos flavors.
While it's true you're not getting a burger in a bag, if the taste is as good as getting a burger and corn chips then it's definitely good value for money. There's no way a bag of Doritos can replace a meal but if you're craving a burger fix then it's certainly an easier and cheaper way to satisfy that yearning. And it's always interesting to try new flavors too. If you're a fan of Doritos, a new variety that doesn't elevate the price tag is always going to be welcome. What's more, you do get a free burger by buying a bag. Up until the end of October 2023, the code from a bag of any promotional Doritos, including the Flame Grilled Whopper Doritos, plus the purchase of a select meal will get you a complimentary Whopper meal. You can choose between a Regular Whopper or a Plant-Based Regular Whopper.
You can buy them in supermarkets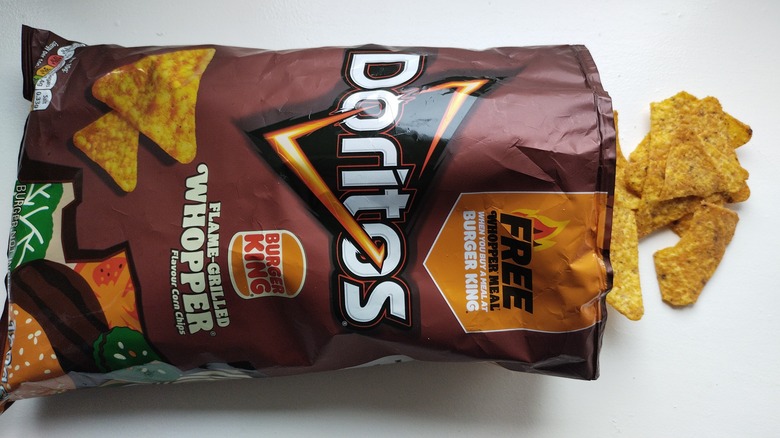 Nads Willow/Mashed
Talk about launching a product in style. A huge billboard for Doritos was set on fire outside a Burger King in the north of England to announce the collaboration. Local people looked on and filmed the spectacular marketing display as the huge sign was literally flame-grilled as the sun went down. Doritos U.K. featured the filmed stunt, which was orchestrated by Splendid Communications, on Twitter. Those who are used to grabbing a bag of Doritos at the local convenience store may be out of luck finding the Whopper variety on the shelves. The good news is that they're not exactly hard to find and Brit shoppers can add a bag, or 10, to their carts when they do their weekly shop at the supermarket. These Doritos come in the standard sizes for the brand, which are a 70-gram bag and a larger share bag of 180 grams.
The Burger King Flame Grilled Whopper Doritos were first made available in big-name superstores Asda and Morrisons in March 2023. In April this was extended to high-profile retail outlets Tesco, Sainsbury's, and the Co-op. Whether other places will stock the variety in the future remains to be seen. However, with so many people shopping for groceries online, this latest Doritos offering is extremely accessible and can be brought from the store to your door with ease.
How do they compare to other Doritos products?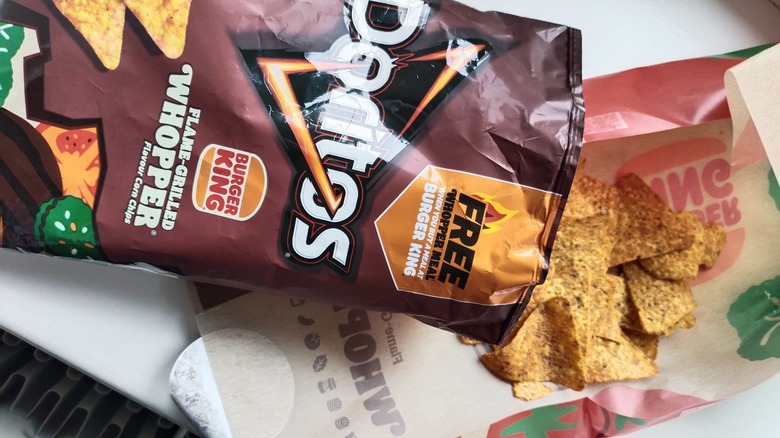 Nads Willow/Mashed
If you're a Doritos fan in the U.K. then you'll know that the brand doesn't just serve chips. The corn chips can be dunked in Doritos dips such as Cool Sour Cream & Chives, Hot Salsa, Mild Salsa, and Nacho Cheese. Aside from the Burger King-inspired chips, other flavors of Doritos in the U.K. are Cool Original, Hint of Sour Cream & Onion, Tangy Cheese, Chilli Heatwave, Flamin' Hot Tangy Cheese, Flame Grilled Steak; Hint of Salt; Hint of Smoked Paprika; and two pizza-flavored varieties. What's great is mixing and matching chips and dips to get a flavor boost, although there's nothing wrong with digging into a bag and enjoying the intense flavor of the corn chips just as they are.
Doritos are owned by U.S. food and beverage giant PepsiCo, the company that also makes other much-loved snack brands such as Cheetos and Lay's. And to wash down the carbs, the company makes Gatorade, Pepsi-Cola, and Mountain Dew to name but a few, bringing in billions in sales each year. Meanwhile, you can always choose to bite into an actual Whopper or anything else on the Burger King menu. In the U.K., there are over 500 restaurants, with over 18,600 across the globe serving over 11 million customers each day.
Burger King Flame Grilled Whopper Doritos nutrition facts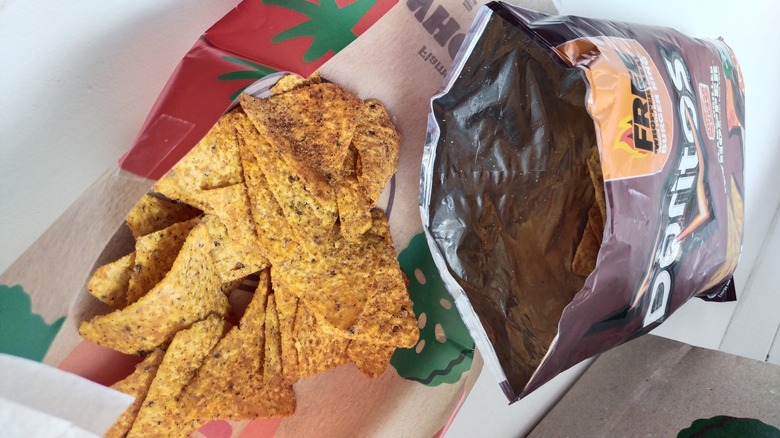 Nads Willow/Mashed
The Flame Grilled Whopper Doritos aren't going to win any awards for their fat content. Each of the six portions of 30 grams in a large bag contains 6.7 grams of fat, which is 10% of the recommended amount for an average adult on a 2,000-calorie diet. This is comparable to other varieties of Doritos with a fast-food-themed flavor. The Loaded Pepperoni Pizza and Triple Cheese Pizza varieties contain 6.6 grams of fat which is just under thee Burger King flavor. The saturated fat level for this same amount of the Whopper-flavored chips is just 0.6 grams, which is 3% of the daily amount. A portion has 144 calories, 6% of the daily salt recommendation, and a low 2% of the sugar recommendation per day, with 18.3 grams of carbs.
Made out of corn, the chips are dusted with Flame-Grilled Whopper Seasoning which includes dried parsley, spices, and smoked salt. Since you can order a meat-free Whopper as well as a patty made out of beef, it's fitting that the Burger King Doritos are suitable for vegetarians too. Because the label says that the product may contain milk they're not labeled as vegan-friendly. The upshot is that like many snacks, and other flavors of Doritos, it's all about enjoying in moderation or perhaps as a treat now and again. However, with a Whopper coming in at 670 calories, a few Doritos sounds like it could be the less indulgent option.
The verdict: they're worth a taste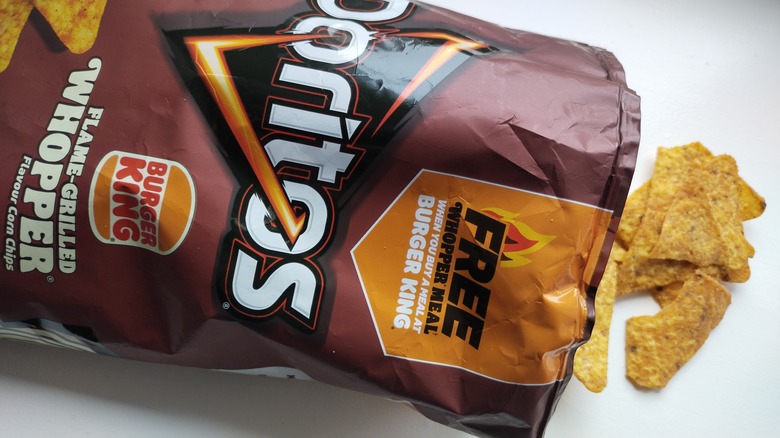 Nads Willow/Mashed
So, what's the taste-test verdict on Burger King Flame Grilled Whopper Doritos? Do the chips ultimately taste like a Burger King Whopper? Doritos representative Stephanie Herbert states in a press release that "fans will be shocked by the likeness", exclaiming that the chips "taste so much like the real thing." Likewise, Katie Evans from Burger King U.K. calls the cross-promotion an "epic collaboration" that delivers the taste of the Whopper ingredients in chip form.
One of the strongest flavors that hits your tongue is pickle. So if you're the type who takes the pickle slices off your Whopper before eating then you might not be so keen. The chargrilled taste is prominent but the meat taste is far more subdued which takes away from the idea of the chips tasting like a burger. This may be a negative in terms of what the brands intended. However, the grilled taste brings out the flavor of the corn and enhances it. Each chip tastes like fresh corn that's been barbecued and served with a pickle. Because of the charcoal taste, the chips do make you thirsty, so you might want to pair them with a cooling dip, and definitely a thirst-quenching drink. Burger King Flame Grilled Whopper Doritos don't taste like a burger transformed into a chip. However, they do showcase what the chips are made out of, which is corn. They're a great chip to serve at a cookout, perhaps with a real burger.