Poppy O'Toole Uses An Air Fryer To Bake Potatoes - Just Like The Rest Of Us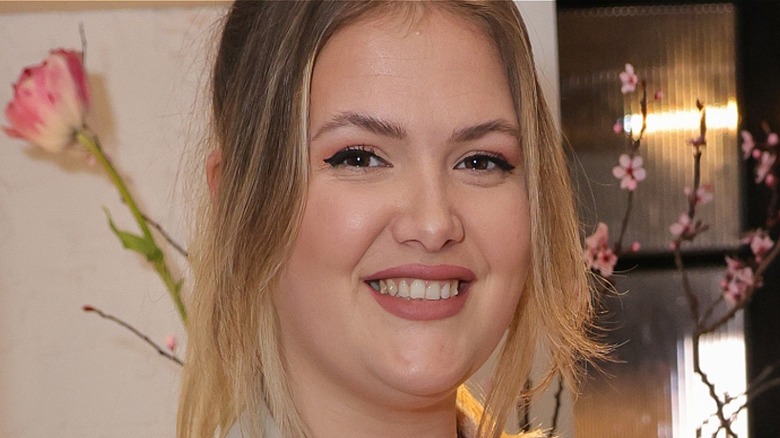 David M. Benett/Getty
There's no doubt that air fryers are one of the most revolutionary culinary inventions to come out of the 21st century, and have changed the game for home cooks the world over. From french toast to BBQ chicken, the humble cooking device can whip up our favorite snacks and meals in minutes, shaving hours off of cooking time and saving money on energy costs. It's no wonder that according to ITV, demand for air fryers soared by 3,000% last year, so much so that it actually caused an air fryer shortage.
They're also well-loved by celebrity chefs. Gordon Ramsay seems to have been an avid fan since at least 2016, and according to Insider, his recipe for 20-minute air fryer steak is proving a hit with meat lovers everywhere. Jamie Oliver also shared a recipe for an air fryer curry that costs just £1 — that's just over a dollar a person for an entire meal. Now it seems the latest chef to jump on the trend is TikTok's reigning potato queen Poppy O'Toole, who recently used an air fryer to make her signature dish, and people are loving it.
How does Poppy air fry her potatoes?
In the video posted to TikTok, Poppy O'Toole shows fans how she makes soft and fluffy baked potatoes with her air fryer. "Now I know I'm a professional chef and I do love me a bit of fine dining, but I want to show you some delicious, cost effective ways to cook," she explains. "At the minute I'm using my air fryer all the time, I love it."
O'Toole pierces her potatoes with a fork before covering them in oil. She then microwaves them for six to 10 minutes (800W), before placing them straight into the air fryer at 200 C (or 392 F), for about 15 to 20 minutes. She then reveals the perfect potatoes, which look incredible with a perfect balance of a crispy exterior and fluffy inside, before loading a potato with butter and taking a bite. Users were impressed and also shared their own reasons for preferring to use an air fryer. "Best thing about air fryer is that it turns itself off. My oven doesn't do that," commented one user. "I don't microwave mine. Just oil up and put in the air fryer at 200 for 35 minutes. Perfect every time," another person suggested.
It looks like we might also get some more air fryer recipes from O'Toole in the not so distant future. "Is this about to become a series?" one user asked, with Poppy responding, "Do we want a series?" and two wink emojis.