Stanley Tucci's Favorite Sandwich Is A Masterpiece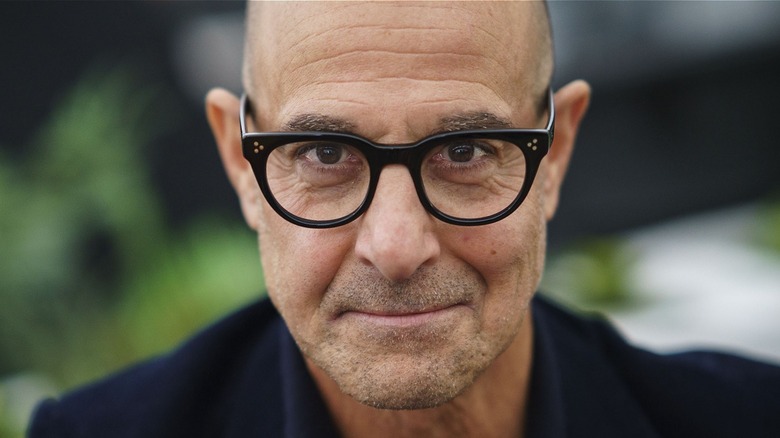 David Levenson/Getty
People will never stop writing about grilled cheese, and why should they when there's so much to say about it? What started as a simple childhood sandwich featuring a slice of cheese between two slices of bread has evolved into so much more. Today, people are adding bacon, mac and cheese, onions, different kinds of cheeses, and other ingredients.
Celebrities like Rachael Ray, Bobby Flay, and Stanley Tucci have also been known to jazz up their grilled cheese sandwiches. You may know Tucci for his roles in the "Hunger Games" films, "The Devil Wears Prada," or "The Lovely Bones." But if you've seen any of the food-centered episodes of his "Searching for Italy" series, you also know that the Golden Globe-winning actor knows his way around the kitchen.
He shared his skills and creativity, combined with his Italian ancestry, on the "Desert Island Dishes" podcast, hosted by chef Margie Nomura. The podcast features interviews with various well-known guests who are asked to detail seven dishes that were important in their lives, including the one they would choose to eat before being stranded on a desert island. Tucci mentions a grilled cheese masterpiece as his favorite sandwich, and thanks to Nomura, we now have a visual for how to make it.
The sandwich includes pesto, basil, and prosciutto
Margie Nomura created a tutorial TikTok video to coincide with audio snippets from her podcast interview with Stanley Tucci, during which he lists the ingredients to his pesto prosciutto grilled cheese sandwich. "I love sandwiches," he says in the podcast. Nomura begins her video with this same quote before demonstrating the recipe.
She uses what appears to be an artisan sourdough bread, sliced and buttered, just like any other standard grilled cheese sandwich. But between the slices is where things get interesting. She adds shredded white cheese, sliced prosciutto, and thick mozzarella cheese slices, just as Tucci mentions in the podcast. Then she tops it all off with fresh basil leaves and pesto for some extra panache before slicing the crispy sandwich in two.
If you're a pesto fan, mimicking Tucci's recipe is definitely worth trying, but you can customize it if there's a certain ingredient you don't like. For example, you could substitute the basil leaves for spinach leaves. You could also modify it so that it's closer to discontinued Dunkin' pesto grilled cheese sandwich by substituting the prosciutto and basil for roasted tomatoes. 
Whether you copy the full recipe as is or adjust it a little to make it your own, you'll find that it's a relatively easy sandwich to make. Thank you, Stanley Tucci and Margie Nomura!