Red Custard Apple: The Creamy Florida Fruit That Tastes Like Cheesecake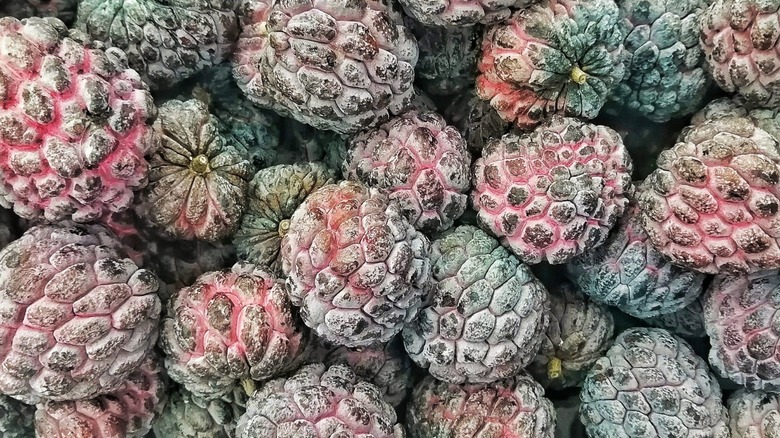 Zaid Harith/Shutterstock
For many of us, living by "an apple a day keeps the doctor away" is far easier said than done. Eating apples every day can get boring fast, especially if your idea of sweets has more to do with candies and cake than fruits and veggies. That being said, TikTok recently introduced millions of internet users to the best of both worlds — a piece of fruit that tastes just like cheesecake.
The red custard apple grows across Peru, Brazil, Central America, Mexico, and the West Indies, but has also taken off in Florida. These "apples" — which are actually a different species from the standard apples that we are used to — are a deeper red than most others, and their peels have a scaly appearance. The inner flesh is a great source of vitamins A, B6, and C, as well as potassium and magnesium compared to other types of apples, which usually contain only vitamin C and potassium in significant amounts.
But enough about the health benefits. It's an apple. We get it. Moving on. Let's talk about the viral TikTok, the cheesecake taste and creamy texture this apple possesses, and all the yummy things you can do with one.
'Cheesecake' just got easier with the red custard apple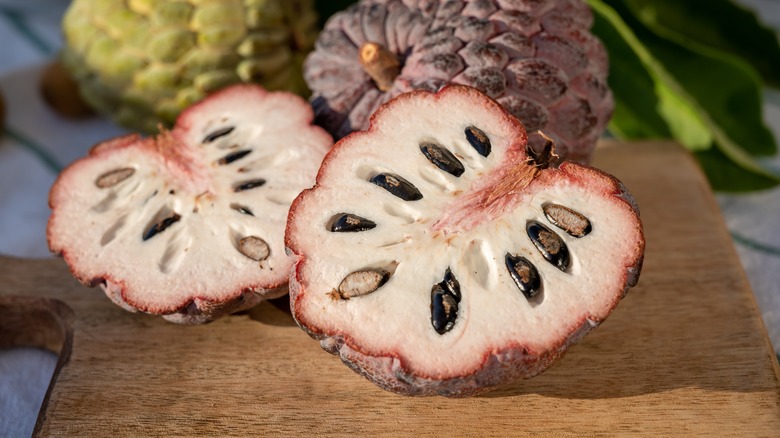 barmalini/Shutterstock
Though some compare the flavor of the red custard apple to that of pineapple, strawberry, and banana, popular opinion has landed on cheesecake. TikTok user Fruits N' Cahoots described digging into the fruit as "eating a creamy yogurt cheesecake that's infused with a sweet strawberry-raspberry medley."
@fruitsncahoots

RED CUSTARD APPLE 💗 This fruit has been stealing the hearts and tastebuds of South Florida residents lately.. and for good reason💘 Red custard apple is absolutely delicious with the creamiest texture it's almost like you're eating a creamy yogurt cheesecake that's infused with a sweet strawberry-raspberry medley 🍓 The fruit becomes soft when ripe and will easily peel open with your hands. The skin and seeds are not edible. We're lucky enough to have red custard apples growing in South Florida and right now is the season 👉 Make sure to FOLLOW us to see what's available at the fruit stand each week 💕 #redcustardapple #custard #fruit #exotic #foodie #healthy #veganfood
As demonstrated in the video, a ripe red custard apple can be opened with your bare hands, exposing the creamy, pink insides that can be scooped out with a spoon. According to one comment, the texture is comparable to a "chunky frozen yogurt." Sounds great, if you ask us.
All that being said, what can you do with a red custard apple if you manage to get ahold of one? You can eat it with a spoon, as previously mentioned, or you can bake with this apple, just as you would with other apples. For instance, you might try a crumble from Australia's Best Recipes. Or you could try End of the Fork's custard apple sorbet. Just be sure to not eat the skin or the potentially toxic seeds, per WebMD.