Gourmet Food Trucks Are Having A Worldwide Moment
Originating in America in the Texas Panhandle back in the 1860s as chuck wagons, food trucks have become a staple of American street food. Despite their status as an essential part of Americana, food trucks are part of a long global tradition of street food being dispensed from carts and stalls.
In fact, food trucks have become so popular that international food truck festivals can be found around the world. Perhaps the best example of this is the Brussels Food Festival held in Brussels, Belgium. The festival's third installment held in 2016 featured an impressive 140 trucks, according to CNN, a stat that at the time broke records in the food truck realm. To this day, the Brussels Food Festival is still attracting crowds of street-food lovers and connoisseurs from all over the world, proving that the global food truck craze is much more than just a fast food fad. 
While diners can still find the simple street food staples we associate with food trucks, increasingly food truck purveyors are offering innovative gourmet meals.
The global food truck business is booming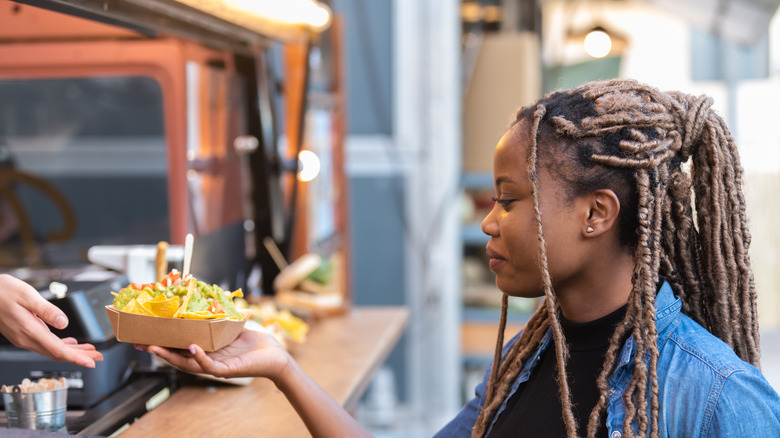 jpm.foto/Shutterstock
Beyond serving delicious food, food trucks can also serve up some serious profits for food truck workers. With the international food truck industry "expected to reach a value of 5.78 billion USD by 2028," per a report by Vantage Market Research published on LinkedIn, the business can be especially lucrative for successful culinary entrepreneurs. The industry's impressive financial stats may offer some insight into why the food truck market has exploded onto the international culinary scene in recent years. 
The 2022 report by Vantage Market Research named Europe as the world's largest food truck market, and these figures are illustrated by the continent's many gourmet trucks and food festivals. Diners in Marseille, France can even visit a luxury food truck owned by three-time Michelin Star recipient, Chef Alexandre Mazzia. 
Following close behind in numbers, the Asian food truck industry is experiencing unprecedented growth (via Enterprise Apps Today). The region is home to many world-famous street food varieties such as Japanese takoyaki and Indonesian gado gado, both of which can be prepared relatively quickly, making them perfect candidates for the food truck business. 
Food trucks allow diners to give in to their curiosity for unique foods in a casual environment. Given the growth of the industry in international markets, don't be surprised if you encounter a food truck rally or two on your next vacation.