Aldi's Carrot Cake Sandwich Cookies Are Majestic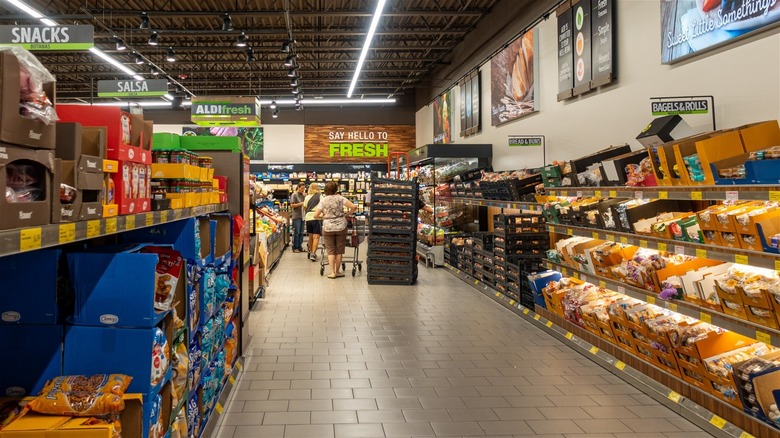 Joni Hanebutt/Shutterstock
Is there another dessert out there that screams "springtime" more than carrot cake? Perhaps it's the combo of the sweet treat's airy texture and rich orange color or the simple fact that carrots are the Easter Bunny's favorite snack. But if you ask us, we think not, and apparently, Aldi agrees. The popular low-budget chain has ushered in the spring season this year with a number of carrot cake-inspired treats, one of which has seriously captivated the hearts of a few Aldi shoppers on Reddit.
In a post shared to the grocer's subreddit page on March 28, one Redditor advised their fellow Aldi fanatics to "run, don't walk," to their closest store to pick up a case of the chain's new carrot cake sandwich cookies, which hit stores on March 22. Slightly reminiscent of a homemade oatmeal cream pie, according to the OP, these seasonal treats from Aldi's Bake Shop brand feature a thick layer of cream cheese frosting in between two soft, raisin-flecked carrot cake cookies. Each clamshell case includes a dozen treats that u/bonhee purchased for $4.99, though prices may vary based on location.
Shoppers are rapidly chowing down on Aldi's carrot cake sandwich cookies
Many people supported the Redditor's suggestion to their fellow shoppers to hurry up and grab themselves a case of Aldi's carrot cake sandwich cookies. "Got 3 boxes in one week...just too good!" u/Kishiloh commented. "You have to run to burn off the calories from eating a whole box...it's hard to stop," u/blindwit quipped, while a third admitted to polishing off the entire case in just two days.
Some Redditors said they had a hard time finding the seasonal sweet at their local stores. For those instances, the chain also has a carrot cake dessert dip available, as well as its specialty double layer carrot cake for shoppers to get their fix. The baked good has also been met with several positive reviews online over the years, with Aldi Reviewer saying last year that it had "just the right amount of sweetness without being overly sweet."
While that suggests that Aldi's traditional carrot cake is nothing to write off, you may feel a bit left out if you aren't able to pick up the sandwich cookies the next time you head to the store. Though not exactly identical, Aldi Australia's website does have a recipe for carrot cake oatmeal cookies which, when combined with a layer of homemade cream cheese frosting, may be a pretty convincing recreation of the store-bought version.