Customers Are Actually Ordering Cheese On Espresso Martinis Now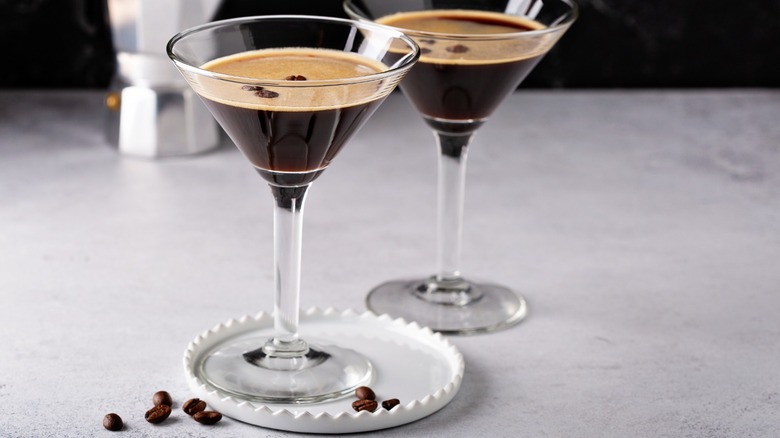 Elena Veselova/Shutterstock
You've probably heard that cheese and wine make a pretty good pairing, but what about cheese and ... espresso martinis? If the very thought sends you into a state of confusion or concern, that comes as no surprise. But believe it or not, the trend of garnishing the cocktail of 2022 with parmesan cheese is actually sweeping the internet, and, in turn, bars – and not even in a Tide Pod Challenge-type of way.
Evidently, the combo of coffee and cheese "goes back centuries," bar consultant Jonathan David Stanyard told Food & Wine. The outlet cited Tiramisu as a prime example. As for the parmesan espresso martini, credit apparently goes largely to Stanyard and influencer Jordan Hughes, whose viral February 14 Instagram post demonstrating how to make the cheesy beverage has been viewed over 1.2 million times.
Crafting this cocktail is easy; after making a standard espresso martini, just grate some fresh parmesan cheese on top, and voila. The drink is ready to be consumed, which several people have already done. For Food52's Paul Hapogan, the experience was far from ideal. "It was not good," he stated bluntly in his review, noting that the cheese didn't properly dissolve. However, as surprising as it may seem, his opinion appears to be in the minority, as Hughes shared with F&W that he's gotten an overwhelmingly positive response. "The overall response is along the lines of: 'Wow this is so weird and fun and amazing, and I want another one,'" he said.
Make sure to use the right type of parmesan for your parmesan espresso martini
You may be wondering how people could be ready to indulge in a second parmesan espresso martini when just the thought of a sip of one is making you shudder. Well, friends, the answer is the savory flavor of umami, which parmesan cheese is evidently chock-fill of. According to A Grateful Meal, those umami qualities, along with parmesan's saltiness, complement both the bitterness of the espresso and the sweetness of the liqueur, giving the beverage a unique and "unexpected depth of flavor."
Now, just because all parmesan cheese possesses this flavor profile, that doesn't mean you (or your bartender) should be garnishing your espresso martinis with whatever kind you have on hand. The powdery variety with a bright green shaker top should definitely be avoided, as it will likely give your cocktail an unsatisfying, grainy texture. Think twice about using pre-grated parmesan cheese, too. This is what Paul Hapogan said was used to garnish his beverage, and was ultimately unable to give it any of those rich flavors that the concept of the parmesan espresso martini promises.
Instead, you'll want your garnish to be freshly grated straight from a block of parmesan – particularly one that's aged. "Twenty-four months is excellent," suggested Jordan Hughes, who also advised re-creators to use a microplane for the grating to ensure that the cheese dissolves properly into the drink.