The TikTok Hack That Prevents Salmon From Ruining Your Frying Pan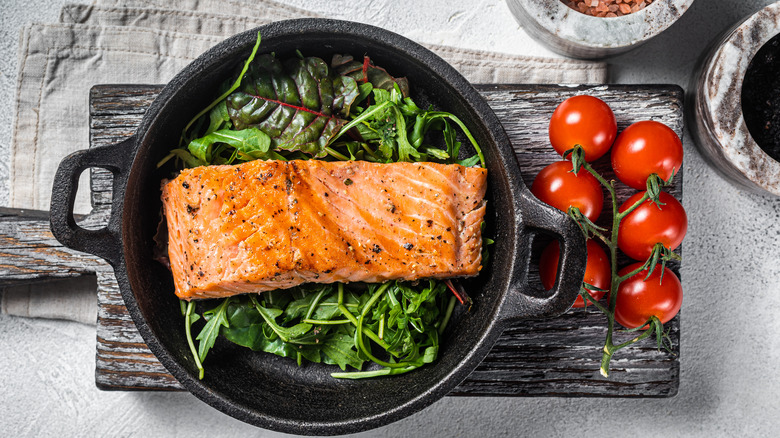 Vladimir Mironov/Getty Images
Salmon skin is definitely divisive. Some hate it for its unpredictable texture, others think there's no better feeling than the satisfying crunch you get from biting into a piece that's been fried just right. Fans of salmon skin and its nutritional benefits cite its positive effects on hair, skin, and nails. According to a study by BMC Cancer, omega-3 fatty acids — which are highly present in salmon skin — may be able to prevent cancer. But whether you're a lover or hater, you'll probably resent the way your pan looks after frying this oily fish — burned, blackened, and full of sticky residue. Even the best non-stick pans have been defeated by leftover salmon skin that can be tough to wash off. 
Luckily, TikTok and food hacks go together like salmon and cream cheese. In a video uploaded to the platform with over 125,600 likes, user @erekasfood showed viewers a tip taken from ChefSteps that prevents salmon from ruining your frying pan while also achieving perfectly crunchy salmon skin. First, Ereka oils the pan before dipping a sheet of parchment paper into it. Then, the salmon is laid on top of the paper skin side down to cook. The result is a succulent piece of salmon with a crispy base — and no leftover residue.
More tips to prevent salmon from sticking
Not everyone was a fan of this TikTok hack. "It's called a nonstick pan. I must be living in some futuristic world, I guess," said one commenter. Others chose to share their own tips for ensuring salmon skin doesn't stick to the pan. "Chefsteps is amazing but I'm confused here," someone else wrote, adding, "Preheating the pan properly and adding oil you will never have skin stick." Others suggested ditching the frying pan entirely. "Usually I just air fry it and end up with perfectly crispy skin," one person suggested. 
Another TikTok user advocated baking in the oven at 350 degrees Fahrenheit for 12 minutes, "skin side up with lots of salt." This advice is sound: Another way to prevent sticking is to add salt and pepper to your salmon before frying, since doing so forms a barrier. If you're doing this, avoid one mistake people make when cooking salmon, and don't season too early. By doing this, you might risk removing too much moisture. Whether you agree or disagree with the TikTok hack, similar cooking methods involving salmon and baking paper have been online for years. However, instead of using a smaller strip of parchment paper, try cutting it to fill the entire pan to make it easier to cook more than one piece of salmon at once.