Hot Pockets' Line Of Merch Is The Epitome Of Nostalgic Cool-Kid Chic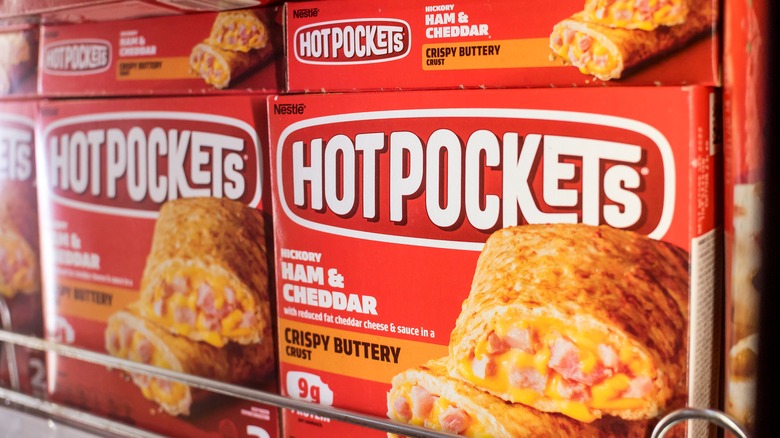 MDV Edwards/Shutterstock
When you think of Hot Pockets, you might think of gooey cheese, after-school snacks, or that ridiculously catchy jingle. But does the mention of Hot Pockets also illicit memories of bucket hats and graphic tees? Maybe not — but we have a point here, we promise.
Aligned with Hot Pockets' reputation as the old-school '90s food trend that refuses to go away, the brand has developed a nostalgic merch line with rapper Rakeem Miles, an alternative hip hop artist from Baltimore. You guessed it: The line includes popular-in-the-'90s items like bucket hats and graphic tees. The pieces feature Miles' own sketches of himself as an action figure hero, as well as illustrations of the Hot Pockets mascot, Herbie.
The Hot Pockets x Rakeem Miles collection includes 10 items, ranging in price from $30 for a fanny pack to $72 for a sweatshirt, and dropped on April 20. It's uncertain whether the collection will be available for a set period of time or only while supplies last, but either way, it appears to be a limited collaboration.
Hot Pockets has dropped apparel before
Hot Pockets
At first glance, the Hot Pockets collab with Rakeem Miles may seem revolutionary. An entire Hot Pockets-themed clothing line, including a lined fanny pack that can hold your microwaved Hot Pocket? Unheard of.
However, this collection isn't actually Hot Pockets' only attempt to break beyond the freezer section and into the fashion industry. Just last year, Hot Pockets partnered with Columbus Fashion Alliance to create cargo shorts and hoodies. Both articles of clothing came embroidered with flames, while the cargo shorts also featured insulated pockets to keep your Hot Pockets hot — a literal hot pocket.
This previous drop was available at no cost to customers but was produced in a very limited quantity. Those who scored the merch also received a coupon for a free Hot Pockets sandwich. No word on whether or not the latest collection offers a coupon, but the brand appears to be posting updates on Instagram.