In A Sea Of Beef, Can You Enjoy A Brazilian Restaurant As A Non-Meat Eater?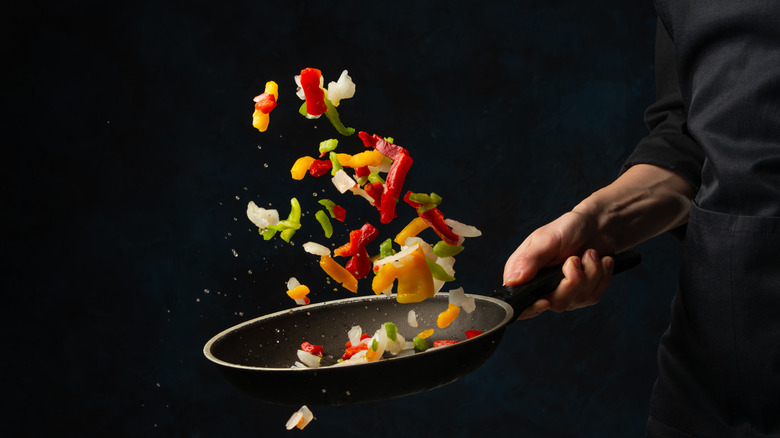 Anton27/Shutterstock
Brazilian barbecue, or churrasco, is famous for its meaty offerings cooked over an open fire. You have your pick of more than 20 different kinds of meat at a Brazilian steakhouse, from melt-in-your-mouth picanha (top sirloin) to pork loin, chicken, and linguiça. But what's a non-meat eater to do when faced with a bunch of gauchos wielding slabs of meat on skewers? The options for vegans and vegetarians are growing all the time, with some restaurants devoting energy and imagination to the cause of providing plant-based delicacies.
There have always been rather sizeable salad bars at churrascarias that vegans and vegetarians can take advantage of, with hearty staples such as potato salad, couscous, and tabouleh. You can also create your own salad that's limited only by your palate and imagination. Texas de Brazil keeps items like cucumber salad and pineapple carpaccio in its salad bar, while Rodizio Grill has kale salad, pickled beet salad, and a roasted coconut pineapple slaw. If you're tired of being relegated to the salad bar for your dinner, you can get some sauteed mushrooms, fried bananas, pasta, or potatoes au gratin. And remember, you can always call ahead and discuss even more options. You won't be left out when dining with your more carnivorous friends at some of the best Brazilian steakhouses in the country. 
Brazilian steakhouses are starting to cater to non-meat eaters in big ways
With younger generations increasingly forgoing meat and alcohol, Brazilian steakhouse Fogo de Chão has made a point of having plenty of dishes for non-meat eaters. The steakhouse has taken steps to embrace its vegetarian and vegan customers one step further by releasing a menu featuring vegan proteins. The new vegan options include warm entrees like chimichurri-marinated grilled tofu with black bean noodles, Napa cabbage, pickled onions, and a ginger-miso dressing. Also on the new menu is a roasted veggie bowl with eggplant, mushrooms, zucchini, and asparagus on rice flavored with spinach and chimichurri, according to VegOut. It's a huge step up from trying to build a satisfying meal from the cold salad bar. The new options are all available on the chain's new Market Table, which also received a veggie-heavy makeover –  including herbaceous spring hummus, nutrient-rich leafy green mixes, and black bean pasta.
According to VegNews, the new menu also includes vegan-friendly clean cocktails and mocktails made with an alcohol-free liquor called CleanCo Non-Alcholic Spirits. Each mocktail has less than 0.5 percent alcohol in flavors like Clean Cosmo and Clean Cucumber Martini.
So the next time you find yourself at one of the Brazilian steakhouses, you'll be able to eat a hearty, satisfying meal and not have to worry about bringing snacks with you.