Mistakes Everyone Makes When Ordering From Popeyes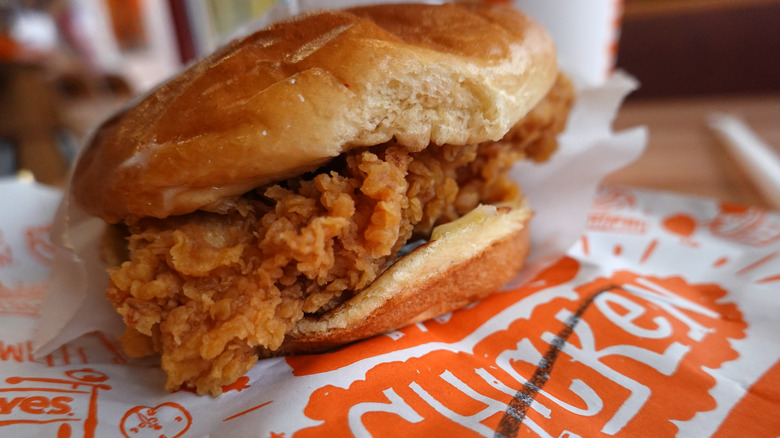 Scott Olson/Getty Images
There's no denying that fried chicken is one of the most popular fast food dishes. The sheer number of fast food chicken chains is clear evidence of this, and Popeyes Louisiana Kitchen has become a staple of the game, serving up delicious tenders, wings, and chicken sandwiches. Established in New Orleans in 1972, founder Al Copeland dreamed of serving the greatest fried chicken. Over 50 years on, the restaurant has now almost 3,000 branches, and in 2021, opened up in the U.K. for the first time.
But while the menu is packed full of tasty options, you might not be making the smartest decisions. In fact, there's a chance you could be making some big mistakes with your order. So we've rounded up some of the biggest errors people make when eating at Popeyes. With insights from loyal customers and employees past and present, we hope these tips will ensure you never suffer buyer's remorse with your Popeyes order.
Ordering during quieter times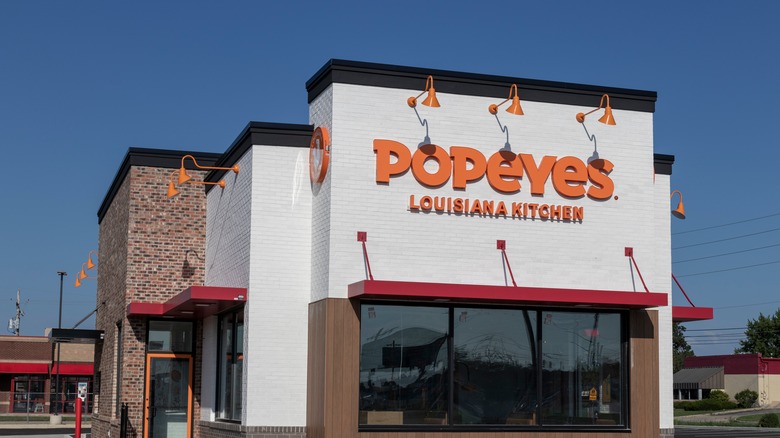 Jonathan Weiss/Shutterstock
It's understandable that you'd think the best time to order your meal would be when the restaurant isn't slammed. A huge line of customers and overstretched staff doesn't exactly fill a customer with confidence. But opting to go during the busy hours, such as the lunchtime or dinner rush, is probably going to result in a fresher meal
Opening up on a Reddit thread, one Redditor advised that if the restaurant is quiet then the food may just be sitting out. "All fast food is better during busy times," they explained. They added that when orders are coming through thick and fast, staff are more likely to have to make a fresh batch for you. Other commentators weighed in and said the same is true right after opening. Long story short, maybe don't visit Popeyes in the middle of the day when you're the only customer if you want your food to taste super fresh. 
Only ordering the chicken sandwich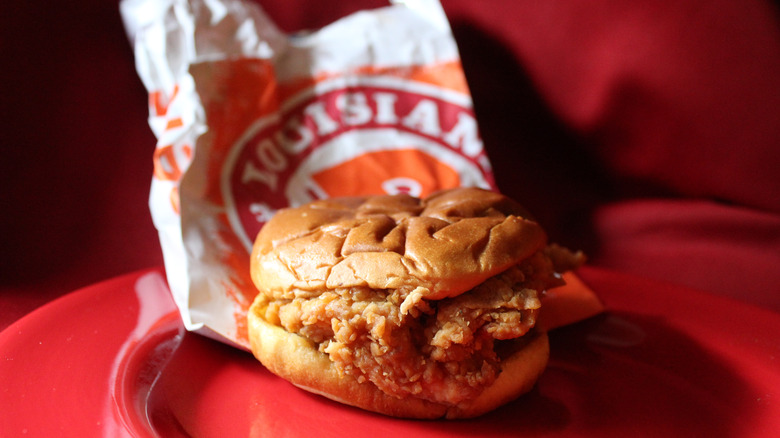 KDC-1/Shutterstock
Okay, we know the chicken sandwich from Popeyes has a loyal following. Who can forget the fierce debate of 2019 that pitted Popeyes against Chick-Fil-A?
And it's not hard to understand why it's such a cult favorite. Crispy marinated fried chicken on a brioche bun with fresh pickles & creamy mayo? It's a mouth-watering combination. But former employees insist that we're all sleeping on the bone-in chicken. Those juicy wings and drumsticks are prepped fresh for the best quality taste.
Speaking in a Reddit forum, one former employee said that they even felt the bone-in chicken was a neglected food item. "The best thing to order may just be the bone-in chicken itself just because it's one of the few things that isn't frozen," they explained.In fact, the bone-in chicken arrives at each restaurant totally fresh and the staff brine it, batter it and fry it in-house to ensure it's crispy and juicy for you.
Not upgrading your rice and beans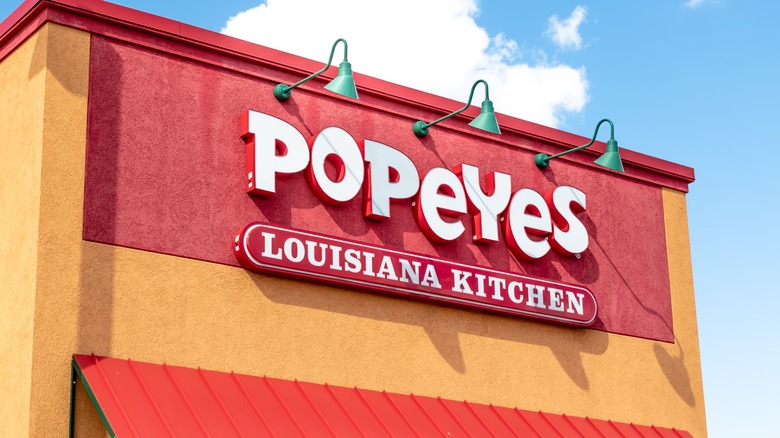 Bruce VanLoon/Shutterstock
Red beans and rice is a signature side of the franchise. And for something so simple, it's so very tasty. But there's an easy way to take your rice and beans to the next level. And best of all? Some of these additions are totally free, you just have to ask or head to the condiments station.
Popeyes fans on Tiktok have revealed they love to add a packet of the complimentary honey and hot sauce to really give it some zing. The sweetness of the honey really makes the beans pop and the hot sauce adds a smoky deliciousness. If you're willing to splurge on more items, other Popeyes fans attest to adding Cajun gravy to their rice and beans and topping it with a crumbled biscuit. 
Another fan on Tiktok told followers that she also loved adding hot sauce and spicy chicken bites to her rice and beans, for a bit more substance and flavor.
Not asking for the secret spice
With so many delicious things on the menu, it's hard to believe that one of the most popular is somewhat of a secret. Cajun Sparkle is a spicy seasoning that you have to request from staff to get your hands on. It debuted in 2019 and contains garlic powder, onion powder, red and black pepper, and is a delicious blend of savory and spicy.
Posting on Reddit about their love of the secret seasoning, one customer wrote: "This stuff is insane. I can put it anywhere on top of fries biscuits hell I would even put it in my soda if I could." Another fan revealed that they asked for extra packets from Popeyes to season their eggs at breakfast. "You guys have to try it! Add a bit of garlic too," they added.
Some fans have speculated whether the secret ingredient is tamarind, a sweet and tangy fruit native to Africa. But others are convinced the tastiness is down to good ol' MSG.
Ordering the Cajun rice
Popeye's Cajun Rice was a beloved side by many customers but is currently not available on many store menus. It's not certain whether it'll come back or not but according to staff, it's not worth the money. One employee wrote on Reddit: "I don't recommend the Cajun rice even though so many people stand by it. It's quite literally just white rice with a meat gravy mixed in ... the gravy is bright green and very unnatural."
Another former employee revealed on Reddit that Popeyes had decided to remove the side from their menu due to the laborious prep (chicken gizzards are part of the recipe) and the easy risk of it going bad. "We stopped serving Cajun Rice, Jambalaya, and Green Beans because they all took too long to prep," they explained. "And it would go bad if prepped wrong." Maybe skip this item should it ever return. 
Opting for your chicken to be spicy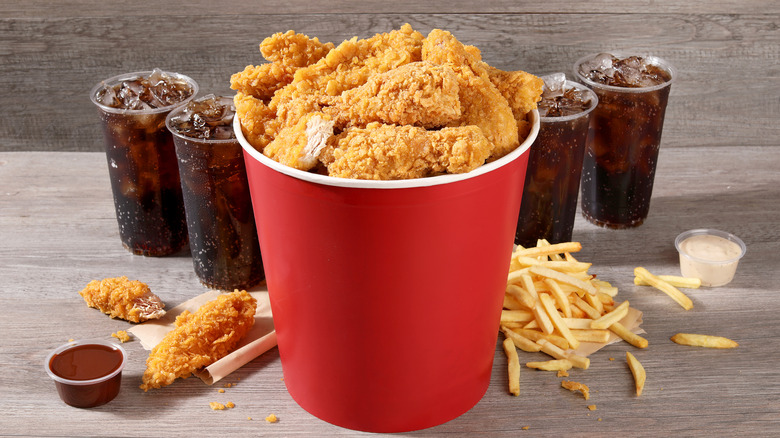 Hamza Ishqaidif/Getty Images
As well as being famed for its crisp and juiciness, Popeyes also offers chicken with some serious spice. The spicy chicken sandwich has become a staple order for many fans of the brand. But going super hot with your chicken may not be the wisest move.
Asked on a Reddit thread what menu item customers should not order, a former employee explained that spicy chicken is best avoided. The employee explained, "Spicy doesn't sell as well as mild, so it just sits there for longer than the 30 minutes it's supposed to be there, until we get a complaint or we have time to look."
They added that the same can be said for fish, which they insisted also wasn't a big seller. If you do order it, ask for it to be made fresh. Otherwise, you may want to create your own spicy chicken by adding packets of hot sauce to regular wings, thighs, or drumsticks. Then boost the flavor more by requesting the Cajun Sparkle seasoning to sprinkle over your chicken for an extra kick.
Avoiding Popeyes when you're on a diet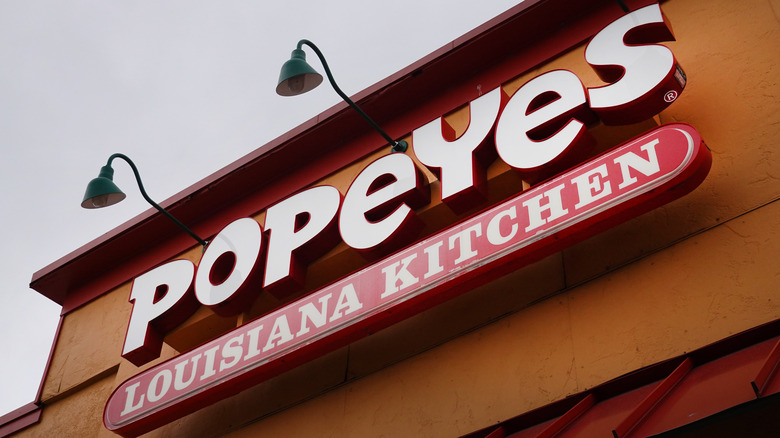 Scott Olson/Getty Images
We know that weight loss and fast food don't seem like they go hand in hand. Things like fried chicken and fries are typically swimming in fat and calories and consuming them too often can easily derail a nutrition plan. But you don't have to avoid Popeyes at all costs if you're trying to lose weight. In fact, there are things you can order that are relatively low in calories and surprisingly high in protein.
The blackened chicken tenders are only 170 calories per portion and taste delicious. Pair that with the mashed potatoes, which are only 110 calories. For gym fans trying to manage their macros, the three-piece chicken tenders have 38g of protein. Another possible option is the Signature chicken leg. It's only 14g of protein and only 160 calories per leg, and the Cajun fries are also only 270 per portion.  Bring in the coleslaw at just 140 calories and you have a small yet tasty meal that will keep you on track and satisfied.
Not turning your biscuit into a dessert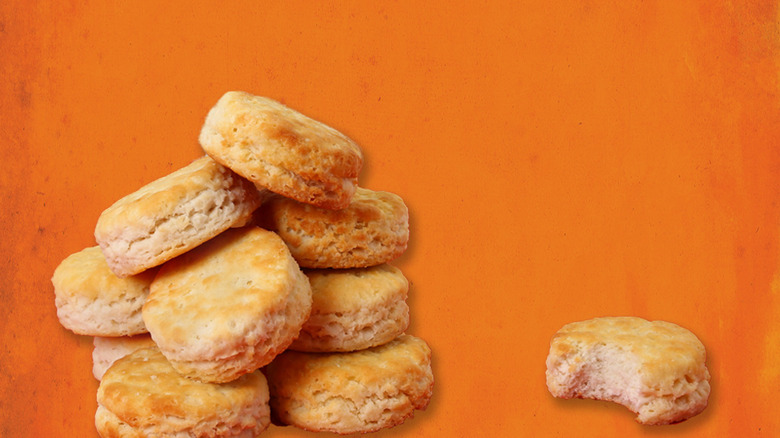 Deutschlandreform/Shutterstock
Popeyes have some mouth-watering dessert options on the menu. The cinnamon apple pie is a menu mainstay and fans seem to think it's quite tasty — if you give it a few minutes to cool down inside, that is. Otherwise, it's molten lava on your tongue! But there's a secret dessert option that tops them all. It's all about getting creative. The Popeyes biscuits are a bit boring as is, so you may need to work some magic with a bit of DIY.
The staff should have packets of cinnamon sugar that they use for the apple pie. Ask for a biscuit with the cinnamon sugar and combine. It is a taste sensation. Amp it up a bit and add a drizzle of honey from the free honey packets. Popeyes have also recently launched a strawberry biscuit topped with white icing. While it's probably great on its own, for an additional kick, add cinnamon sugar on top and we guarantee you'll be in dessert heaven.
Ignoring the biscuits that come with your meal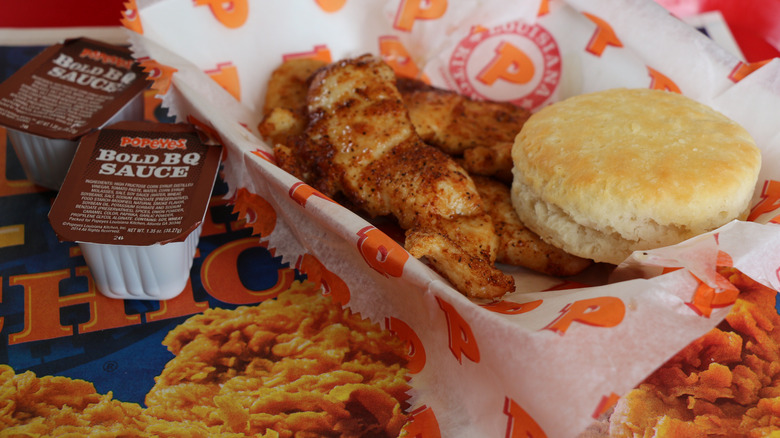 Deutschlandreform/Shutterstock
The Popeyes biscuit can sometimes get a bad rap for being too dry, with customers often neglecting it when it comes with their meal. But don't discount that bad boy just yet. You can treat yourself to a honey chicken sandwich with just a few smart moves.
Order the packets of honey and drizzle it all over your chicken. Cut your biscuit in two and sandwich the coated chicken piece. Take it to the next level by ordering a side of gravy for dipping or even as a sauce for the sandwich. In the words of Monica Geller, make it your "moist maker."
And if you have biscuits to take home, do not let them go in the trash. Freeze and you can use them at a later date for a breakfast sandwich. Heat those bad boys up in the microwave with a damp towel and add eggs and cheese for a delicious start to your morning.
Not getting creative with your fried chicken
The thing we love the most about fried chicken is the crispy skin. Remember that episode of "Friends" when Joey ate all the skin and just left the rest of the chicken in the bucket? We totally get it.
And one TikToker proved that we're all missing out by not using our chicken skin as an extra special ingredient. Kimnlizasmr revealed to her followers that she had visited Popeyes with her mom when they decided to get experimental. They ripped the chicken skin from the thighs and sprinkled it over their mac and cheese, adding ranch as a sauce. They even used their chicken skin as a wrap, putting mac and cheese and hot sauce in the middle. So resourceful!
We also think the chicken skin would be the perfect addition to the mashed potatoes with gravy. Drizzle on some honey and hot sauce and you've just created truly a heavenly Popeyes fried chicken hack.
Not going in right before closing time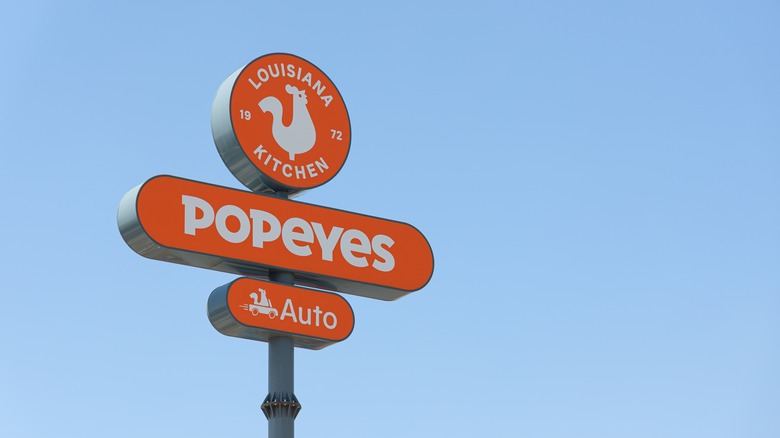 lma_ss/Shutterstock
It might be worth checking out your local Popeyes just before closing time. It turns out that if you get there just before closing, you might be treated to some free food. Posting on Reddit, one user revealed that they had been surprised with 10 chicken tenders despite only ordering five.
Another user replied to the post, commenting: "Sometimes they'll hook you up at close so they don't have to throw stuff out. Worth being extra nice to the staff if you go in late." An additional person added, "this happens to me when I go to the one near my house... it's a nice surprise to find extra in the box."
As additional people on Reddit pointed out, it's not all that uncommon for the staff at Popeyes to unload leftover chicken on customers at closing time. One customer said they even pulled away from the drive-thru with five boxes of chicken and fries that would have otherwise been destined for the trash bin. 
Not downloading the app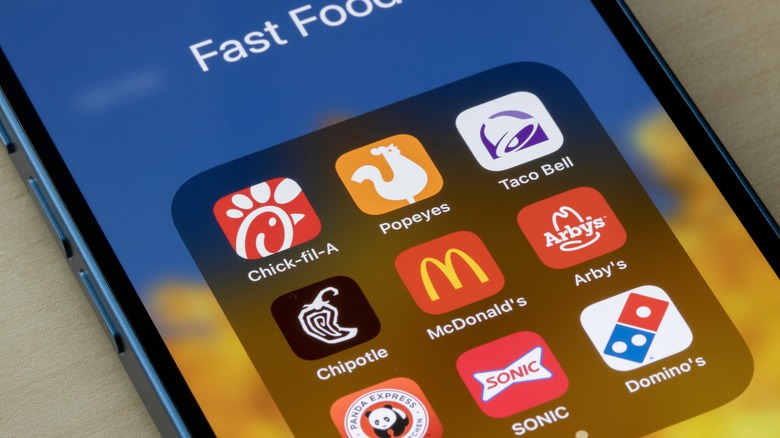 Tada Images/Shutterstock
We know that cluttering your phone with a ton of apps can slow it down and drain the battery. But hear us out, the Popeyes app is full of great deals and discounts that could save you a ton. And who doesn't like getting more bang for your buck?
Posting on Reddit, one user couldn't say enough nice things about the app and its advantages. "Offers are much better deals than menu prices. You get points that you can redeem toward free food. If you don't want the notifications just turn them off," they explained. Another user said that a good plus was that you can rack up points every time you order and gain access to exclusive deals and specials. And if you're really not keen on downloading an app, another user said that you can always set up an account on Popeyes website and order through your desktop.
Ignoring the seafood options
We get it. Popeyes is a chicken restaurant so why would you order anything else? But the shrimp is so underrated. In fact, one customer even posted on Reddit about their love for the seafood option. "I find that I would rather scarf down boxes of the popcorn shrimp than eat the actual sandwiches or tenders. Maybe I'm just addicted to the bite-size explosions of Cajun spice."
And even though the shrimp is delicious as is, there's an amazing way to upgrade it. TikToker Sarah Margaret showed her followers how to make your own bang bang shrimp. Just order a box of the shrimp and drizzle with the sweet heat and blackened ranch dip to create an absolute taste sensation. If you're really not in the mood for chicken and don't like shellfish, Popeyes has also recently brought back the Classic Founder Fish Sandwich. Unlike most fast food fish sandwiches that opt for Alaskan pollock, this one uses flounder and even comes with a spicy fillet option. 
Not making your wrap a burrito
It seems as though U.S. branches of Popeyes are not currently serving wraps but this once-popular menu item may very well make a return. And since opening in the U.K., the franchise has been serving a variety of delicious wraps to satisfied customers. The chicken wrap has crispy tenders with lettuce, tomato, and creamy mayo. But if you wanna take things up a notch, order a side of the rice and beans and combine them. You'll create your very own fried chicken burrito. Perfect for hungry days when you just need a little bit extra.
If you want to add some heat, just drizzle on some of the signature sauces or dips. The sweet heat or simple hot sauce will do the trick. Popeyes don't serve shredded cheese but you can get that creamy taste by ordering a side of mac and cheese. Keep it as a side or add some to your burrito for an epic combo.