The McDonald's At Walt Disney World Is Unlike Any Other
The McDonald's at Disney World is truly unlike any other. Its prime location at the intersection of Osceola Parkway and West Buena Vista Drive is being touted as the world's first "net zero" fast food restaurant. The original location closed its doors in 2019 for the refurbishment and work completed in 2020 and despite a soft launch due to the pandemic, the branch is up and running and has proved how possible it is for a fast-food chain to go green.
Solar panel awnings offer guests some shade in the Florida heat while collecting energy to fuel the entire restaurant. In addition to an expansive outdoor area for customers, the interior is modern and sleek with pull-out tables and innovative technology ordering and entertainment options. There are interactive games to play and even an outdoor workout center with stationary bikes. If this really is a glimpse of the McDonald's of the future, we're here for it!
It originally looked like a giant Happy Meal Box
The new solar-powered McDonald's is an impressive design but many fans of the brand will remember the original restaurant at Disney World in Orlando, Florida. The venue was famed for its wacky design that featured a giant Happy Meal box, a huge burger, soda, and the famous Golden Arches. Cartoons of famous characters, such as the Grimace, could be seen on the exterior walls and customers were greeted on their way in with a huge statue of Ronald McDonald. The McDonald's originally opened on Disney World's grounds in 1998 and was designed by Venturi Scott Brown. He described the design as "a classic example of American commercial architecture defined by signage and symbolism within a roadside context whose conventional order we tweaked, in cooperation with McDonald's."
The restaurant would remain open for over two decades before closing to prepare for the new refurbishment. Reminiscing about the old design, one fan wrote on Twitter, "Man it really was so unique ..."
It's the first net zero McDonald's
This ground-breaking restaurant has been designed to ensure that every single element contributes to its mission for net-zero carbon emissions. Where possible, this McDonald's is committed to eliminating carbon dioxide emissions and offsetting any created. One hundred percent of the energy used on site is solar-powered electricity. It's a move that stands against the norm of many restaurants that use gas for heating water and cooking equipment.
"It's McDonald's goal to reduce its carbon emissions across its portfolio," Jean Gibbons, WSP USA buildings vice president, explained. "McDonald's has intended to use this project as a pilot for future energy reduction steps in new and existing restaurants and future net-zero developments."
The impressive 8,024 square foot building is covered in solar panels and there are many eco-friendly design features that reduce energy use and keep it nice and cool for customers. The restaurant has an induced natural ventilation strategy, heating-ventilation-air conditioning systems, high-efficiency kitchen equipment, and an air-source heat-pump water heating scheme.
It was designed by Chicago-based Ross Barney Architects
Ross Barney Architects is the Chicago-based archi­tec­ture, urban design, and land­scape archi­tec­ture studio behind the revolutionary new McDonald's. In 2018, the architecture company worked on Chicago's flagship McDonald's with the aim of moving towards greener practices. This branch features over a thousand solar panels on its pergola, apple trees, arugula, broccoli, carrots, and native plants on a green roof. The Chicago design proved so outstanding that it was awarded the LEED Platinum® certification, which is the highest level of achievement from the globally recognized LEED® green building program (Leadership in Energy and Environmental Design).
The design at Disney World has been just as successful, with Ross Barney Architects winning the Decarbonization Award for the project.Ross Barney worked on the design in collaboration with WSP — one of the world's top engineering professional services firms. After coming up with the impressive design, it was WSP's responsibility to bring the mechanical, plumbing, and engineering concepts to life.
It has its own workout center
You may not think that McDonald's and exercise go hand in hand, but this branch offers its very own workout center. Think of a spin studio but greener. The restaurant has exercise bikes outdoors next to green living walls of plants. The exercise bikes produce energy as you peddle and you can use them to charge your phone. There's even a set of McDonald's Golden Arches that light up if you peddle fast enough, making for a cool light display at night!
Not only can you peddle with your feet, but also your hands for an upper-body workout, essentially allowing for a full workout session. It's perfect for when you've overindulged with your McDonald's order or simply want to burn off a few calories after your Big Mac meal. This isn't the only McDonald's with exercise bikes, either. Two branches in China originally piloted the idea, introducing stationary bikes into the restaurants so customers can peddle as they eat.
The wall of plants is designed to last all year round
The restaurant's exterior walls are adorned by stunning greenery. The 1,700 square foot plant wall, created in collaboration with Ross Barney Architects and Florida-based architectural and engineering firm CPH, has been designed to cope with the subtropical climate of Orlando, Florida. Among the plants, the Ruellia brittoniana, known as "Katie," with its purple flowers, and the Tradescantia spathacea with its long green leaves and yellow stripes, are particularly striking.
The planting of the green walls is not only a visual treat but it also provides natural cooling for the restaurant. The wall also absorbs rainwater to prevent any erosion or flooding inside.Rather than having an on-site gardener, the plant walls are equipped with a unique Plant Care System, which is a web-based application that makes sure every plant gets the right amount of water and nutrients that they need.
The great thing about the technology is that the green walls are monitored and the quantities can be adjusted as and when needed. This means that the staff and the building manager don't have to suffer the burden of keeping the plants fed.
There's clever design innovations, like fold out tables and motion-sensor lights
It's not just the exterior of this McDonald's that's sure to impress. The tables are space-saving and have the option to fold out to a double tabletop or fold back in to accommodate smaller groups. There are motion-sensor lights in the bathrooms and the interior design is very modern and minimalist chic. The building is not only kept cool inside by the exterior plant walls, but also the solar-powered fans that adorn the ceilings. They also cast a cool grid-like shadow onto the floors throughout the restaurant.
While the solar-powered fans and plant wall help to keep you cool in the Florida heat so you can enjoy your meal comfortably, the outside area is nicely shaded for your comfort. The whole design has a very futuristic feel, including the impressive wooden light feature that sits in the center of the restaurant.
This McDonald's is not only a restaurant but also a learning center
McDonald's aim for this eco-friendly restaurant is to get a zero energy certification from the International Living Future Institute. The fast food giant also hopes to share the knowledge that is gained from this pilot project McDonald's by turning the Disney World branch into a learning hub that can be used as an information source for launching sustainable efforts globally. It will serve as a way to test sustainable solutions that can reduce energy and water use for a greener experience. The hope for McDonald's is to reduce restaurant and office greenhouse gas emissions by 36% by 2030, compared to a 2015 base year.
Marty Spitzer, World Wildlife Fund senior director, Climate and Renewable Energy, said in the release for the new restaurant that McDonald's had taken a bold step in addressing their own carbon footprint and tackling the climate changes our planet faces.
"The design of this global flagship restaurant is another positive step in how McDonald's is bringing proven renewable energy solutions under one roof, and most importantly, educating customers about the importance of sustainable practices and renewable energy sources," she explained.
The restaurant has tablets to keep kids and adults entertained
Whilst the wacky design of the '90s may have been upgraded for something more modern and sleek, there's still so much fun to be had at this McDonald's. One of the best features is the interactive tablets available that allow you to play a variety of games as you wait for your order. The animal-themed game mirrors the retro "Snake" game that used to be on Nokia phones. There's also a light game that projects onto the tables, adding to the entertainment options to help pass the time while waiting for an order or hanging out after a meal. 
There are also screens that you can use to learn more about McDonald's sustainable journey. The colorful slides provide clear and concise information and inform customers of the ways the restaurant hopes to achieve its green goals.
In addition to the tablet games, there's a McDonald's smile logo on the walls that changes color when you tap or rub it, further distinguishing this restaurant from the typical McDonald's.  
The restaurant offers customers table service
Sorry, is this McDonald's or fine dining? The restaurant allows you to order your food in a variety of ways but there's also the option to order straight to your table. Every table has a code that you can scan with your phone to take you to the order app and request food right to where you're sitting. Perfect if you don't want to give up your seat or realize you've forgotten something from your original order.
You can also use the self-service kiosks to order or the McDonald's app. Ideal for those touring the park who want to place their order in advance and have it ready for them when they arrive. If you do want a bit of old-fashioned human interaction, you can still order from the counter from a staff member. Don't let the futuristic vibes make you feel like you won't get that old-school customer service. Staff are still walking around the restaurant and available to help customers with whatever they need. 
Staff get special perks for working here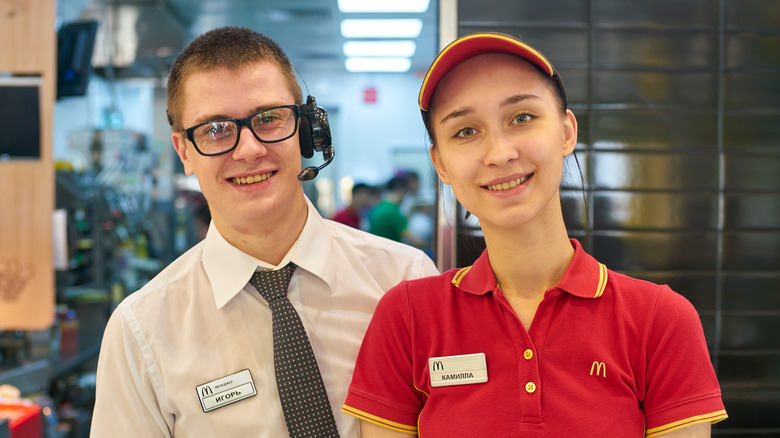 Sorbis/Shutterstock
Working at McDonald's can offer many perks but there are a few extra exciting ones when you're hired at the Disney World branch. Speaking to Mashed, Operations Consultant Rodolfo Marcucci explained that the staff are treated to some extra special benefits.
"Our crew and managers get a premium pay that is just for our Net Zero McDonalds," he tells Mashed. Not only that, but as the McDonald's operates within the Disney World property, that means the staff gets some of the same perks as Disney park employees.
These range from free admission into the parks to merchandise discounts. Rodolfo explains that being a member of such a unique branch of McDonald's comes with great responsibility. He told Mashed, "It's an honor and privilege to be part of such a one-of-a-kind McDonalds. From being our First Net Zero McDonald's, to being the only McDonald's inside Disney property in the world." He said that staff get customers from around the globe asking questions about the new McDonald's story and it's vital they tell it with pride and knowledge. "We are proud of working with McDonald's, but even more that we are taking the right steps in terms of being environmentally conscious," Marcucci explained.
There's a huge emphasis on sustainability
As visually impressive as this McDonald's is, the focus of the restaurant's design is targeted at a greener future. The modern exterior of the restaurant includes wooden louvers that surround the entire building and outdoor eating areas. There are also slatted jalousie windows on two of the walls that open, allowing for natural ventilation. Even the parking lot lampposts use individual photovoltaic panels to power each light and eliminate any need for the location to attach to the park's power grid.
The restaurant isn't just showcasing its eco-friendly design, but customers are also encouraged to do what they can to help with sustainability. There are clear and concise instructions in the restaurant for how to recycle your packaging, as well as information screens that explain the full power the location is able to harness through its solar panel-driven design.
McDonald's plans to replicated aspects of its Disney location at other restaurants
McDonald's may have created the world's first net zero fast food restaurant but that's really just one aspect of the company's overall goal. In October 2021, McDonald's revealed that it had a goal of becoming emissions-neutral by 2050.
One of the latest developments in its environmental journey is hundreds of locations going solar. In 2022, it was revealed that McDonald's had inked a deal with its North American Logistics Council to use renewable energy for supply chain buildings. The solar power will be provided by Enel North America's Blue Jay renewable energy project based in Grimes County, Texas. By 2023, Blue Jay says it plans to power McDonald's entire lineup of distribution centers and warehouses in Mickey D's supply chain.
Bob Stewart, McDonald's SVP and Chief Supply Chain Officer, said in a statement, "Adding Blue Jay solar to our U.S. renewable energy portfolio is one of the many important steps in our journey to achieving our net zero aspirations."