The International Cuisines The Supermarket Stakeout Season 5 Premiere Cooked Up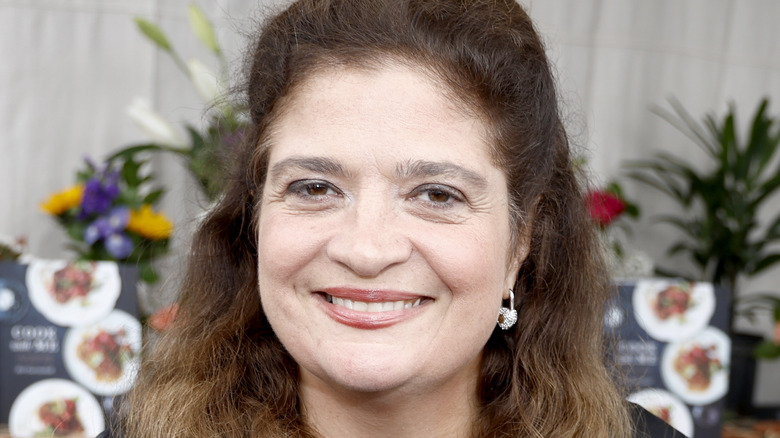 John Lamparski/Getty Images
The fifth season of "Supermarket Stakeout" dropped on April 25, revealing a lineup of international cuisines from Italy, Morocco, and France. As with previous seasons of the Alex Guarnaschelli-hosted show, the premier featured four new chefs, a $500 grocery budget, a shopping/cooking time limit, and asking random shoppers to sell their groceries.
For the first stakeout, the chefs had to buy groceries without knowing the contents of the grocery bags. Rounds 2 and 3 gave the chefs more flexibility, as they had the option to look in the bags and select the items they wanted to purchase, though in the third round, they were limited to just five ingredients.
The first stakeout featured an Italian theme, so the chefs were asked to "transport" the judges "from the parking lot to Tuscany" (via Twitter). The second round called for three Moroccan meals, followed by two French entrees to end the episode.
From Italian filet mignon to French crepe with blueberry cabernet sauce
The four Italian meals on "Supermarket Stakeout" — all of which are pictured on Food Network's Twitter page — included a cheesy chicken pasta dish, filet mignon, winter ragu, and citrus agnolotti.
The remaining three chefs tested their cooking skills once again by preparing Moroccan meals, after being able to hand-select which ingredients they wanted from shoppers' bags. One chef chose a meat and potatoes combination, another prepared a shrimp and chickpea rice, and the third cooked a steak and rice dish.
For the third and final round, the remaining two chefs dabbled in French cuisine, with a Parisian sidewalk theme and a five-ingredient limit. One cooked a crepe topped with blueberry cabernet sauce, while the other prepared a croque monsieur sandwich. Albuquerque-based chef Mike White, who won the round with his crepe, accomplished his dish with only four ingredients: milk, eggs, red wine, and blueberries.