You Can Have Your Wedding In One Of These Chain Restaurants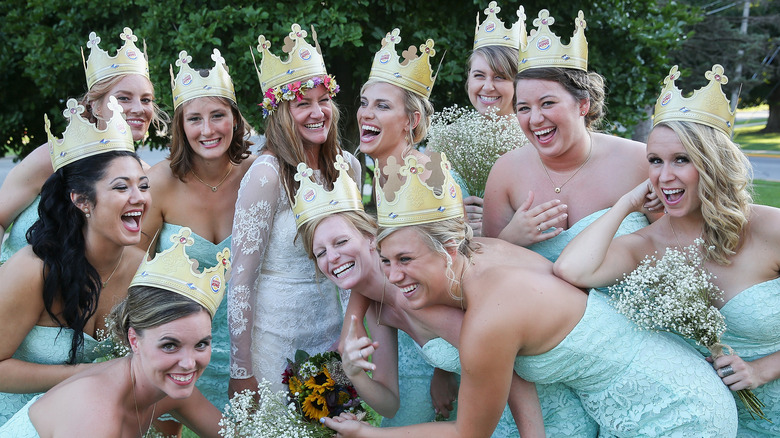 Tasos Katopodis/Getty Images
There are many reasons you might want to have your wedding in one of your favorite chain restaurants. Many people have happy memories from restaurants, such as meeting each other, spending time together, or even getting engaged there. Meanwhile, others simply have a shared love of a chain restaurant's food or drinks. So, getting married at a restaurant isn't as odd as you might imagine. Some restaurants even offer special wedding packages to accommodate all the people wanting to get married there. As you can imagine, some of these weddings happen in Las Vegas or overseas in places like Hong Kong. However, plenty of weddings take place in ordinary local restaurants.
Many people get married in coffee shops, diners, and donut shops. Some couples have won special wedding prize packages, and others have even gotten quickie weddings just by visiting the drive-thru! But do these types of marriages last? One couple who got married at a Pizza Hut still goes back to eat pizza every year on their wedding anniversary. So, if you dream of having a wedding in a restaurant, don't let the naysayers stop you.
Denny's
Many people have likely spent late nights at Denny's with friends. Now, it's possible to get married in a Denny's in Las Vegas. The futuristic-looking Denny's on Fremont Street not only serves all the diner food you'd expect but it also functions as a wedding venue for people who think the best possible Vegas wedding is a Denny's one. There were so many people asking Denny's if it was possible to have weddings there, so it was only a matter of time before the company decided to start offering them.
And it's affordable, too: A Denny's wedding only costs $199. Denny's offers a beautiful bouquet and boutonniere in your choice of red, white, pink, or yellow flowers. There's a small reception available that includes a Wedding Pancake Puppies cake, which looks like a mountain of cake pops. There's also champagne for the happy couple to use to toast their future. While you could still hire a photographer, a photo booth is also available for fun pics.
Couples also get coupons to use at the restaurant for two free Grand slams, and they can go there wearing their new "just married" Denny's wedding t-shirts unless they decide to eat them wearing a wedding gown and tux. Slamming down some mimosas with their Grand slams is also possible since the Vegas Denny's serves alcohol.
Taco Bell
If there are wedding bells in your future, why not consider tying the knot at The Bell? In the first three years that Taco Bell began hosting weddings in Vegas, over 500 couples decided it was their dream destination wedding. $777 will buy you a 30-minute wedding with an officiant. You also get a Taco Bell bow tie, garter, and a bouquet made of multiple rose-shaped hot sauces. You do have to return the bouquet after the ceremony, though, which may be for the best: After all, you don't really need a hot sauce disaster happening in your luggage. After the ceremony, you get a reception with a 12-pack of tacos. The wedding comes with a Cinnabon Delights wedding cake, along with a few Taco-Bell-branded goodies like "just married" t-shirts.
Since the Taco Bell in Vegas can get quite busy, you only have access to the upstairs "chapel" for half an hour. The chapel also has room for 25 people. If you do have that many people show up, you might want to think about ordering more food since 12 tacos and a small cake won't feed everyone. Just keep in mind that you're getting married in a Taco Bell, and you're not allowed to bring in outside foods and beverages. Luckily, the Taco Bell Cantina in Vegas serves alcohol. There's also an option to pay an additional $1,500 if you want to have up to 40 people and include extra food for everyone (alcohol included). 
Pizza Hut
Pizza Hut weddings seem to be rare, but they're not completely impossible. On September 13, 1977, a young couple who had only been dating a month decided they would get married at a Pizza Hut in Millington, Tennessee. The couple, John and Debbie Woleslages, have been married for over 45 years and continue celebrating their anniversaries at Pizza Hut. So, even if you've only known each other for a few days and get married somewhere unconventional like Pizza Hut, you can still have a long and successful marriage.
In 2011, Pizza Hut shared photos on Facebook from the wedding of "A and Z" that took place in a Pizza Hut restaurant in Kuwait. Comments from well-wishers came from around the world in English, Filipino, Indonesian, and Arabic. Some people felt Pizza Hut was a weird place for a wedding, while others thought it was a good idea. The photos from the event show the couple posing with members of the Pizza Hut staff as well as friends and family.
Burger King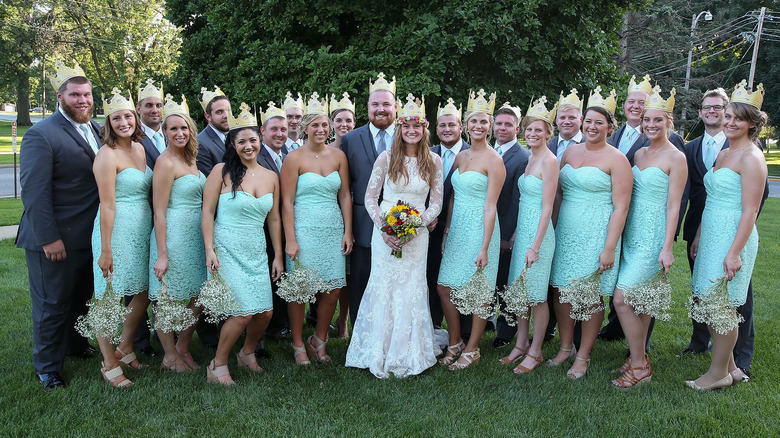 Tasos Katopodis/Getty Images
Since so many couples were getting married or having their rehearsal suppers at Burger Kings in Brazil, Burger King started a new promotion in 2022. The chain reached out on Instagram to promise two free anniversary Whoppers for life to the first 20 couples who sent them photos from a Burger King wedding. The company called these weddings "Bodas de Whopper" or "Whopper Weddings." Unfortunately, most of the responses to Birger King's message on Instagram complained about the quality of the food.
In the U.S., Burger King actually went out of its way to sponsor the wedding between Joel Burger and Ashley King after someone from the company saw the engagement announcement in the newspaper. While the 2015 wedding didn't take place in a Burger King restaurant, the company sent tons of swag for the ceremony, such as Burger King cuff links, burger socks for the groom and groomsmen, Burger King t-shirts, and Burger King logo mason jars for the reception. Plus, everyone wore Burger King crowns in the photos.
The Cheesecake Factory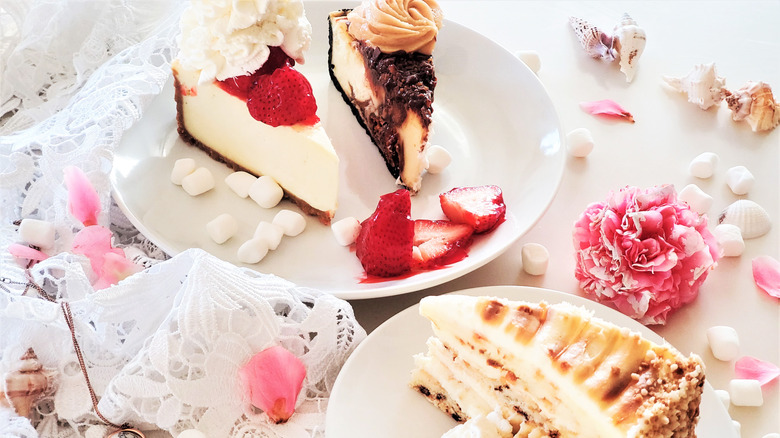 Dariia Keefe/Shutterstock
The Cheesecake Factory tends to have the most gorgeous interiors among chain restaurants. Its dim lighting and palatial architecture make it the perfect setting for a wedding without needing much extra decoration. It's possible to have a wedding reception or rehearsal supper at most Cheesecake Factory locations. However, the Cheesecake Factory in Redondo Beach, California, has really capitalized on the concept of being the venue for entire weddings. The restaurant overlooks King Harbor, so you can look out the window and see a picturesque view of boats moored at the harbor any day or night.
Depending on which room you pick for your Cheesecake Factory wedding, you can have 60 to 150 guests. The Sunset room even has a ceiling that pulls back to reveal the sky. The rental fee includes event planners, waitstaff, all the tableware and barware you need, and a chocolate fountain. The Cheesecake Factory will even provide a list of outside vendors to use for services the restaurant can't provide. Food options for the reception include either a buffet or individually-plated meals from a list of specific entrees. Plus, dessert is provided: After all, it's known for its cheesecake.
Dunkin' Donuts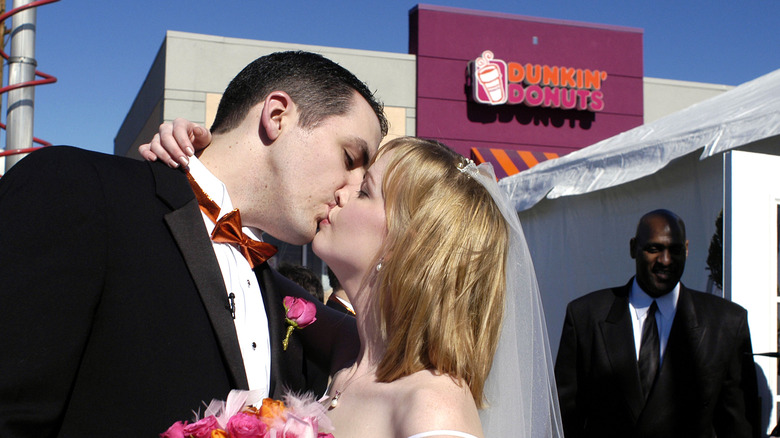 William Thomas Cain/Getty Images
One couple who broke up in a Dunkin' Donuts in 1992 decided to get married in the same Dunkin' Donuts 27 years later after being reunited: When Valerie Snead and Jason Roy finally married each other in a Dunkin' in 2019, they wondered if their wedding might start a trend. Perhaps it did. Sugar Good and John Thompson met in an Oklahoma City Dunkin' Donuts drive-through in 2015. In 2020, the couple decided to get married in the same OKC Dunkin' Donuts drive-through.
In 2021, when people were still weary of gathering indoors in crowds because of Covid-19, Dunkin' Donuts held a "marriage is on the menu" contest in New York. The lucky couples who won were treated to a drive-through wedding. Dunkin' partnered with I Do Drive Thru, a company that creates low-cost, under-seven-minute elopement packages. Dunkin' made heart-shaped wedding donuts for the couples and provided a few special decorations for the drive-through window.
The same year Dunkin' began hosting drive-through weddings, it released an entire line of Dunkin' wedding merchandise. Serious Dunkin' fans could get married with a Dunkin' veil, bowtie, and ring bearer pillow. Other merchandise includes a "This Bride Runs on Dunkin'" robe, "She/He Knows My Order" matching t-shirts, and a "Marry Me, Dunkin'" sweatshirt.
KFC
In 2019, KFC in Australia started bringing a KFC restaurant to people who wanted to get married KFC-style. KFC played fancy KFC-wedding-themed advertisements for its new wedding planning service. The company also created a special KFC food truck to take its weddings on the road. The catch was that couples interested in having this type of KFC wedding would have to enter a contest to try to win one of these weddings. Over 2000 couples applied for a KFC-themed wedding, but only a select few won the contest. Many of the couples had become engaged in a KFC or had other KFC-related love stories to tell.
The first couple to have a KFC restaurant come to them for their weddings was Kate and Harrison Cann from Toowoomba, Queensland. Their wedding took place in early 2020. KFC provided the couple with a food truck and a KFC-themed wedding cake. Guests ate from personalized buckets of KFC chicken and enjoyed KFC-provided music: There was even a special photo booth! 
McDonald's
In Hong Kong, people regularly get married at McDonald's. McDonald's has two locations in Hong Kong that can serve as wedding venues: One is at the Admiralty Center, and the other is at Peak Galleria. The cost ranges from $375 to $1,250, depending on which package you pick. YouTube celebrity Safiya Nygaard decided to go to Hong Kong for a mock ceremony with her fiancé Tyler Williams to try out the experience. She found that it was a burgeoning trend with a variety of wedding packages. Options included cute Chinese-style or Western-style decorations and even employees who would move the wedding along with a pre-written script. Since McDonald's doesn't serve wine, cups of Orange Fanta are used for the wedding toast. 
The couple ate a French fry together Lady-and-the-Tramp style. Then, instead of a wedding cake, a tower of McDonald's apple pie boxes arrived, and the couple was asked to feed each other apple pies. Then, the wedding MCs led the couple and their guests through some entertaining wedding games. McDonald's also offers wedding services in Sweden. After Sweden started easing Covid-19 pandemic restrictions in 2022, people were having difficulty booking wedding venues. So, McDonald's in Sweden decided to transform its drive-through window into a drive-through wedding service. Couples could drive up to the first window to get married and the second window to pick up their food. Their food receipt also contained their marriage certificate.
White Castle
White Castle doesn't necessarily seem like it would be a popular place to get married, but it turns out that over 75 couples have followed the White Castle marriage trend in the last decade. Several of these weddings have been sponsored by local radio stations. Since so many people wanted to get married at White Castle, the chain decided to create a contest to give one lucky couple a very special White Castle "royal wedding."
The grand prize winners, Adam and Whitney, had their royal White Castle wedding in Las Vegas, Nevada, in 2018. Whitney had only ever had grocery store White Castle burgers, so Adam bought her a little of everything on the menu to introduce her to his love of the restaurant. They later ended up celebrating their engagement in a White Castle. Their grand prize package included a rehearsal dinner, a fully-decorated ceremony, and a reception. The wedding cake was shaped like a White Castle slider with a castle turret topper. Following the castle theme, the company that supplies White Castle's Belgian waffles, Unique Belgique, paid for the couple to have their honeymoon in Belgium, which included a stay in a real castle. It turns out that it really pays to get married at White Castle.
Wendy's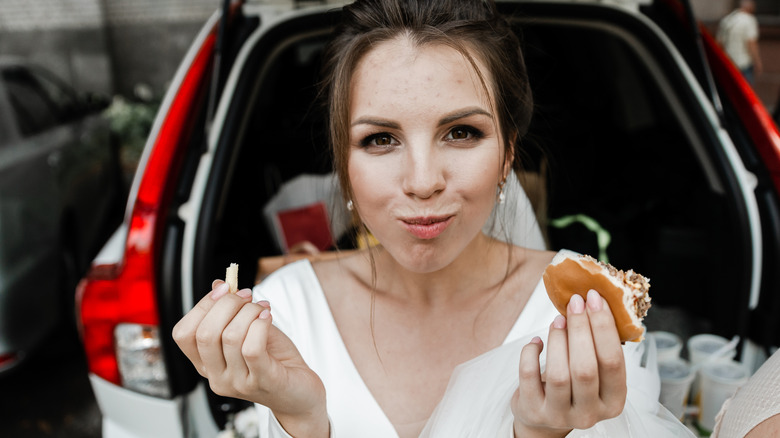 Vadym_Hunko/Shutterstock
Wendy's hosted its very first U.S. wedding in 2018 after a Utah couple won a Star 98 FM radio contest. Jessica and Abram Thompson had been together for five years, but they had never gotten married because of the cost factor. So, when they won the contest, they jumped feet first into their unconventional wedding. Everything was included in the prize package, from the decorations to the wedding rings and photographer. The guests were even treated to Frosties all around.
Radio show host Mikey Foley officiated the wedding while wearing a Wendy's apron. He also kept everyone laughing: During the ceremony, Foley teased that when the couple first met, Jessica must have had thoughts about marrying Abran in a dream wedding at Wendy's. That thought likely never entered either of their minds, especially since they met at a Denny's. However, the quirky wedding was still a resounding success.
Starbucks
Starbucks started being a trendy place to buy coffee after it started expanding throughout the U.S. and then the world. Strangely enough, it has also become a popular place to get married. The #StarbucksWedding hashtags first started appearing on social media around 2012. Plenty of people have bonded over Starbucks coffee and feel enough of a connection with the coffee chain to make it a big part of their marriages, from engagements to weddings. One person on Instagram even posted a Starbucks wedding update indicating that he'd officiated several Starbucks weddings.
One couple on Instagram spent the early days of their relationship getting to know each other at Starbucks. So, they were excited to find a new Starbucks with a conference room they could use to get married. The 2018 wedding included a Starbucks-themed wedding cake, and they bought Starbucks drinks for every guest. Of course, the lion's share of Starbucks wedding-related photos on social media are from the bride and groom or members of the wedding party stopping in for a drink before or after the wedding. It's a popular treat to help everyone relax on the big day. Obviously, if Starbucks was part of a couple's love story, it's often a necessary wedding pit stop.
Applebee's
When Jenny McCarthy saw how outrageous Kim Kardashian and Kanye West's wedding was, she said she'd like her own celebrity wedding to Donnie Wahlberg to be far simpler. In fact, she even joked on Twitter that they should have a more minimal wedding at an Applebee's instead. Applebee's responded with a formal-looking but cheesy invitation on Twitter, which invited the couple to have their wedding at Applebee's. The invitation ended with checkboxes for the couple to indicate whether or not they'd really like to have their wedding at Applebee's. Ultimately, they turned down Applebee's offer and got married in the Hotel Baker in St. Charles, Illinois, instead.
The next year, Applebee's really did have a wedding, albeit not a celebrity one. After Antoinette and Mark met at Applebee's in 1984, they didn't run into each other again for decades. In the meantime, Mark thought of her often and even remembered what she'd been wearing that day. The couple finally met again in a bar years later, there was no turning back. They finally got married outside an Applebee's restaurant in 2015.
Waffle House
Waffle House has a reputation for getting a little rowdy, especially late at night. However, it also has a romantic side. For example, several locations decorate and provide special reservation-only meals to couples and families for Valentine's Day. It has also been the site for more weddings than you'd imagine. In 2008, a couple who worked together at the Dacula, Georgia, Waffle House decided to get married there. George "Bubba" Mathis and Pamela Christian (both age 23) had been dating since they were 14 and wanted to get married on their Independence Day anniversary but always seemed to be scheduled to work. When they finally had the day off, they threw a wedding in an area under a tree next to the parking lot. 
Later, In 2020, a bride named Judith had her dream come true with a Waffle House wedding with her beau, Trey. She had always wanted a Waffle House wedding and was determined to make it happen and go viral on TikTok. The day started with Judith cutting Trey's hair into a mullet (as one does when getting married at Waffle House). Then, they began the first leg of their wedding at Waffle House, complete with a bridal bouquet and sharing waffles over coffee. The actual ceremony for friends and family happened back home in the couple's backyard. However, eating waffles together at Waffle House was as much a part of the wedding ritual as saying "I do."