The Denny's Location Where You Can Get Married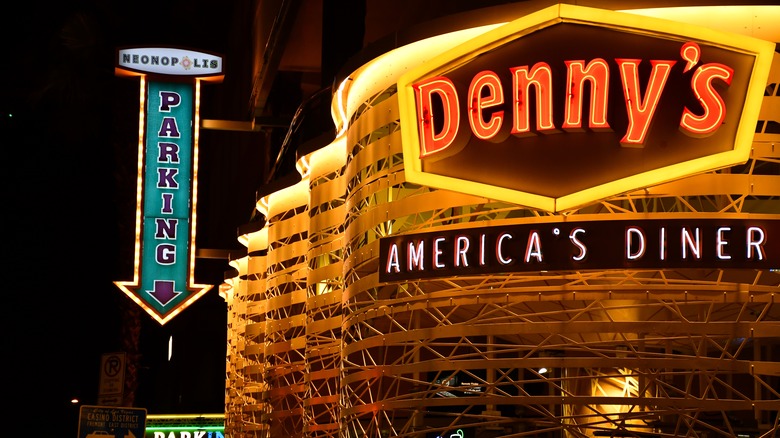 Anne Czichos/Shutterstock
What happens at breakfast stays at breakfast. That's how the saying goes, right? Las Vegas is known for its casinos, shows, and of course, weddings. Home to a $2 billion wedding industry, (per NPR) Vegas is a go-to for lovebirds looking to tie the knot quick. When eloping in Vegas, Elvis impersonators and drive-thru chapels are what come to mind. Not so much the popular breakfast chain, Denny's.
However, in 2013, Denny's opened its historic Fremont Street location and leaned into the late-night casino scene. Unlike the usual neighborhood Denny's that are located in all 50 states, the Fremont location fits right in with the glitz and glamour of its casino neighbors. With a decked-out exterior of curvy yellow steel and outfitted with lots of bright neon lights, this Denny's is right at home in the city that never sleeps.
Swept up in the love, Denny's decided to make its Fremont Street location a wedding chapel for couples looking for love and a Grand Slam.
The Denny's Vegas wedding package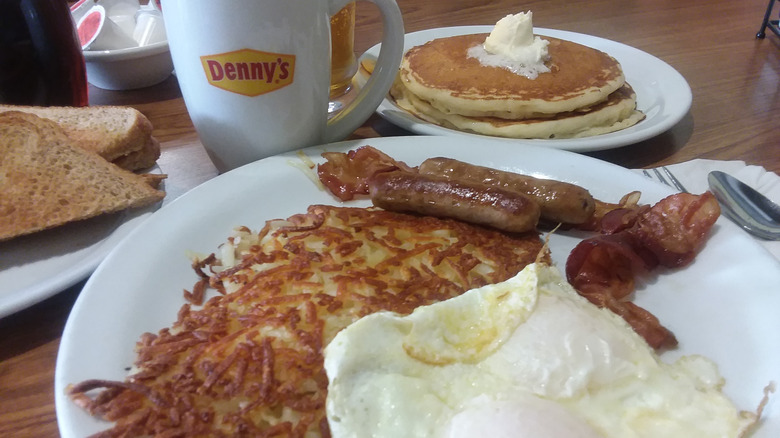 CarlaVanWagoner/Shutterstock
According to Wedding Wire, the Denny's breakfast chapel has a great package at a more than reasonable price. While the average cost of a wedding is tens of thousands of dollars, getting hitched at Denny's is only $199 — breakfast included. The package includes an officiant, the chapel, a photo booth, a silk bouquet and boutonniere, commemorative t-shirts, a wedding cake made of Pancake Puppies, and two Original Grand Slams. If you're whisking straight off to your honeymoon, don't worry, the Denny's Grand Slams are redeemable at a later date.
Business Insider reports that over 600 weddings have taken place at the Fremont Denny's since the syrupy-sweet chapel opened its doors in 2013. A recent nuptial even had 50 guests. The first couple to get married at Denny's left a review on Wedding Wire and rated their wedding 5 stars, calling it "fabulous."
The breakfast food chain isn't the only fast-food joint in on the wedding action. Burger King helped a couple tie the knot and, surprisingly, Taco Bell hosts a costly wedding, too.